A ChucksConnection Film Review
Ryder McLaughlin wears black high top Converse "Chuck Taylor" All Stars in the film.
Aramus Hudson wears red high top Converse "Chuck Taylor" All Stars in the film.
Nico Hiraga wears optical white high top Converse "Chuck Taylor" All Stars in the film.
North Hollywood
by Hal Peterson


Michael wants to become a professional skateboarder but is unsure of his future.
North Hollywood is a coming of age story about recent high school graduate Michael (Ryder McLaughlin), who is trying to figure out what his future will be, but is having a lot of trouble deciding what to do. Michael's greatest love in life is skateboarding, and what he really wants to do is become a professional skater. He seemingly has the skills to compete on the professional circuit. Unfortunately he doesn't have a very firm grasp about how to make skateboarding a career. He tells his single father Oliver (Vince Vaughn) that he wants to become a pro skater while going to college, but Oliver is very much opposed to that idea; instead he wants Michael to concentrate on college or go to work with him in construction. Oliver is old school and very much "my way or the highway" in his approach to raising Michael, so there isn't much of a support system at home given the fact that there is no mother in the family picture. Michael's main support system has been his two best friends and fellow skaters Adolf (Aramis Hudson) and Jay (Nico Hiraga), whom he has known since grade school. They are used to doing most things as a group and even dress alike with the same sneakers, high top Chuck Taylor All Stars on which they have written the words "North Hollywood" on the white outer foxing. Adolf and Jay are not nearly as skilled on the skateboard as Michael, and have already have plans to work in construction or attend college. Michael is beginning to feel that he needs to move away from their tight friendship to concentrate on developing a skating career. To do this he works to build a relationship with professional skaters Nolan Knox (Bob Worrest) and Isiah Jordan (Tyshawn Jones) who understand how the industry works, and can take video of him skating to show potential sponsors. To further complicate their friendship, Michael begins to date Rachel (Miranda Cosgrove), a girl he has had a crush on since the second grade. Time is of the essence here, as Rachel will be attending Stanford University in the fall.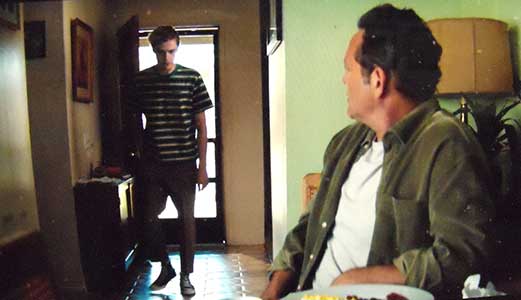 Michael and his father have different views of what his future plans should be.
The time frame of the film is the summer months following graduation. In one sense it is a time for growing up and in another a last chance at enjoying the freedom of youth. Michael, who is naturally shy and soft-spoken, is not aggressive in pursuing his dream of a skateboarding career and must rely on his burnout friend Walker (Angus Cloud) to make the initial introductions to Nolan and Isiah. Walker is a heavy smoker, drug user, and drinker while Michael doesn't drink or smoke, so it is an awkward relationship that eventually has to break up. And Michael is warned in no uncertain terms by Nolan that anything that could taint his reputation or theirs by association is to be strictly avoided. Other outside activities that Michael has been doing also come to an end. He quits the water polo team he was on after coming late to a practice and getting into a fight with another player. Michael, Jay, and Adolf have been working as altar boys at the local Catholic church, which earned them extra money, but now as high school graduates they are no longer eligible to serve. At home Oliver is treating Michael like a younger teen, critical of his dress and behavior, how he spends his time, and keeping him grounded after an incident at the mall. He even talks Michael into cutting off all of his hair so he will look more presentable to the outside world. The time that Michael now spends with Rachel at the expense of his buddies Adolf and Jay begins to grate on them, and leads to a serious fall out. And what will become of his relationship with Rachel once she goes off to Stanford?
Michael and his friend Jay seated at the skateboard park.
Through all of this turmoil the one constant in Michael's life is skateboarding. When he is at the park working on his routines, he is at his most focused self. There are several scenes in the film that show this. Skateboarding is the outlet that lets Michael express himself as a person and as an athlete with some good acrobatic skills. Without this Michael would probably explode from keeping all of his conflicting emotions inside, unable to express his true feeling to his overbearing father or his friends. Eventually Michael is able to look in the mirror and see who is really in charge of his life. He also begins to understand who is truly important in his life and goes on a quest to repair damaged relationships. Once he is able to do this, Michael's direction in life becomes clear.
Michael's best friend Adolf at the skate park.
North Hollywood is the work of Mikey Alfred, who wrote, directed, and produced it. Alfred has a lot of experience in the skateboarding world as a talent, a businessman who founded clothing company Illegal Civ, and film producer for Jonah Hill's skateboard-theme film Mid90s. The film is well shot with cinematography by Ayinde Anderson. There are some impressive skateboarding sequences and an interesting selection of music that ranges from Broadway to DooWop. Actors Ryder McLaughlin and Vince Vaughn make the most impact during the film, with Vaughn as the domineering father who wants to toughen up his son, and McLaughlin as the low key teenage skateboarder phenom (who does all of his own stunts) seeking his direction in life. Kudos also to Aramus Hudson as Michael's faithful best friend and Miranda Cosgrove as the girl friend he always wanted. The storyline is quite simple and if only the dialogue was as smooth as the visuals are, this would be a very compelling coming of age tale. North Hollywood is available through iTunes, Prime, and other streaming sources.
Best Chucks Scene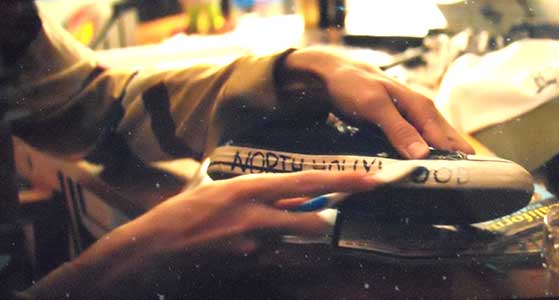 Michael uses a toothbrush to clean his chucks.

It's great to see a recent movie about skateboarding where the main characters proudly wear high top chucks again. That was the case back in the 1980s and 90s where films like Gleaming the Cube, Thrashin', and The Skateboard Kid all featured lead actors wearing black high top chucks, and supportive characters wearing chucks in bright colors as well. Unfortunately Converse did not follow up with marketing to the skateboarding crowd back then, and competitor brands moved in. These days Converse issues a line of mid top and high top sneakers meant for skateboarding under its Cons line, although it is interesting to note that the original Chuck Taylor All Star high top is still the preferred Converse sneaker for skating in this film. The three leads, Ryan McLaughlin, Aramus Hudson, and Nico Hiraga, wear black, red, and optical white high top Chuck Taylor All Stars that they have customized with the words "North Hollywood" written on the white outer foxing of their sneakers. The teens take very good care of their pairs of chucks, and one of the best closeups is where we see Michael cleaning his black high tops and re-inking the letters that were scuffed or worn down while skating.
Michael restores worn off lettering with a Sharpie.
Adolf also keeps his red high tops in immaculate condition.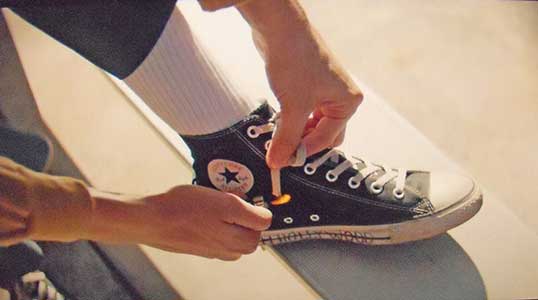 Michael burns off the frayed end of one of his shoelaces.
North Hollywood. (2021) Ryder McLaughlin, Vince Vaughn, Aramus Hudson, Nico Hiraga, Miranda Cosgrove, Angus Cloud, Tyshawn Jones, Bobby Worrest.
Written and directed by Mikey Alfred. Categories: Drama, Sport, Coming of Age.
ChucksConnection Rating:

MPAA Rating: NR would be PG-13
Support the film industry by purchasing genuine DVD, Blue Ray, or streaming copies of these films. Illegal copies only help profiteers. Make sure your money goes to the producers and artists who actually create these films. Still images from the film are used here as teasers to get you to view an authorized copy. If you have information about a film where a main character wears chucks, contact us at
films@chucksconnection.com.