A ChucksConnection Film Review
Paris Warner wears blue and maroon low top Converse "Chuck Taylor" All Stars in the film.
Summer Kenyon wears light blue low top Converse "Chuck Taylor" All Stars in the film.
Not Cinderella's Type
by Hal Peterson
Bryant and Indy gradually form an unlikely relationship.
Indy Zimmerman (Paris Warner) has had a rough time in recent years. She never had a father in her life, and at the age of ten her mother, her loving support in life, was tragically killed in an automobile accident. This meant that she had to go live with her Aunt Clarise (JJ Neward) and Uncle David (Ben Hopkin) along with her two cousins Jayda (Mary Neville) and Kaitlyn (Ariana Bagley). They live in a large house in an upper middle class neighborhood, but Indy is forced to live in a small attic room. From the very beginning, she has been told in uncertain terms that she must earn her keep which consists of doing the cooking and cleaning, and even yard work in the front. She wasn't even allowed to bring along any of her late mother's things; they were sold to pay for her funeral service. She was allowed to bring along one possession, her cat Mr. Whiskers, that she received from her mother just prior to the accident. Under the strict regimen of her life, Indy is not allowed to socialize other than at school. She does have one friend there, Maxton (Tanner Gillman) who she has lunch with in the cafeteria every day, but although she considers him a best friend, they don't socialize outside of the school day. Even when Jayda and Kaitlyn have a party with friends and acquaintances from school, she must clean and prepare the party food, but is not welcomed at the actual party. But somehow Indy believes that her life is okay, cutting off any emotional involvement in life, and choosing to ignore the constant abusive treatment she receives from her aunt, uncle, and cousins.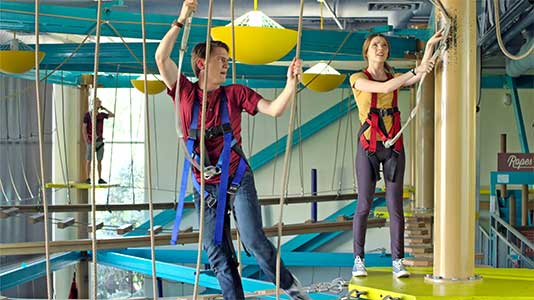 Indy finally goes out on a date with her best friend Maxton.
Things begin to change one school day morning as everyone is in a rush to leave. During the commotion Mr. Whiskers runs out of the house and into the street, just as Bryant Bailey (Tim Flynn), a fellow student and popular guy at school is driving by. Mr. Whiskers is tragically run over. Bryant stops immediately and tries to apologize, but Indy refuses to accept it, accusing him of murdering her special cat. But this doesn't sit well with Bryant, and he continues to try and make amends. Indy continues to rebuff him saying that she will not help assuage his guilt. But Bryant is equally stubborn, and he continues to try by making a visit to her home. Ironically, Clarise is thrilled that Bryant has come over, as Jayda and Kaitlyn have been trying to be friends with him and even invite him to their weekend party when they discover he is there. Bryant is only interested in Indy as it turns out, and finally he begins to win her friendship. At the party he sneaks outside and finds Indy (not welcome at the party) lying on a trampoline. They talk and escape to a restaurant, their first date. Rapidly a rapport begins to build between Bryant and Indy. It builds even more when Bryant tells her that he lost his mother also at an early age.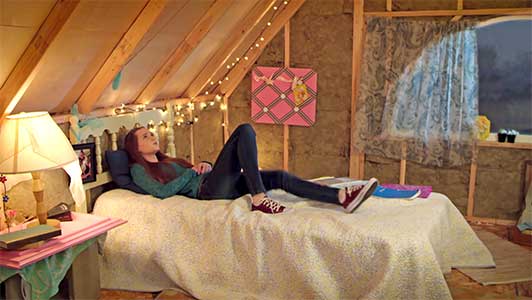 Indy' s relationship with her adoptive family causes her great concern.
At school Maxton notices a change in Indy's demeanor and is curious why. He manages to get her to confess about her date with Bryant. Maxton presses her on this, saying that he thought that they were close and wondering why she won't go out on a date with him or at least attend one of his soccer games. Now her life contains a bit of a love triangle. She does go out with him to do some indoor climbing and does attend one of Maxton' s games. When Maxton is injured in the game and sidelined, she gives him a brief kiss to comfort him, but a nosy neighbor sees this and complains to Clarise about her behavior. When Indy returns home Aunt Clarise and Uncle David chew her out for her behavior. Finally Indy loses her temper and reams them for their constant criticism of not only her but her mother. Clarise and David go ballistic and tell her that she will be severely punished. Now alone and frightened in her room Indy reaches out to both Maxton and Bryant for help. Maxton is at the doctor's office being treated for his sprained ankles and tells her he will call back tomorrow. That is the real problem in their friendship, never a true emotional attachment. On the other hand, Bryant is right on things, immediately coming over to her house and insisting that she needs to leave right away. And Bryant is the right choice for several reasons. His father is a family therapist who knows exactly what to do. They have a nice house with plenty of room and are licensed to take in foster cases. It turns out that he even has a connection to Indy's mother. The remainder of the film is about how Indy's situation is resolved after a few emotional scenes, dealing with the authorities, her own insecurities, and her aunt and uncle. Now her life turns around for the better, with a new highlight — going to the high school prom with Bryant.
Aunt Clarise and Uncle David pretend to be concerned about Indy' s welfare.
Not Cinderella's Type is a modern take on the traditional Cinderella story by author Jenni James. By putting a contemporary twist on the elements of the story, framing it in the context of high school life, and articulating modern views on what a family should be, it presents some positive messages to young viewers. This film did not garner a lot of attention when released, but is certainly worth watching. The teenaged actors do a fine job bringing you into the story and getting you involved in their lives. Paris Warner is especially effective in her role, taking us through a number of emotional scenes without losing her cool. Tim Flynn is definitely his father's son as he masterfully guides Indy in her time of crisis, and Tanner Gillson is perfect as the nice guy who finishes second and eventually figures out why. There is one great scene when Maxton acknowledges that to Indy and she tells him, "No you deserve better and one day you'll find it." Currently available on Amazon streaming. It should be on DVD or other venues later.
Indy and Bryant are ready to go to the prom.
Best Chucks Scene
Indy likes wearing blue low top chucks.
Paris Warner in her role as Cindy Ellen Zimmerman, or Indy as she prefers to be called, wears blue or maroon low cut chucks throughout the film. Summer Kenyon, who plays pre-teen Indy also is seen wearing light blue low cut chucks. Chucks have been her favorite footwear throughout her life. Even after being asked to the prom, Indy insists that she won't wear high heels, and chooses to wear her maroon low cut chucks for this occasion, a more and more popular prom choice for teenagers these days.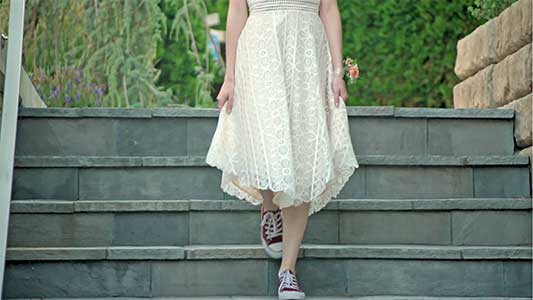 Indy is ready to go to the prom in her maroon low top chucks.
Not Cinderella's Type. (2018) Paris Warner, Tim Flynn, Tanner Gilman, Scott Christopher, Summer Kenyon, JJ Neward. Directed by Brian Brough.
Categories: Family, Romance.
ChucksConnection Rating:

MPAA Rating: NR, would be PG
Support the film industry by purchasing genuine DVD, Blue Ray, or streaming copies of these films. Illegal copies only help profiteers. Make sure your money goes to the producers and artists who actually create these films. Still images from the film are used here as teasers to get you to view an authorized copy. If you have information about a film where a main character wears chucks, contact us at films@chucksconnection.com.