A ChucksConnection Film Review
Kieran Culkin wears optical white Converse "Chuck Taylor" All Stars in the film.
Nowhere To Run
by Hal Peterson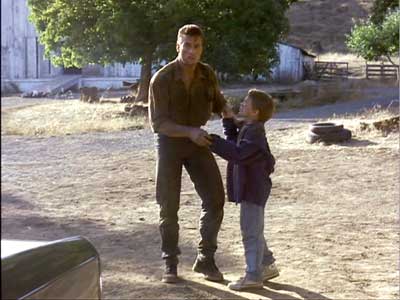 Jean Claude Van Damme plays an escaped prisoner who ends up helping a widow and her two young children in Nowhere To Run.
Nowhere To Run is a Jean Claude Van Damme action/adventure film that uses the classic western Shane as the model for its story. In this version Van Damme plays a prisoner named Sam who with an accomplice in a car has engineered an escape from a prison bus that Sam is being transported in. In the ensuing turmoil of the escape, his accomplice is shot and killed, and Sam is left to fend for himself and hide from the authorities. He ends up camping out on the farm of an attractive young widow Clydie (Rosanna Arquette). At first we see Sam snooping around the farmhouse checking the family out, but when he accidentally bumps into a lamp, it alerts Clydie's young son Mookie (Kieran Culkin), who ends up discovering Sam's tent down by a pond. Mookie, who is desperate for adult male companionship, sees Sam as a father figure and proceeds to make friends with a reluctant Sam. This friendship ends up paying dividends for Mookie and Clydie, when their truck is attacked by three thugs sent by Franklin Hale (Joss Ackland), a ruthless land developer. Sam appears, and in a typical kick boxing scene, quickly dispatches the bad guys. Imagine Clydie's surprise when she asks, "Who are you?" and Mookie says, "Sam's my new friend. Aren't you going to ask him inside?" At first Arquette wants to know why he has been trespassing on her property, and tells him that she doesn't allow hunting or camping, but gradually an attraction begins to grow between them as Sam starts to become useful around the farm, befriends Mookie and his sister Bre, and provides her with some protection against the goons trying to force her to sell the farm.
Mookie, Clydie, and Bre stand up against the terrorist tactics of the Hale Development Company.
But complications to this idyllic existence set in. Franklin Hale is determined to take over her property and enlists the aid of a hired hit man (Ted Levine) to organize a terror campaign against Clydie and anyone else unwilling to sell their property. The local sheriff is also in the employ of Hale, and is real hostile to Sam because he has been dating Clydie and sees Sam as a rival for her affections. Although Clydie tells everyone that Sam is her cousin from Quebec, Canada, it is clear that he is not just a visiting relative. When Sam intervenes again to stop the destruction of Clydie's farm and helps rescue another neighbor whose barn has been torched, Hale and his henchman decide that they must get Sam at all costs. The sheriff discovers the warrant out on Sam, and the state police are tipped off. Of course this leads to innumerable chase scenes, close escapes, and the final fight to the finish between the Levine character and Van Damme, when the bad guys physically assault Clydie and her children in order to force her to sign over the deed to her land. How does it all end? If you have to ask, you have never seen one of these films before!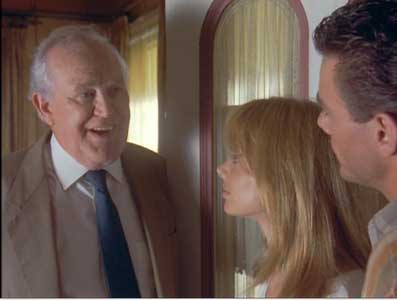 Sam helps Clydie stand up to Franklin Hale, who wants her to sell him her land.
Nowhere to Run represents a slight change in the usual Van Damme kick boxing and martial arts fare. He is actually given some scenes to develop character and act in a family way instead of the usual nonstop action. A few brief nude scenes are thrown in to spice up the relationship between Van Damme and Arquette, although nothing too racy. The R rating is primarily for violence in films like this. Van Damme is his usual taciturn self in this film even in situations when real conversation would be appropriate. In fact he says so little that when he actually has a riposte with Joss Ackland, it becomes memorable dialogue in this film. (Hale says, "Don't you know who I am?" and Sam replies, "I may not know who you are, but I know what you are.") Rosanna Arquette could have been given a greater role in the script, other than to just build erotic tension, and to utter come on lines like "Want to see what my room looks like?" The kids are appropriately cute and resourceful and the villains mean and nasty, so everything is in its place. Van Damme has a likable screen presence, and even though he is first portrayed in Nowhere to Run as a bad guy, you know that sooner or later he will emerge with a heart of gold, and do the right thing. So if you like action, fights, and adventure (but not too much), romance and family interaction (but not too much), and don't mind the usual Hollywood cliches, you will enjoy this film.
Mookie and Bre discover the campsite where Sam has been hiding out.
Best Chucks Scene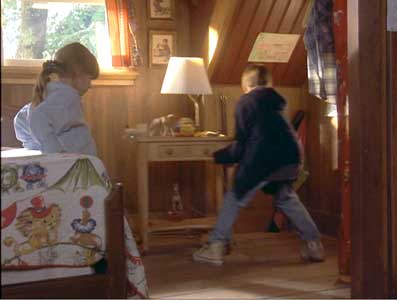 Mookie helps Bre to escape the thugs sent by the real estate developers.
Clydie's son Mookie wears high top white chucks throughout the film, but there are not a lot of closeup views. The best scene for chucks is when Mookie is being chased by the developer's thugs, and he runs through the attic, escapes through a window, and jumps off the roof to get away.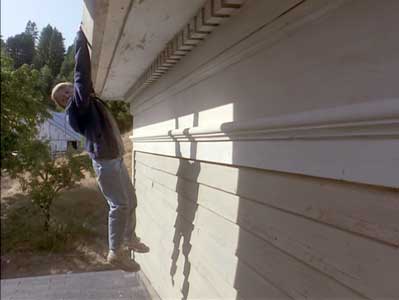 Mookie escapes from the bad guys by jumping off the roof of his house.
Nowhere to Run. (1993) Jean-Claude Van Damme, Rosanna Arquette, Kieran Culkin, Joss Ackland.
Directed by Robert Harmon. Categories: Drama, Romance, Action/Adventure.
ChucksConnection Rating:

MPAA Rating: R
Support the film industry by purchasing genuine DVD, Blue Ray, or streaming copies of these films. Illegal copies only help profiteers. Make sure your money goes to the producers and artists who actually create these films. Still images from the film are used here as teasers to get you to view an authorized copy. If you have information about a film where a main character wears chucks, contact us at films@chucksconnection.com.