A ChucksConnection Film Review
Matt Dillon wears black high top Converse "Chuck Taylor" All Stars in the film.
One Night at McCools
by Hal Peterson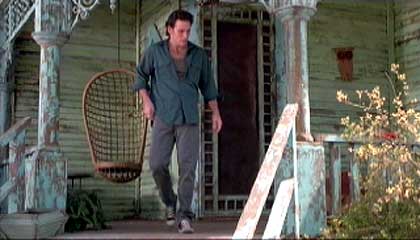 Randy is one of three men who fall head over heels in love with the sexy Jewel.
Randy (Matt Dillon) is the top bartender at McCools, the local night spot in a small town somewhere in middle America. He knows how to keep the different clientel happy, catering to the young guys out for a good time as well as the old timer regulars in for their daily beer. He lives by himself in the family house nearby, left to him by his recently deceased mother. Once Night at McCools, just after closing, Randy's world changes forever, as a car comes screeching into town, and a sexy looking lady is dumped off by the club at the end of a loud argument. The lady is named Jewel (Liv Tyler) and she turns out to have the uncanny ability to immediately connect with men. When Randy asks if she needs any help, Jewel jumps right in, quickly ending up at his house for a drink and the start of an affair. Randy sees Jewel as an attractive lady who will become the housewife he has always wanted, while Jewel sees Randy and his house as a chance to settle down and acquire loads of consumer goods. At least that is how things are first presented on the surface. Things quickly change for Randy when Utah (Andrew Dice Clay), Jewel's ex-boyfriend comes back into town waving a gun and wantng to rob the bar and rough up Randy. Just as this is about to happen, Utah is shot in the head by Jewel. A shocked but relieved Randy agrees to say that he did the killing in self-defense. Soon Randy is caught up in the investigation, led by Detective Dehling (John Goodman). Dehling sees Jewel as the reincarnation of his late wife, falling head over heels in love with Jewel, deciding to overlook anything that is incriminating to her and is immediately suspiscious of Randy. More complications involve Randy's cousin Carl, who also falls for Jewel, even though he has a wife and family. Randy is then fired from his job (ironically the owner thinks that the fact that Randy killed someone in the bar will drive off customers). Even though they now have no income, Jewel continues with her plans to remodel the house, getting rid of his mother's possessions and acquiring all new things. To support the consumer lifestyle that Jewel wants, she eventually turns him into a cat burglar, ripping off other people's places for goods and money.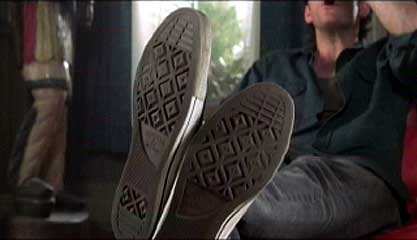 Randy's chucks become a part of the story.
One Night at McCools is actually a boisterous comedy, full of twists and turns, as Jewel manipulates the men around her to get her own way. Much of the film is told in flashbacks, and from three points of view (Randy's, Carl's, and Dehling's). Randy tells his story to a hit man named Burmeister, hilariously played by Michael Douglas in a toupee with buck teeth, who he wants to go after Jewel for ruining his life. Carl, a high strung attorney with a taste for SM sex which only Jewel can satisfy tells his story his psychiatrist (Reba McIntyre), while Dehling tells his version of the story to his parish priest (Richard Jenkins), who constantly pumps him for more details. This has the effect of making you see each character in different ways and is a little unsettling, since you really don't know who to believe after a while. It would spoil the impact of the film to talk about any more of the plot twists and turns, but look forward to a very explosive and sardonic ending.
Randy looks at a closet of belongings.
The whole notion that a certain type of woman has the sexual allure and guile to attract any man she wants and once she has him hooked can bend him to her will is not a new idea, but one that gets somewhat of a new treatment here. Stan Seidel's script has Jewel able to twist men from all different parts of society around her little finger, and this is where a lot of the humor comes. Eventually when they come to their senses, and realize how they have been taken advantage off, it's too late — Jewel is off onto her next conquest. As Jewel, Liv Tyler plays her as sort of an innocent, with a soft voice, homemaker instincts, and a victim of bad circumstances although we see other sides, like in the scenes with Carl and with Utah. Still, Jewel is a the catalyst for things here, and once they are started, the men in this picture take over with reckless abandon. Matt Dillon and John Goodman give serviceable performances in their roles, while Paul Reiser really goes all out as the neurotic and kinky sex-loving attorney. (Probably not the best career move for someone transitioning from television to films!) Interestingly, the three people who play the listeners, Michael Douglas as the hitman, Reba McIntyre as the psychaitrist, and Richard Jenkins as the priest, end up stealing the show, probably because they are the only ones representing the outside world, and able to comment on what they hear from a normal point of view. While One Night at McCools takes a lot of chances, and not all of them are successful, it is full of lively action, quickly paced by director Harald Zwart. Ultimately One Night at McCools is an adult comedy, fueled by sex and violence, that provides some interesting commentary on the inner desires of men and women.
Randy examines the dead body.
Best Chucks Scene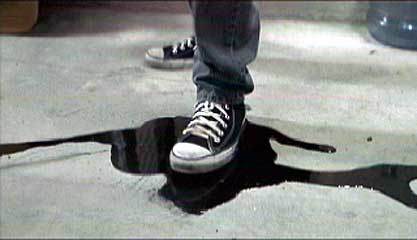 Randy unknowingly steps in a pool of blood.
Matt Dillon wears black high top chucks in many of the scenes that he appears in. They are especially significant in one scene where he has broken into a house with a dead body. But he incriminates himself when he unknowingly steps in a pool of blood and leaves a tell-tale footprint.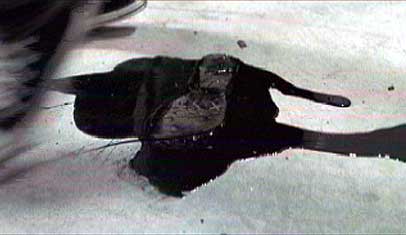 Randy leaves a telling footprint with the distinctive chucks outsole pattern.
One Night at McCool's. (2001) Liv Taylor, Matt Dillon, Paul Reiser, John Goodman, Michael Douglas, Reba McEntire, Richard Jenkins, Andrew Dice Clay.
Directed by Harald Zwart. Categories: Comedy, Crime and Mystery, Romance, Sexually Explicit.
ChucksConnection Rating:

MPAA Rating: R
Support the film industry by purchasing genuine DVD, Blue Ray, or streaming copies of these films. Illegal copies only help profiteers. Make sure your money goes to the producers and artists who actually create these films. Still images from the film are used here as teasers to get you to view an authorized copy. If you have information about a film where a main character wears chucks, contact us at films@chucksconnection.com.