A ChucksConnection Film Review
Cara Delevingne wears black high top Converse "Chuck Taylor" All Stars in the film.
Paper Towns
by Taylor Bathel
Margo sneaks into Quentin's room one night, about to ask a huge favor.
Eighteen-year-old Quentin (Nat Wolff) has a plan: college, medical school, wife and kids. Then comes happiness—in about ten years. In Paper Towns, Quentin's serious disposition is challenged by his childhood crush, the elusive Margo (Cara Delevingne), who unexpectedly appears at his window one night after years of radio silence. Margo offers Quentin an opportunity his inner romantic cannot refuse: to help in a revenge plot against her disloyal friends. Quentin accepts of the role of sidekick. He breaks the rules for the first time in his life; he's invigorated; and he's totally in love with Margo. But his high soon drops when he learns that Margo has run away—again—as she's notorious for. Empowered by the night before, and driven by a decade of distant admiration, Quentin sets his goal on finding her.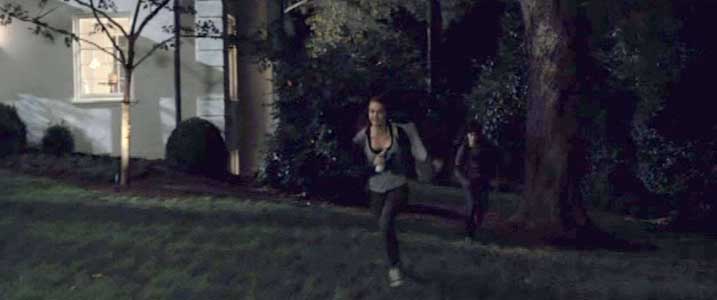 After completing one of Margo's pranks, Margo and Quentin hurry away.
Though absent, Margo aids Quentin's hunt through a series of clever, well-placed clues that hint at her location. It's a puzzle he calls his equally nerdy and straight-laced friends into. Adding new dynamics to the film are Ben (Austin Abrams), your typical gawky yet oddly confident geek, and Radar (Justice Smith), your typical level-headed and nervous-natured geek. Together, they do the unmentionable: skip class. All to find Margo, of course. The interplay between the boys is entertainment enough, but is up-leveled by the introduction of female romantic interests. Cue the teenage boy awkwardness, which works so well with the humor of this film. In fact, the evolvement of these awkward boys is the true essence of the film.
Quentin and Margo celebrate their evening's success in a corporate boardroom overlooking the city.
Though the entire plot revolves around Margo, she's rarely ever present on screen—but her spirit is entirely permanent. Margo's character is exposed though the cleverness of her disappearing act, and the memories and tales told by starry-eyed Quentin. Her character is more of an illusion, and a symbol of the adventure the boys are missing in their life. Through her influence, the boys discover the importance of experience, and allowing yourself to shamelessly be a kid. This holds especially true for Quentin, who enters the scene so void of excitement. He learns to let loose, and let passion take the wheel—a lesson stressed-out teen viewers will take to heart.
Margo sneaks back into her room.
Paper Towns is based on the book by the teen novelist John Green. These roots explain the level of detailed quirks that bring each character to life in a way that only a novel can craft. The film unabashedly touches on growing points of real teens: sex, friendship, confidence, anxiety. Quentin stands for every high-schooler struggling to get by and make the "right" life decisions. And even with a leading name like Cara Delevingne in the film, the real star is Nat Wolff. Wolff encompasses teenage clumsiness in every way—his cautious smiles, sullen eyes, and endless pining over the unattainable girl. He's relatable, as are his struggles, which is why this film will easily hit home—and hit gold—with a young teen audience.
Quentin and his friends go on a road trip to find Margo.
Best Chucks Scene


Margo shows an air horn she found to Quentin.
As much of the film is about Margo after she has gone missing, there aren't a lot of good chucks shots in the film. But she is shown wearing high top chucks throughout her life, white high tops when she was younger, and black high tops in all her scenes set in present day. They are perfect sneakers for the mysterious and impulsive Margo to wear, adding to her elusive coolness that is so intriguing to Quentin and her other friends. The best scene is when Margo and Quentin are shopping for a list of items needed to do her revenge pranks against her unfaithful boyfriend. After scenes of them shopping around, Margo takes an airhorn she has found and blasts Quentin with it.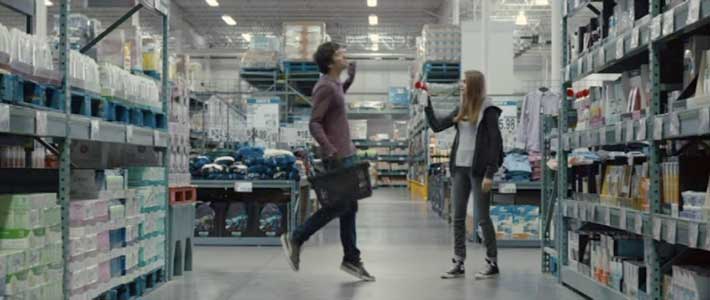 Margo blasts the horn at Quentin.
Paper Towns. (2015) Nat Wolff, Cara Delevingne, Austin Abrams, Justice Smith, Halston Sage.
Directed by Jake Schreier. Categories: Drama, Mystery, Romance.
ChucksConnection Rating:

MPAA Rating: PG-13
Support the film industry by purchasing genuine DVD, Blue Ray, or streaming copies of these films. Illegal copies only help profiteers. Make sure your money goes to the producers and artists who actually create these films. Still images from the film are used here as teasers to get you to view an authorized copy. If you have information about a film where a main character wears chucks, contact us at films@chucksconnection.com.