A ChucksConnection Film Review
Alexandre Neszvecko wears red high top Converse "Chuck Taylor" All Stars in the film.
Pas de répit pour Mélanie
(No Rest for Melanie)
by Hal Peterson
Melanie, Florence, and Louis become a team to help Madame Labbé.
Twelve-year-old Mélanie (Marie-Stéphane Gaudry) lives on a farm near a small village in the French-speaking province of Quebec in Canada. As the film opens, Mélanie is being driven to the ferry port on the Gulf of St. Lawrence, where her penpal, Florence (Kesnamelly Neff), whom she has never met, is about to arrive for a summer visit. After the ferry arrives, Mélanie searches in vain for the white girl in the photograph she has, but instead Florence turns out to be a black girl. This causes Mélanie to be taken aback that she was lied to, and the two are stand-offish to each other on the ride back to Mélanie's farm. But Florence is able to break the ice by presenting Mélanie with the gift she brought for her, a beautiful edition of The Little Prince by the famed French author Antoine de Saint-Exupéry. Plus they were good penpals. Soon they are fast friends on the farm where we meet the rest of Mélanie's family, her younger brother Martin-Pierre (Vincent Bolduc), and her parents (Johanne-Marie Tremblay and Clĕment Cazelais). We also meet Louis (Alexandre Neszvecko), a slightly older teenager and son of the town mechanic, someone that Mélanie is attracted to.
Louis, Florence, and Melanie with Ms. Labbé.
The second main thread of the story involves Madame Labbé (Madeleine Langlois), a lonely old lady who lives in a big house with secret attic room, and only a pet piglet for company. Madame Labbé is thought to be a witch by many of the children in the village, and they constantly torment her with pranks. Between her calls to the local police about the pranks and when she hears strange sounds at night, the somewhat inept local police just see her as a dotty old woman. She definitely is eccentric, hoarding boxes of unopened appliances and electronic equipment in her living room, and chasing anyone she sees off her property. Mélanie and Florence observe the way Madame Labbé is being treated by others and decide to follow the moral in the Little Prince story that states "to know someone, you must 'tame' them, and discover what is invisible to the eye." The two start by bringing over gifts of flowers and a knitted scarf. Madame Labbé then realizes that they aren't like the other children, and have good motives. Gradually they get to know each other and become friends.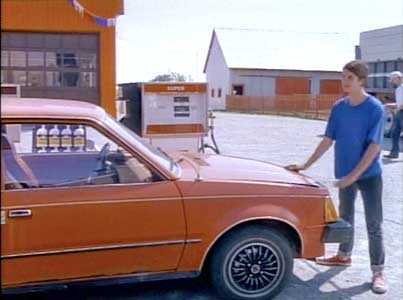 Louis helping his father at the gas station.
Things take a turn for the worse after an overnight rainstorm. When Mélanie and Florence stop by Madame Labbé's house the next morning, they discover the front door wide open, the house ransacked, that she has been robbed of her most valuable assets including her pet piglet, and left tied up and gagged in her bedroom. They quickly free her and try to comfort her. Madame Labbé does not trust the police, and her telephone line has been cut. This situation provides an opportunity for Mélanie and Florence to play detectives. The only clue they find outside the house is a stick figure man made out of pipe cleaners. Their investigation starts by enlisting all of their friends to check around town to see if they can find any of Madame Labbé's belongings. When a ransom note arrives for the piglet, they enlist Louis to help them stake out the ransom drop location and try to find the bad guy. Later Martin-Pierre discovers a similar stick figure in a pickup truck, and impulsively hides in the truck bed to see if the truck driver has Madame Labbé's belongings. The balance of the story involves rescuing Martin-Pierre, catching the bad guy, and making things right again with Madame Labbé. Louis ends up being a big help with both the investigation and caring for Madame Labbé. And one more charming element of the film is how gradually an attraction starts to develop between Mélanie and Louis.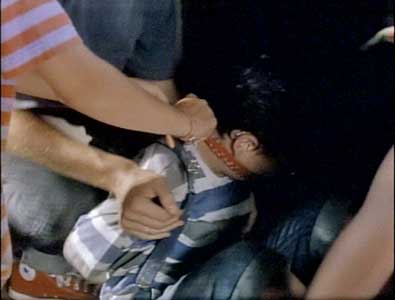 Louis, Florence, and Mélanie help rescue Martin-Pierre.
Pas de répit pour Mélanie is part of a series of children's films produced by Rock Demers, the most prominent of these being Tommy Tricker and the Stamp Traveler, also reviewed on this site. This film, directed by Jean Beaudry, was only released in the French language. This is too bad because it could have gained a lot more traction with subtitles or an English redub. Audiences would respond to a second story involving the main characters, especially Mélanie and Louis, well-played with just the right amount of adolescent awkwardness by Marie-Stéphane Gaudry and Alexandre Neszvecko. The film's main theme is especially relevant because of the way it deals with the plight of the elderly, especially single seniors who don't have any immediate family living nearby. It emphasizes the need to foster understanding between people of different ages and races and demonstrates how positive good communication between young people and seniors can be.
Martin-Pierre, Florence, Louis, and Mélanie at the senior center.
Best Chucks Scene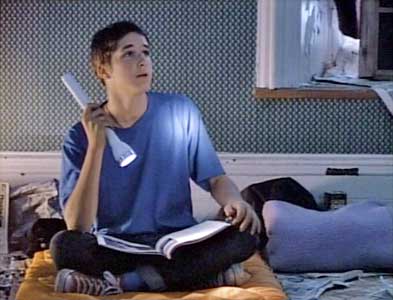 Louis at the abandoned house.
Alexandre Neszvecko in his role of Louis, Melanie's cool boyfriend, wears red high top chucks throughout the film. He always wears them with rolled up jeans, so you can see their ankle patches in all of his scenes. When Louis appears in a scene in the film, his red high top chucks definitely catch your eye. There are a lot of full body shots of him wearing his chucks as he does chores around town both for his father and for others in town, riding his bicycle, or hanging with Mélanie. Once Mélanie and Florence commit to helping Madame Labbé, Louis becomes a full partner in their searching, and provides valuable assistance as their investigation continues. Neszvecko provides a pleasant and determined presence. It's too bad the film's publicity materials never gave him credit for his important contributions to the story.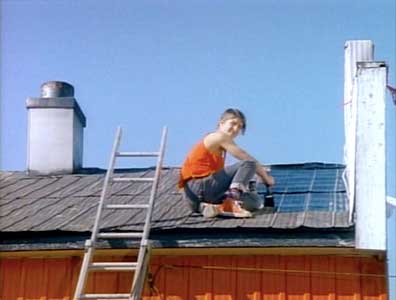 Louis is sealing the roof.
Pas de répit pour Mélanie. (No Rest for Melanie) (1998) Marie-Stéphane Gaudry, Kesnamelly Neff, Madeleine Langlois, Vincent Bolduc, Alexandre Neszvecko, Johanne Marie Tremblay, Clĕment Cazelais. Directed by Jean Beaudry. In French with no subtitles.
Categories: Adventure, Family.
ChucksConnection Rating:

MPAA Rating: NR, would be PG
Support the film industry by purchasing genuine DVD, Blue Ray, or streaming copies of these films. Illegal copies only help profiteers. Make sure your money goes to the producers and artists who actually create these films. Still images from the film are used here as teasers to get you to view an authorized copy. If you have information about a film where a main character wears chucks, contact us at films@chucksconnection.com.