A ChucksConnection Film Review
T. J. Lowther wears unbleached white low cut Converse "Chuck Taylor" All Stars in the film.
A Perfect World
By Brandon L. Summers
Although he is technically a hostage, young Phillip soon begins to bond with Butch.
It's the 1960s. Criminals Butch (Kevin Costner) and Terry (Keith Szarabajka) have escaped from a Texas prison on Halloween. They find themselves in a quiet neighborhood the following morning. The obvious psychopath of the duo, Terry breaks into the house of a family of Jehovah's Witness. Things go bad fast, and cool Butch ends up taking eight-year-old Phillip (T.J. Lowther) hostage. U.S. Marshal Red Garnett (Clint Eastwood) is called by the Governor in an election year to capture these criminals and save this poor, captured child. Garnett is joined by lady officer Sally Gerber (Laura Dern) and weaselly sharpshooter Bobby Lee (Bradley Whitford) in a "futuristic" trailer with telephones and other crime solving technologies.
Butch and Phillip are waiting for another car.
Meanwhile, Butch and Terry are towing Phillip. Terry is making threats to kill both Butch and the boy, and that won't do, so Butch takes cares of him. Soon, Butch and Phillip start bonding. Butch is a cool customer, and Phillip is a complacent, quiet boy. His family's strict compliance to its religion forbids him from enjoying things like Halloween, carnivals, and fun in general. Butch acts as a father figure, and Phillip gets to have fun. The two go across Texas, having conversations and bonding. They get into a scrape at a small town retail shop, where Phillip steals the one thing he's always wanted, a Halloween costume, specifically Casper the Friendly Ghost, and elects to continue on with Butch. They steal a car from a family where the mother is extra strict with her children. They stop at a diner, where the waitress flirts with Butch. Each time, Phillip learns a little more about Butch and Butch allows Phillip to grow a little more.
Butch and Phillip are staying with a farm family.
Nearby, Garnett is pursuing Butch. The efforts of him and his team are comically haphazard, even while he keeps a straight face. He has some interesting conversations with assertive Sally, and we learn Garnett is the reason Butch was in jail for a petty misdemeanor. See, Garnett knew Butch's father was an abusive criminal, and thought Butch would be the same. Butch and Phillip, in the end, are on a farm being cared for by a seemingly nice black family. Butch and Phillip enjoy their hospitality and have some fun, but the second Butch sees the father smacking his boy extremely hard in the head for not responding quickly enough, he snaps and holds a gun on them. This is when things turn, and the unexpected happens. It leads directly to the final confrontation between Butch and Garnett. It goes without saying Butch dies and the boy returns home. Garnett enjoys the same dilemma shared by Tommy Lee Jones's Sheriff in No Country For Old Men.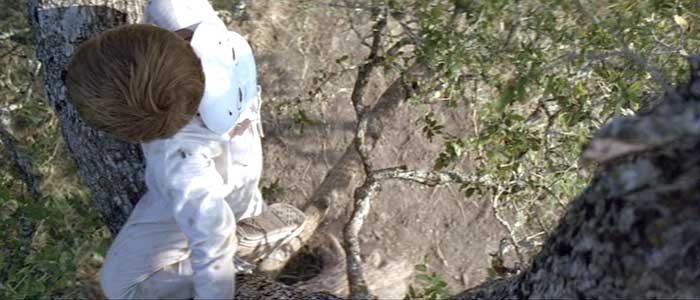 Phillip climbs up a tree to hide from Butch after running away from him.
This was Eastwood's next project after his masterpiece Unforgiven. It's a masterful film. His trademark handling of individual moments and overall scope of the film are present. The script is smartly written with real conversations and never falls into a single cliché. It exceeds all expectations for a film with this premise. I couldn't get fully behind it, though. For me, the entire plot depends on Phillip being extremely amiable. He has to go along, or there's no film. It's the same reason why Garnett can't come close to capturing Butch. I'm frankly more interested in a film where the boy fights the entire way. Also, everyone talks like they are in a smartly written script. You could also say it's overlong. It's not a bad film by any means. It's very rewarding, even with it's sappy ending. Costner is great, Eastwood is in total command, and there's great drama and tension. It's solid.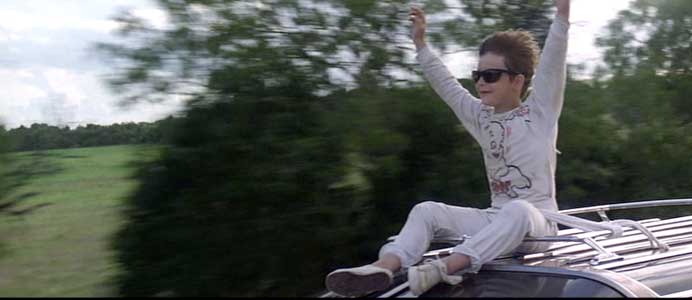 Phillip is riding on top of the station wagon.
Best Chucks Scene
Phillip struggles to find the brake pedal in the runaway car.
Phillip rides on top of the car, feeling the rush of the wind in a moment of freedom and fun. Earlier, their beat up, stolen car starts rolling away with Phillip inside. He gets in the front seat and presses down on the brakes as hard as he can, succeeding just in time. Another fun moment in a fun journey that only goes sour in the end.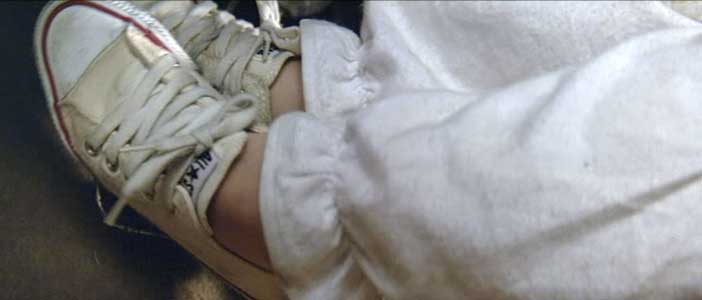 Phillip is able to stop the car with both feet on the brake pedal.
A Perfect World. (1993) Clint Eastwood, Kevin Costner, Laura Dern, T. J. Lowther.
Directed by Clint Eastwood. Categories: Drama, Crime and Mystery.
ChucksConnection Rating:
MPAA Rating: PG-13
Support the film industry by purchasing genuine DVD, Blue Ray, or streaming copies of these films. Illegal copies only help profiteers. Make sure your money goes to the producers and artists who actually create these films. Still images from the film are used here as teasers to get you to view an authorized copy. If you have information about a film where a main character wears chucks, contact us at films@chucksconnection.com.