A ChucksConnection Film Review
Adam Guier, Nick Benedict, Murrell Garland, Buddy Petrie, John Richardson, Rodney Stone, Eddie Hailey, David Brantley, Joe Chrest, Edward Layrisson, and Paul Henderson wear black and optical white high top Converse "Chuck Taylor" All Stars in the film.
The Pistol: The Birth of a Legend
by Hal Peterson
Pete's dad Press Maravich was his greatest influence and constantly had him working on a unique training regimen.
The Pistol: The Birth of a Legend is about the early years of basketball great Pete Maravich. As the film begins, we see an adult Pete Maravich (Tom Lester) walking with his son onto a deserted basketball court at his old high school. His father Press has just passed away, and Pete is telling his son about the wonderful upbringing he had and what an important influence Press was on Pete. The film then takes us back to 1959 in Clemson, South Carolina and a stormy night where we see young Pete (Adam Guier) waiting for his father to return. Even though the weather is terrible, when Press Maravich (Nick Benedict) arrives and gets out of his car, the two end up shooting some hoops in the driving rain. This scene reflects what much of the film is about. Young Pete is determined to become the best basketball player that he can, and his dad Press, who is the basketball coach at nearby Clemson College, guides his every step and has designed an incredible training regimen for Pete. One of Press' most important attitudes that he wants to develop is building up confidence. He does this with some very difficult drills that he has Pete work on every day. But Pete has a lot of things to conquer. At school he is just a freshman, and when he articulates his dream of becoming a professional basketball player, the other students laugh at him. When the high school coach Vern Pendleton (Murrell Garland) sees Maravich cutting class to work out on the basketball court, he decides to give the kid a chance to work out with the varsity basketball team. At first Pete doesn't fit in, like any awkward freshman in high school, but one thing Pete has is persistence, and eventually this pays off for him.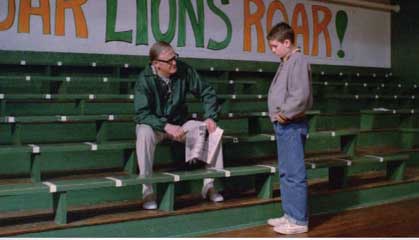 Pete talks with Coach Pendelton about his prospects for being on the varsity basketball team.
Basketball was quite different in 1959 from the game we see today. Teams were segregated, especially in the south, and the game played by whites was a leisurely gentlemen's game based a lot on seniority and tradition, rather than the modern high speed skills with lots of moves that we see in basketball today. (In those days only black teams played that way, and it was looked down upon as "showboating" by most whites.) The player on the Daniel High School Lions team that epitomized these values was senior Buddy Pendleton (Buddy Petrie), the coach's son and leader of the team. He had no use for young kids like Pete, and made it very clear from the beginning that he didn't like Pete being around. At first it didn't matter, as the team was winning, and Pete was on the bench. Eventually, Pete gets his chance, when one of the starters is injured. But things get worse for the relationship between Buddy and Pete when Buddy misses a quick pass from Pete at the end that could have won the game. Although off to a shaky start, gradually his unique hustle and style of play begins to make a difference for the team. Even Buddy's girl, Sandy (Wendy Leblanc), begins to notice Pete and starts to take an interest in what he is doing, much to the chagrin of Buddy. Press Maravich continues to encourage Pete, and as a result Pete redoubles his efforts to train and improve. One of the most interesting sequences of the film shows all of the different ways that Pete does this, at home, on the way to school, in pickup games and on the basketball court. Pete's ball handling skills begin to pay off, and when Pete gets another shot at playing, he leads the team to a come from behind victory. A local reporter notices Pete, and gives him the name "Pistol". This infuriates Buddy, and he tells his dad to kick Pete off of the team. But Coach Pendleton is smart enough to read the won-lost column, and he tells Buddy that he is thinking of starting Pete. Soon one of his other team mates Moose (John Richardson) starts taking an interest in what Pete is doing, because he wants a college scholarship. After Pete makes a name for himself by winning a bet from Buddy that he can spin the ball on his fingertips for an hour, he beings to win the hearts of the townspeople. But all this does is make Buddy more angry about things, and he tries to sabotage Pete whenever he can. Things come to a head when the Daniel High School team is challenged to play against Cleveland High School, the best black team in town. The remainder of the story is about how the rivalry between these teams and the rivalry between Buddy and Pete is resolved.
Sandy, Buddy Pendelton's girl, and a team cheerleader, begins to take an interest in young Pete.
The Pistol: The Birth of a Legend is an unusual look at the life of a great athlete. By focusing on Pete Maravich's developmental years, it shows how the values and work ethic that he acquired at an early age were important factors in his development into a great basketball player. At the same time, the film shows the turning point that the sport of basketball faced around the 1960s, just as the country faced the end of segregation. This is a good film about family values because it actually deals with real issues that kids face, in their personal lives and in society. It also shows the special relationship between Pete Maravich and his father, unusual in this day when most family films present parents as silly or incidental to the development of the story line. In these days of highly promoted athletes with one-liners and over-hyped self-esteem, it's nice to look back at a more innocent time, when even the most talented athletes showed self-doubts and respect for authority. There aren't any big name stars in the film, but Nick Benedict gives a very effective performance as Press Maravich, and Adam Guier shows us some great basketball moves in his role as young Pete Maravich. He makes the part believable because he never steps out of character as a thirteen-year-old adolescent just beginning to discover what was important in his life besides basketball.
Pete recognized the skills of black players and often would shoot hoops with them.
Best Chucks Scenes
Pete constantly trained: in the rain, blindfolded, on railroad tracks, showing a teammate a drill, practicing dribbling, working on ball control. (click on the thumbnail to see the larger image)
The Pistol is filled with great chucks shots from beginning to end. Young Pete lives in both black and white high tops and wears them throughout the film. Of course all of his teammates wear them on the court, and so do his coaches. The best action shots are training and game sequences, and we provide a sampling of both.
When two starters collide, Pete gets his break, Pete sets up a play in practice, Pete was often the hero of the game, Pete drives to make a score, Pete is devasted when the referee disqualifies his winning shot.
The Pistol: The Birth of a Legend. (1991) Adam Guier, Nick Benedict, Millie Perkins, Murrell Garland, Tom Lester, Buddy Petrie, Darrel Campbell, Wendy Leblanc, John Richardson, Rodney Stone, Eddie Hailey, David Brantley. Joe Chrest, Edward Layrisson, Paul Henderson.
Directed by Frank Schroeder. Categories: Sports, Drama, Family.
ChucksConnection Rating:
MPAA Rating: G
Support the film industry by purchasing genuine DVD, Blue Ray, or streaming copies of these films. Illegal copies only help profiteers. Make sure your money goes to the producers and artists who actually create these films. Still images from the film are used here as teasers to get you to view an authorized copy. If you have information about a film where a main character wears chucks, contact us at films@chucksconnection.com.