A ChucksConnection TV Series Feature
Scott Bakula wears black high top Converse "Chuck Taylor" All Stars in the series.
Quantum Leap
Sam Beckett returns to his home as a senior in high school in the episode "Leaping Home".
In Quantum Leap, Scott Bakula plays Dr. Sam Beckett, who is propelled into the past through a scientific experiment. He becomes a character in the past in each episode and does not know where his next trip will be. Scott occasionally wears chucks in the show, whenever he becomes a character who would wear them. He played a fraternity member in one show and he wore high black chucks.
When Sam discovers he has been transported to his childhood past, he excitedly runs home.
In one of the best episodes, "The Leap Home" (which by the way is Scott Bakula's personal favorite episode and the favorite of many "Leapers"), Dr. Sam is propelled back to a small town in Indiana where he becomes himself as a high school senior. In this autobiographical episode, Scott as Dr. Sam wears his favorite sneakers of then and now, black high top Converse Chuck Taylor All Stars throughout the entire episode. (Scott has also been seen wearing them around New York offstage during times when he has been performing on Broadway.) In those days, Dr. Sam/Scott lived in his black high top chucks wearing them constantly at home and when he was playing on his high school basketball team. His brother, played by David Newsom, makes an appearance in the episode and he also is wearing black high top chucks.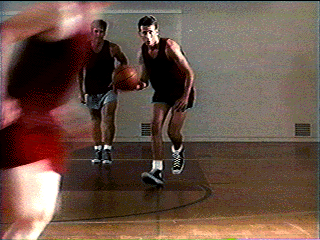 Sam and his high school basketball team wear black high top chucks.
Much of the "Leaping Home" episode deals with Sam's attempts to change history, especially as it affects members of his family, his brother, his sister, and his father. He wants his brother to survive in Vietnam, his sister to avoid an unsuccessful marriage, and his dad to avoid and early death.
Sam runs through the cornfield in frustration, when his attempts to persuade his family to change their actions or life styles are met with resistance.
Dean Stockwell plays Sam's collaborator in the Quantum Leap experiments. He is unseen to everyone except Sam, and he has a machine that can predict whether Sam's efforts will yield the results that they want.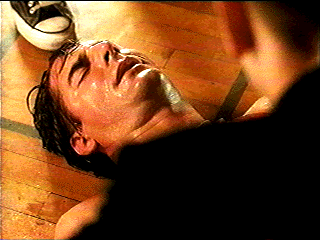 Sam is knocked to the floor, when he is fragrantly fouled during the game.
The "Leaping Home" episode has some great chucks shots, examples of which you can see here.
The team celebrates after beating their rivals in a close game.
Do you know of other television shows or series where a main character wears Converse All Star Chuck Taylors? Can you describe a favorite episode or two from the series, or do you have additional information about the shows described here already? Do you have videotapes, DVDs or shot captures of episodes from any of the series that haven't been given an in depth article on this site? If you do, email us at chucksphotos@chucksconnection.com and we will add the information to the television pages.