A ChucksConnection Film Review
Iko Uwais wears black low cut Converse "Chuck Taylor" All Stars in the film.
The Raid 2
by Jack Hunter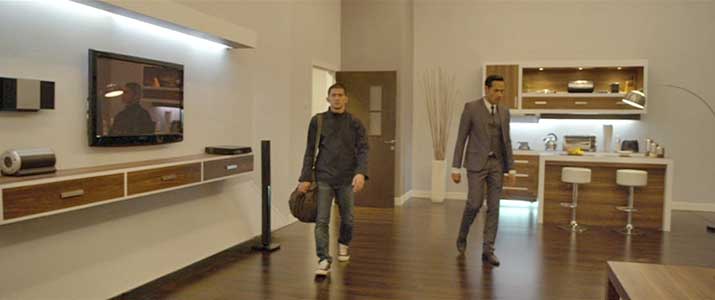 After his release from prison, undercover agent Rama becomes an enforcer for the mob boss Bangun.

It is a stunning achievement for a film, let alone a film series, to be worthy of being dubbed a classic. There are so many factors going against having multiple bodies of work being remembered amongst the greats, especially in the martial arts genre. The Raid 2 affirms both its and its predecessors place amongst some of the greatest action and/or martial arts films ever made. With its combination of a whip smart cops and robbers plot, intensely brutal fight scenes and mesmerizingly brilliant cinematography, The Raid 2 is a gem in the world of action cinema.
Rama and Bangun lakeside.
Taking place directly after The Raid: Redemption, The Raid 2 opens with Jakarta policeman Rama's brother, Andi, being executed by gang-lord Bejo. Right after the ill-fated raid of the last film, Rama is introduced to a clandestine anti-corruption police task force. He's given an offer to join in the hopes of rooting out police corruption by going undercover and getting an in with a gangleader's son named Uco. Rama assumes the alias of Yuda, assaults a prominent politician's son, and is incarcerated. While in prison, he defends Uco from an assassination attempt and gains an invitation to join his gang. Once in, Rama discovers a criminal underworld more vast and far reaching than he ever imagined, and must use all his strength to undermine it.
Rama escapes from some attackers.
For a film featuring a heavy dose of martial arts action, the film's story is surprisingly complex and well done. It is indeed a direct sequel to the first film in the series, and offers a unique take on police corruption and a criminal underworld unknown to most of the world. The story has a great deal of twists and turns, and unique characters. Two of these are Hammer Girl and Baseball Bat Man, brother and sister assassins whose weapons of choice should be pretty obvious. Given that this is a foreign language film, viewing the subtitled version is a must, as the dubbed one greatly detracts from its greatness. The dubbed voice acting is pretty bad, and subtitles are a much better alternative.
After a series of vicious fights, Rama must heal his wounds.
The true highlights of the film are its action and cinematography. The fight scenes are, simply put, insane. Each one, and there are quite a few, gets more intense, brutal, and mesmerizing to watch as the film progresses. Like in the first film, The Raid 2 showcases the Indonesian fighting style of Pencak Silat, one which Rama puts to great use. Rama should be viewed as one of the great badasses of action cinema. He dispatches his foes with an unreal amount of skill, grace, and sheer brutality. The fight scenes in this film are not for the squeamish. The two highlights are a brutal prison riot in a muddy recreation yard, and the epic final fight between Rama and a gang-land assassin. The film's cinematography is a masterwork, with the camera capturing the incredible fight scenes in a breakneck, expertly framed style. The camera moves almost as if it were in a video game, with the zoom cuts, quick editing and superb framing.
Rama must take on the enforcer for a rival mob.
Best Chucks Scene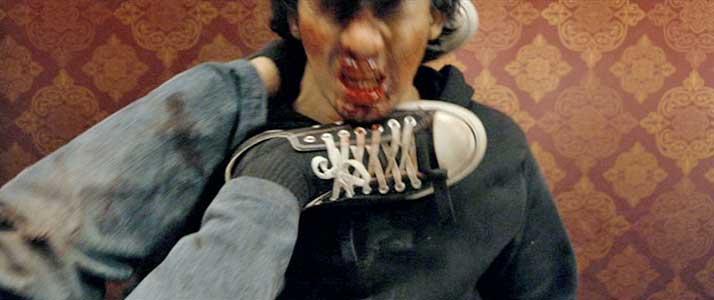 Closeup of Rama's chucks as he takes down Baseball Bat Man.
Chucks play a prominent role in the film. Iko Uwais in his role as Rama kicks a great deal of ass for the majority of the film in a pair of black low tops. They catch your eye during all the fight choreography which provides the best closeups. While he makes it look easy, it's probably not the best idea to attempt Pencak Silat at home in your favorite pair of low tops.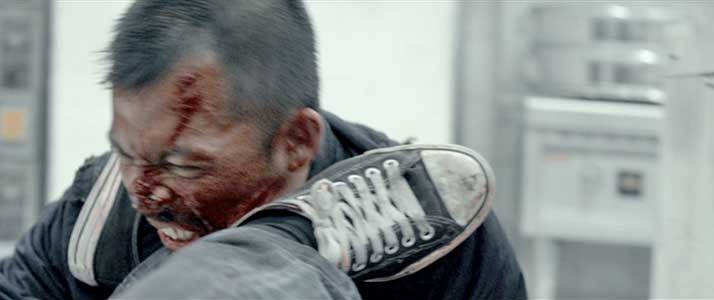 The very last fight of the day is the toughest.
The Raid 2. (2014) Iko Uwais, Arifin Putra, Tio Pakusadewo, Oka Antara, Alex Abbad.
Written and directed by Gareth Huw Evans. Categories: Action/Adventure, Crime.
ChucksConnection Rating:

MPAA Rating: R for extreme violence
Support the film industry by purchasing genuine DVD, Blue Ray, or streaming copies of these films. Illegal copies only help profiteers. Make sure your money goes to the producers and artists who actually create these films. Still images from the film are used here as teasers to get you to view an authorized copy. If you have information about a film where a main character wears chucks, contact us at films@chucksconnection.com.