A ChucksConnection Film Review
Samara Weaving wears yellow high top Converse "Chuck Taylor" All Stars in the film.
Ready or Not
by Hal Peterson
Grace must take on the le Domas family on her wedding night.
Young bride Grace (Samara Weaving) thinks she has it made. Growing up as a foster child with no family, she has fallen in love with Alex le Domas (Mark O'Brien), who comes from a very wealthy family. Although Alex has been estranged from his family for many years, Grace insists that they go back to his family home to have their wedding because she is desperate to have a family in her life after being on her own most of her life. But entering a wealthy family as an outsider has its downside, as Grace learns after her wedding. Eager to go on her honeymoon with Alex, instead she learns that the de Lomas family has an initiation rite that must be completed on the wedding night of a new family member. It seems simple enough; the new bride or groom must chose a card and play that game against family members. That would be great if the game is chess or checkers, but there is one game called Hide and Seek that involves a struggle to the death if that card is drawn. Of course Grace ends up picking that card, and what was initially a happy occasion turns into Grace having to fight for her survival against de Lomas family members and their servants who are determined to kill her before dawn, which are the rules of the game. If the family fails to do this, they will all die. This scenario was all set up generations ago by Victor de Domas who made a deal with another man named Le Bail who helped him acquire all of his wealth.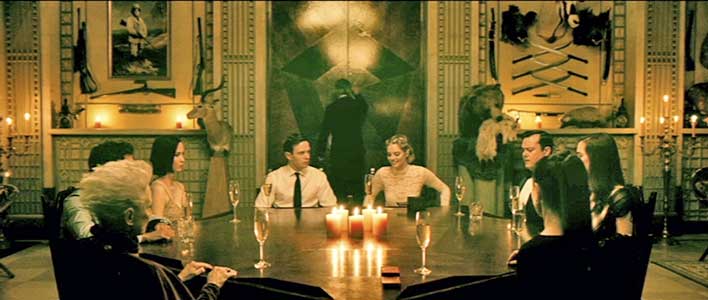 The family gathers to play a game.
Now Grace finds herself pitted against Alex's father Tony (Henry Czerny), his mother Becky (Andie MacDowell), his sister-in-law Charity (Elyse Levesque), his sister Emilie Bradley (Melanie Scrofano) and her husband Fitch (Kristian Bruun) and Aunt Helene (Nicky Guadagni). Only Alex and his brother Daniel (Adam Brody) seem to be on her side. As is typical is this genre of film, each family member has quirks and problems like alcoholism, snobbishness, drug addiction, and being a whiner. At first Grace doesn't take the game or the threat against her seriously. She hides out in a dumbwaiter after being given 100 counts head start, but tires of hiding there after a while and hides behind a bed in one of the bedrooms. She is shocked when she sees Emilie kill one of the household maids, mistaking her for Grace. Now she understands that the threats are very real with the family members armed with weapons from the game room. Luckily Alex finds her and helps her get focused. He brings Grace her pair of high top chucks, and tells her to put them on so she can escape. Now the chase is on in earnest.
Grace escapes from a killing pit in the barn.
After telling Grace what she must do to escape, Alex goes to disable the security system. Grace is able to avoid several of the family members and the butler Stevens (John Ralston) while they work to dispose of the maid's body. Grace goes to the study but is discovered by Daniel. Daniel tells her that he doesn't like the family tradition, but because his life is at stake, he cannot let her live. Luckily for Grace, he is drunk and gives her ten seconds to escape before he tells the rest of the family where she is. Grace then hurries back to the game room to get herself a weapon. Unfortunately she later discovers that the rifle she armed herself with is a fake. Grace does have her wits about her, and is eventually able to escape from the de Lomas mansion, but the chase continues throughout the night, with many twists and turns. It would spoil the viewer's experience to reveal more of the plot, other than to say that Grace has quite a harrowing experience.
Grace climbs a ladder to escape from her pursuers.
Directors Matt Bettinelli-Olpin and Tyler Gillett keep Ready or Not moving at a crisp pace and the vibe of the film combines that of a classic mystery that gradually evolves into horror. The film is well cast with the kind of character actors one would expect in a story involving a wealthy, old money family. Samara Weaving gives a solid performance as the young bride cast into a world where she is treated as an object of scorn by some, pity by others, eventually becoming the fox in a foxhunt. The story line is not always logical and some of the twists seem contrived, but you are kept engaged due to its tongue in cheek and humorous qualities. Definitely worth watching if you like this type of film.
The camera work often focuses on Grace's chucks.
Best Chucks Scene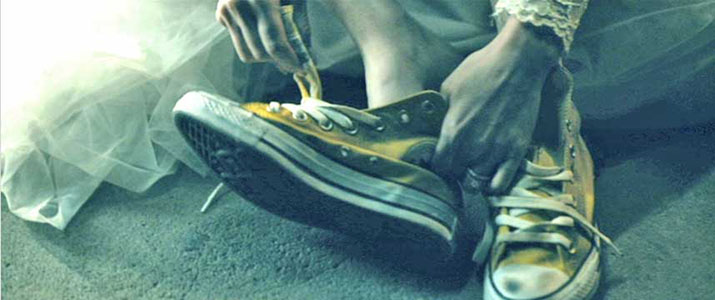 Grace puts on her trusty high top chucks to help her escape from the family.
Lead actress Samara Weaving who plays Grace wears mustard yellow high top chucks throughout the later two thirds of the film, and when she laces them up the action gets going in earnest. The cinematography in Ready or Not is very chucks friendly, with many close ups throughout the course of the film. Brett Petkiewicz is to be commended for his work in this regard. Perhaps the constant shots of Grace's chucks are meant to show her vulnerability or to remind us that in no way is she one of them. And luckily she has them to wear instead of her clunky dress pumps worn at the wedding itself, as they help her to run around and climb in and out of dangerous situations. The best scenes are when she first laces up her chucks, and the many action scene close ups of the camera panning to her chucks.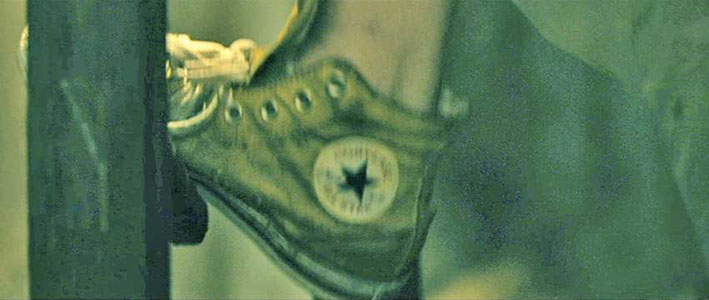 Close up of Grace's chucks as she climbs a ladder.
Ready or Not. (2019) Samara Weaving, Adam Brody, Mark O'Brien, Henry Czerny, Andie McDowell, Melanie Scrofano. Directed by Matt Bettinelli-Olpin and Tyler Gillett.
Categories: Action/Adventure, Horror.
ChucksConnection Rating:

(2.5 chucks for the film, plus an extra half chuck for the great chucks photography.) MPAA Rating: R
Support the film industry by purchasing genuine DVD, Blue Ray, or streaming copies of these films. Illegal copies only help profiteers. Make sure your money goes to the producers and artists who actually create these films. Still images from the film are used here as teasers to get you to view an authorized copy. If you have information about a film where a main character wears chucks, contact us at films@chucksconnection.com.