A ChucksConnection Film Review
Dempsey Pappion wears red high top Converse "Chuck Taylor" All Stars in the film.
The Red Sneakers
by Hal Peterson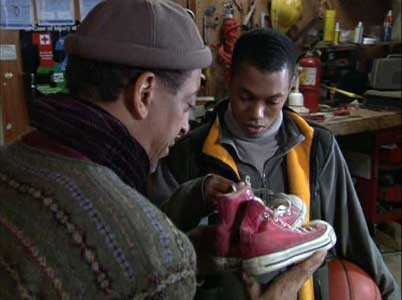 Zeke gives the special pair of red high top chucks to Reggie.
Reggie Reynolds (Dempsey Pappion) is a Brooklyn high school student who wants to be a basketball player, but possesses below average athletic skills. Although he is a good student, and tries to be a successful baskeball player, the most he has been able to be in the school's athletic program is the manager. He often fantasizes that he is a starting member of the basketball team but in real scrimmages his lack of ability ends in his humiliation by other players as they easily outplay him. Reggie is regularly "dissed" by some of the other students, including Roscoe Banks (Chris Collins), the star of the team who calls Reggie "Waterboy". His friend Khalil (Cabral Richards) tries to cheer Reggie up, telling him that he doesn't need basketball because he has skills in mathematics. Reggie's mom Gloria (Vanessa Bell Calloway) feels the same way, telling Reggie that the most important thing he can do is work towards getting a mathematics scholarship for college. But Reggie is determined to try out for the team anyway. One day on his way home, Reggie wanders through a junkyard owned by Zeke (Gregory Hines) who strikes up a conversation with him. Zeke is amazingly perceptive, and soon figures out that Reggie is depressed about his lack of ability in basketball. After Reggie helps Zeke carry some heavy items to his truck, Zeke promises to let him take anything he wants, which turns out to be a pair of old red high top chucks. Zeke tells Reggie that they once belonged to Willy "The Wizard" Slocum, the star of the Harlem Reds, an old Negro League team back in the 1920s and 30s, who played every game of his professional career wearing them. Accordingly to legend, Willy's talent gradually seeped into The Red Sneakers, and anybody who wears them could play just like he did. Although skeptical at first, Reggie decides to take the shoes, and when he laces up in them for the first time, he is amazed at the difference in his ability. He now has the moves of a star player and can make baskets from anywhere on the court. At the varsity team tryouts, Reggie easily makes the team, to everyone's surprise.
Reggie laces up the red sneakers for the first time.
Suddenly Reggie's stature around school dramatically changes. He quickly becomes the new star of the team, and starts leading them toward the all city championship. much to the chagrin of Roscoe. During the games there are chants of "Reggie, Reggie" and his skills are noticed by basketball scout Uncle Joe Diamond (Rueben Santiago-Hudson) who tracks down Gloria and tells her that Reggie has a chance at a scholarship to Georgetown University. Gloria is amazed to find out how highly regarded Reggie is as an athlete, although she still wants him to concentrate on getting a degree. Reggie is noticed also by sneaker magnate Mr. Mercado (Vincent D'Onofrio) who is chagrined to find out that Reggie isn't wearing or even interested his new high priced shoes that he is trying to market, especially after reports come in from the stores that kids are now asking for canvas red high tops like Reggie wears.
Reggie's mom Gloria finds the red sneakers and wants to throw them away.
But other problems arise for the basketball team. Mr. Seabrooke (Philip Akin), a new mathematics teacher at school, insists that every team member be eligible for the team with at least a C average, which means that many of the team members will need to substantially raise their grades in math. At a team meeting, Khalil tells the rest of the team that he is passing because he gets tutoring from Reggie, who is an A student in math. It is decided that the team must tutor for an hour before each practice, led by Reggie. At first this is disasterous, but eventually Reggie figures out a way to teach math through basketball drills, and the teams' progress is amazing to Mr. Seabrooke. As the team approaches the championship game, tensions mount as many of the team members are disgruntled because their games have become the "Reggie Show" rather than a true team effort. After Reggie refuses to wear his products because they are too expensive (and because he needs the red sneakers for their magic) Mercado sends out operatives to steal the red sneakers and find out what makes them tick. How all of these issues are resolved makes up the balance of the story.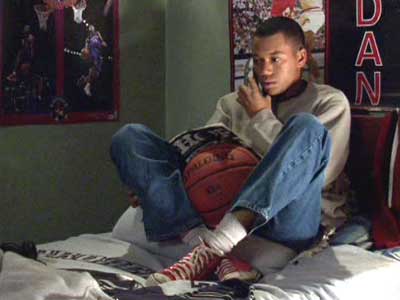 The red sneakers become an important part of Reggie's life.
The Red Sneakers was produced originally for television by Showtime Cable, and was directed by Gregory Hines, who also appears in the film as the mysterious junk dealer Zeke. The story is family-oriented with some clear messages that it sends out to kids: academics are important, believe in yourself, and you don't have to spend a lot of money on fancy shoes to be successful in sports. Fortunately the messages are not presented in an overbeaing manner. It's nice to see young black actors presented in a postive, mainstream environment led by Dempsey Pappion, who gives a credible performance as Reggie. It's also great to see Chuck Taylors presented again on the basketball court as an effective basketball shoe, which they always have been for nearly a century. There is one flaw in the storyline regarding The Red Sneakers, however. Red and other bright colored high tops were not manufactured until the late 1960s when Converse introduced chucks in a rainbow of colors. Until the 1960s and 1970s, people dressed mostly in a very conventional manner. Athletic shoes were black, white, or sometimes (in the earlier times) brown. The stitching and piping were different from the models shown in the film and the "magic" pair of shoes you see were clearly manufactured in the last decade. It was unheard of for a basketball team to be wearing red shoes in the 1920s. But red chucks definitely get your attention, and The Red Sneakers has a good message, so we will excuse their lack of research.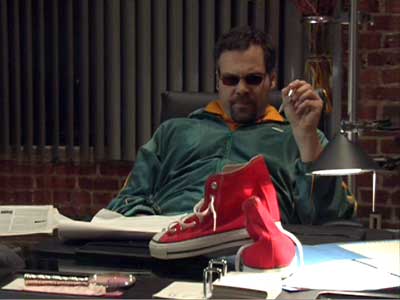 Sneaker magnate Mercado can't figure out why those inexpensive canvas red high tops are so popular and successful.
Best Chucks Scene
Coach Blake talks to the team; Reggie drives down the court; Reggie shoots a critical free throw.
(Click on the thumbnails to see the still.)
With the title and subject matter of this film all about a pair of red high top chucks, the cinematography is full of great chucks shots. Besides the images shown above, some of the best scenes are during games — in action on the court, or shoe closeups. While the producers of the film try to make you think that the red sneakers are a special magic shoe, they are clearly using red Chuck Taylors. Come to think of it, Chuck Taylor high tops are a special shoe, and a good subliminal message from the film is that you don't anything more expensive to succeed on or off the court. In some of the closeups they have whited out the Converse star, but if you look closely you can see it underneath.
Close up shots of the red high top chucks on the court, driving down the court, and set for a free throw.
The Red Sneakers. (2002) Dempsey Pappion, Vanessa Bell Calloway, Vincent D'Onofrio, Ruben Santiago-Hudson, Gregory Hines, Jordan Walker, Makyla Smith.
Directed by Gregory Hines. Categories: Fantasy, Family, Sports.
ChucksConnection Rating:

MPAA Rating: PG
Support the film industry by purchasing genuine DVD, Blue Ray, or streaming copies of these films. Illegal copies only help profiteers. Make sure your money goes to the producers and artists who actually create these films. Still images from the film are used here as teasers to get you to view an authorized copy. If you have information about a film where a main character wears chucks, contact us at films@chucksconnection.com.