A ChucksConnection Film Review
Richard Harmon wears black low cut Converse "Chuck Taylor" All Stars in the film.
The Return
by Hal Peterson
Roger, Beth, and Jordan return to Roger's home after his father's death.
Roger Emmerlich (Richard Harmon) has a tough time ahead of him. He is returning to his family home after his father Oswald's (Erik Athavale) sudden passing. There is no other family to greet him. His mother, Esme (Gwendolyn Collins), disappeared six year previously as did his younger sister, Amelia (Zoe Fish), when he was a young boy. Both of his parents were scientists, and they had high expectations for him. Those have been fulfilled as Roger is considered an exceptional student, spending much of his time involved with his studies. He has trepidations returning home as his childhood was not particularly a happy one due to the events in his family life, strained relations with his mother, and issues with the house, which is filled with mysterious door slams, noises, and objects falling over. Luckily Roger has with him a support group consisting of his life-long best friend Jordan (Echo Andersson) and his current girlfriend Beth (Sara Thompson) with whom he has a romantic involvement. A couple of last minute videos recorded on Oswald's phone also provides some guidance.
Roger meeting with the family lawyer.
After the three arrive, they begin going through boxes of files and things from Roger's childhood. And it seems that the noises and other unusual happenings in the house are caused by a ghost that sometimes appears as black smoke with glowing eyes or as a skinless being that has physical capabilities. When they discover a partial written report from Dr. Henrietta Cox (Marina Stephenson Kerr) a psychiatrist in town, Roger realizes that important events of his childhood were suppressed. Roger confronts Dr. Cox who is reluctant to reveal the rest of the report. Eventually Roger and Jordan end up breaking into her office and stealing the rest of his file. With rest of the report and evidence of an affair that Dr. Cox had with his father, Roger is finally able to force Dr. Cox to tell him the complete story of what happened to his sister Amelia, revealing that the stories of a ghost are true and that there was a supernatural element to her disappearance.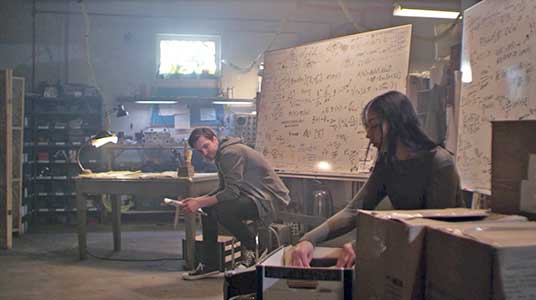 Roger and Jordan pondering over things in the basement studio.
Back at the house there is tension building between Beth and Jordan. A lot of this is due to the fact that Jordan and Roger are lifelong friends, so she has a lot of insight into Roger's life past and present. And she is not hesitant to comment about things which is off putting to Beth. When Roger is not sensitive to her feelings, Beth decides to leave and stay at a friend's house. Later Beth decides that she was foolish to leave and returns only to have an unfortunate confrontation with the ghost. Since their arrival at the house, Roger and Jordan have been spending a lot of time in the basement, where Esme had her private physics lab. Eventually he discovers that she was working on concepts of time travel as the story line take a turn into the realm of science fiction as Roger begins to understand what he must do to get things under control again. The ending of the film is quite surprising if you were expecting a traditional haunted house story.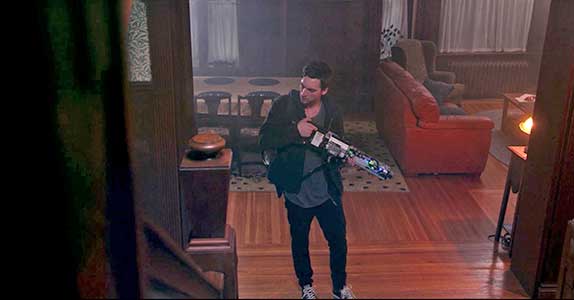 Roger goes after the apparition with his mother's machine.
Writer and director BJ Verot has given us a film with typical horror and science fiction elements, but handled in a very creative way that keeps you intrigued and involved. He gets good performances from his actors, led by Richard Harmon and Echo Andersson, who have the lead roles. The special effects are very good, and in today's world of films known mostly for their special effects and huge budgets, this is a real compliment. The only thing that didn't work very well was the addition of Beth to the story line, making for an awkward triangle situation that didn't add anything to the story line, and was never resolved at the end of the film. But fans of either the horror or science fiction genres will enjoy The Return. Right now The Return is available on streaming.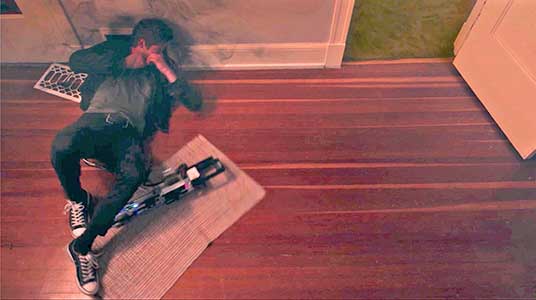 Roger ends up on the floor after using his mother's machine.
Best Chucks Scene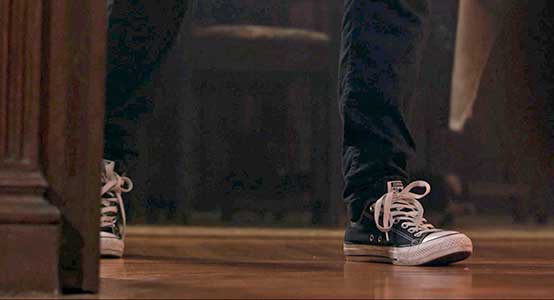 The camera shows a close up of Roger's chucks.
Richard Harmon in his role as brilliant college student Roger wears black low cut chucks throughout the film, appropriate footwear for a young genius trying to unlock mysteries from his past. There are not a lot of closeup shots of them, but being chucks, they always catch your eye in scenes where they appear, even when the lighting and atmosphere is dark. The best close up occurs when Roger is in pursuit of an apparition, and later when he finds himself flat on the floor.
Roger ends up on the floor after chasing the apparition.
The Return. (2020) Richard Harmon, Echo Andersson, Sara Thompson, Marina Stephenson Kerr, Erik Athavale, Gwendolyn Collins, Zoe Fish.
Written and directed by BJ Verot. Categories: Horror, Science Fiction.
ChucksConnection Rating:

MPAA Rating: NR
Support the film industry by purchasing genuine DVD, Blue Ray, or streaming copies of these films. Illegal copies only help profiteers. Make sure your money goes to the producers and artists who actually create these films. Still images from the film are used here as teasers to get you to view an authorized copy. If you have information about a film where a main character wears chucks, contact us at films@chucksconnection.com.