A ChucksConnection Film Review
Daisy Eagan wears red low cut Converse "Chuck Taylor" All Stars in the film.
Ripe

By Brandon L. Summers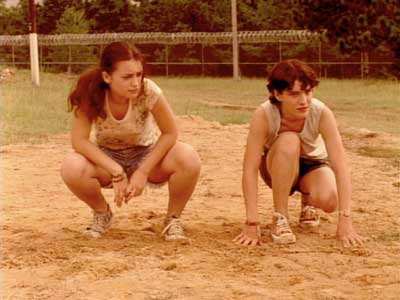 Violet and Rosie are fraternal twins emerging from a very troubled adolescence.
Ripe begins with a traffic accident that kills the abusive parents of 15-year-old fraternal twins Violet (Monica Keena) and Rosie (cutie Daisy Eagan). On the lam, the two best friends enjoy themselves. We see they're rambunctious, dancing in other people's laundry, launching loogies from the top of the ferris wheel. Rosie swears Violet to one rule: no boys. Ever. It is also made clear that Rosie has a problem with things having sex when she uses a giant circus mallet to cruelly crush two adorable rats doing it. From there, the two carefree youths (irresponsibly) jump into the back of a truck owned by Pete (Gordon Currie), a handyman at an Army depot base. After returning for another porn run for the soldiers, he catches the two girls in his truck. Though furious, he allows them to stay with him.
Rosie and Violet lying down in the back of Pete's truck.
Two teenage girls walking around an all-male military base is fairly conspicuous, so it's arranged with the base's commander that Pete's two "nieces" will stay with him temporarily. Privately, Pete makes his own deal: Violet will accompany him to a dance — the soldiers bet money the hippy wouldn't have a date — and she has to give him a good three-second kiss there on the spot. Rosie works at the diner, and also finds a gun. While tough but caring MP Ken (Ron Brice, like a lesser Scatman Crothers) teachers her how to use it, befriends her, Violet spends more time with Pete. The two get closer, he's kind and she clearly likes him. She also gets her first period, and later goes someplace quiet to masturbate.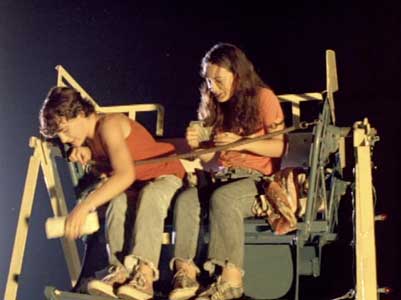 Rosie and Violet on the top of a ferris wheel.
Things get tense between Rosie and Violet. Rosie wanted to stay at first to scam Pete. Now Violet wants to stay. Its unspoken why, but we all know. The night of the dance arrives. Taking coats, Rosie plans to steal everyone's money and hightail it, while Violet dances with Pete. The two sneak away, and have intimate sex. Rosie spies them, and storms around the base angrily. She comes across drunken soldiers and is spotted. Cornered by a horny attacker, she embraces him and lets him have his way, a reckless sort of revenge, until Ken stops it and Rosie flees. The girls have nothing to say to each other that night. The next day, angry and eager to leave, Rosie formulates a plan while Violet and Pete are out. That night, she makes a nice dinner, and suggests the three play a game, 30 seconds in the closet. Violet and Pete go first, and enjoy themselves. When its Rosie's turn to take Pete in the closet, she shoots him. It was necessary, she explains to Violet. But Violet is mad. Rosie weeps. The MPs arrive. Rosie explains it was suicide, backed up by loyal Violet, but Ken intuits the truth. He covers for them, but his heart is broken. That friendship is over.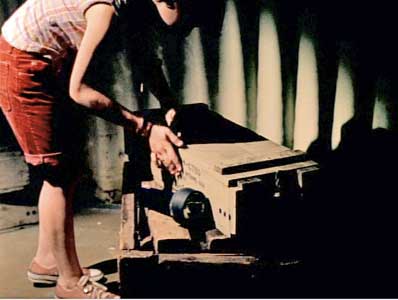 Rosie discovers a gun in the base armory.
Rosie and Violet reconcile long enough to gather their wad of money and leave. They play a last game of fun hide-and-seek, a reconciliation? But when Rosie emerges from her hiding space, she finds Violet is gone and knows it's forever. Having lost her best friend, curled up on the floor, she puts the murder weapon in her mouth, but cruelly there are no bullets. Violet's flight takes her away to some new life. Ripe works and it doesn't. It works because Eagan and Keena give very good performances. The film is bleak and a little oppressive, yet visually impressive with a good, spare score. It's definitely a 90s film. It's well-made, but it feels like an exercise. The plot is there, and the scenes and actors. But it's unclear what the film's point is. It mostly has the subtlety of a circus mallet, yet doesn't say much about its characters, or delve into their world too deeply. It's superficial. If nothing else, though, it has improved with time. I liked it, but I'm skeptical many others would, too.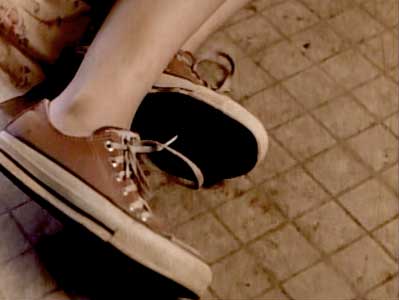 The camera pans up from Rosie's red low cut chucks as she contemplates ending her life.
Best Chucks Scene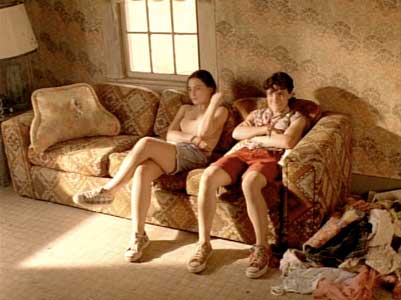 Violet and Rosie are seated on the couch listening to Pete.
The girls wear low cut chucks (Violet's are plaid Jack Purcell's) throughout the film to emphasize their youth and innocence, and place them in a very rural, almost bygone 1970s anyplace. In one scene, Pete is explaining his terms for the teenage girls staying with him, with the girls splayed in their own youthful reposes.
Rosie on the couch.
Later, Rosie is contemplating her plan, impatiently tapping one foot with the other raised on the couch. We see this is a child contemplating something dark, and a little over her head and scared by it, but bravely determined. Last, Pete spins the bottle. Rosie slides her foot forward to make sure she goes in the closet with Pete.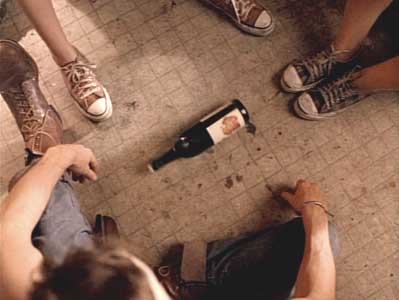 Rosie, Violet and Pete are playing spin the bottle.
Ripe. (1996) Daisy Eagan, Monica Keene, Gordon Currie, Ron Brice, Karen Lynn Gorney, Vincent Laresca.
Directed by Mo Ogrodnik. Categories: Drama, Sexually Explicit.
ChucksConnection Rating:

MPAA Rating: R
Support the film industry by purchasing genuine DVD, Blue Ray, or streaming copies of these films. Illegal copies only help profiteers. Make sure your money goes to the producers and artists who actually create these films. Still images from the film are used here as teasers to get you to view an authorized copy. If you have information about a film where a main character wears chucks, contact us at films@chucksconnection.com.