A ChucksConnection TV Series Feature
K.J. Apa wears black high top Converse All Star "Chuck Taylor" sneakers in the series.
Riverdale
Archie (center) talking to Veronica (right) and Betty (left).
The CW is well-known for its teen dramas such as Gossip Girl, 90210 and The Vampire Diaries. In January 2017, the network premiered their newest drama Riverdale. The show is a darker, modern take on the classic "Archie" comics, and stars the ensemble cast of K.J. Apa as Archie Andrews, Lili Reinhart as Betty Cooper, Camila Mendes as Veronica Lodge, Madelaine Petsch as Cheryl Blossom, and Cole Sprouse as Jughead Jones.
Next door neighbors Archie and Betty go for a walk.
The show takes place in the fictional town of Riverdale, a small town where everybody knows everybody. Yet despite the picturesque setting, this town has many dark secrets bubbling beneath the surface. It starts with the death of Jason Blossom, heir to the Blossom Maple Syrup fortune. He's found dead at Sweetwater River with his twin sister Cheryl washed up on shore in tears. The whole town is in shock and on the look out for the killer, with many of the supposed innocent townsfolk harboring some possible motive. Meanwhile, a new girl named Veronica Lodge moves into town with her mother after her father, the money laundering Hiram Lodge, is arrested and thrown in prison. Her presence soon creates friction between neighbors/best friends/possible love interests Betty and Archie, as Archie takes a liking to Veronica and Veronica attempts to become best friends with Betty. The show is narrated by Jughead Jones, Archie's former best friend who had a falling out with Archie the day Jason Blossom was murdered. All these elements don't even begin to scratch the surface of what is going on in the town Riverdale, as there is plenty more drama and mystery yet to be told.
Archie's chucks in full view as he spends 7 Minutes in Heaven with Veronica.
The show's main protagonist, Archie, can almost always be seen wearing a pair of black high top Chuck Taylor All Stars. This seems to be a throwback to his roots in the comics from the 1950's, as the chucks give him an old-school, small town look while still being stylish and fitting for 2017. They are also a perfect look him since he is a budding musician, and we know how much musicians love chucks. Whether it's at school, Pop's Chock'lit Shoppe, in the woods by Sweetwater River, or even at a black tie gala at the Blossom Estate, you'll definitely see Archie Andrews in a pair of chucks.
This time it's Betty wearing chucks as the gang goes on an investigation.
There's plenty of drama and mystery in this sleepy, little town. The show's first season is set to end on May 11th, 2017, with a more seasons already in the works. With its overall who-done-it mystery, and spicy romantic drama, the show is a definite hit with a little something for everybody.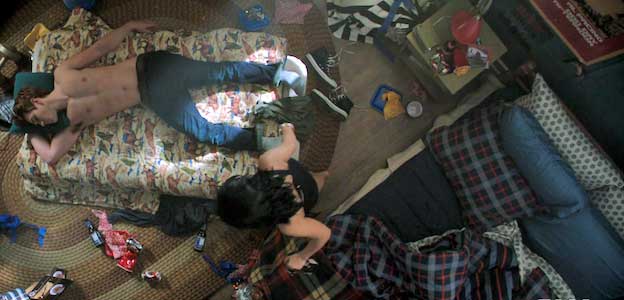 Archie's black chucks strewn across his floor.
Do you know of other television shows or series where a main character wears Converse All Star Chuck Taylors? Can you describe a favorite episode or two from the series, or do you have additional information about the shows described here already? Do you have videotapes, DVDs or shot captures of episodes from any of the series that haven't been given an in depth article on this site? If you do, email us at chucksphotos@chucksconnection.com and we will add the information to the television pages.