A ChucksConnection Film Review
Rainn Wilson wears red high top Converse "Chuck Taylor" All Stars in the film.
Teddy Geiger wears black low top Converse "Chuck Taylor" All Stars in the film.
The Rocker
By Brandon L. Summers
Garage band A.D.D. needs to find a drummer for a school prom job.
The best rock 'n' roll film of all time is This is Spinal Tap (released three days before I was born). Everything else has been a pale imitation. And nothing from the trailers showed anything ambitious enough to best that, so already expectations are low. This will be passable or, at the best, very good. Not a kind start. It's 1986. Cleveland hair band Vesuvius (Bradley Cooper, Fred Armisen, Will Arnett) has been discovered by Matchbox Records, but there's a catch. They have to ditch their drummer, Trash, aka Robert Fishman, aka Fish (Rainn Wilson, from Twitter). They literally ditch him, and twenty years later he's working a normal life job. Life sucks, but only gets worse when he attacks a co-worker for playing the new Vesuvius album, he loses his job, and his girlfriend dumps him. Nowhere to go, Fish returns home. Living with his disapproving sister (Jane Lynch), her wannabe rocker husband (Jeff Garlin) and his nephew Matt (Josh Gad), he sleeps on an inflatable mattress in the small attic. Matt plays keyboards for a band, A.D.D., led by Curtis (Teddy Geiger) with Amelia (Emma Stone, from Easy A) on bass. They show promise and they're about to play the prom when they lose their drummer and need a quick replacement. Enter that old, washed-up drummer living in the attic. With no other choice, he's in! He shows up at the prom in full gaudy 80s regalia, ready to rock! The show goes well. He's in tune with their lite pop teen music style, oddly. At the end of the night, during one of the slow songs, he goes nuts with a drum solo, ruining the evening. He's out!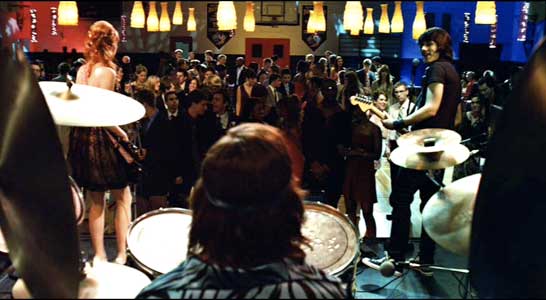 Fish becomes their drummer for the school dance.
To redeem himself, he promises to get A.D.D. a real gig. He's back in! And he succeeds, getting them a gig in another city, meaning a road trip. They don't make it, though. The band members are grounded and Fish is kicked out of the house. Forced to live in the unbearably hot basement of a Chinese take-out restaurant, Matt links them up online so they can still rehearse. Fish thinks it's a mic and not a camera, so he practices naked. The video of their practice becomes a YouTube hit, getting a million hits over night. (The number now should be like 25 million hits, really.) People laugh at the naked drummer, but also heard the song and liked it. Also, Fish has met Curtis's mom Kim (Christina Applegate), who was once in a girl band. They have a bit of a rapport. Now, A.D.D. is being courted by Matchbox Records agent David Marshall (Jason Sudeikis). The band goes on a Midwestern tour, collect fans. Fish decides to live it up rock star style and gets them busted. Clearly, they need an adult. Kim follows along with them now. Nothing surprising happens after. The big break comes! After making a music video and with a hit song, A.D.D. is asked to open for... Vesuvius. Fish is adamant about not performing for them. Marshall pushes Curtis into it by suggesting that Fish and Kim are banging. (They're not.) Curtis makes the call, Fish quits, goes back to normal life. Amelia and Matt pressure Curtis into not being a jerk and the band gets back together! The show goes great. Vesuvius fools themselves. And A.D.D. gets the chance to be extra great. Everyone's happy. Fish has matured. They've made it. They're rock stars!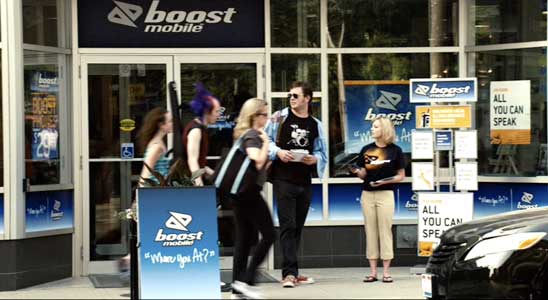 Fish goes out to get a job for the band.
The film is very predictable, but that's okay in a comedy if the jokes are good. And some of them are. There's some funny sight gags (the opening van scene), Stone gets some sassy one-liners. Rock star physical comedy is a usually safe bet. And, some great jokes about moistness. Nothing great, but solid. It's a bit over plotted. Sometimes it's too sincere. The real problem? Rainn Wilson. He doesn't have much edge. He's likeable and doesn't fail, sure. It's just that the role was clearly written for a louder Jack Black sort, maybe Steve Carrell. And that music is awful! I don't consider it rock music, and it's a little too clean for a garage band. At least one comment about how this music is different from the awful hair band music of the 80s (Damn Yankees!) would've been nice. Why quibble though? It's a decent enough comedy. Plenty of chuckles, an easy-going charm, and all the characters are likeable. And because it plays everything safe, and is completely unchallenging, it's mostly enjoyable. It's a weak film, but that's what I expected, so, really, it didn't disappoint at all!
After Fish gets them a job out of town, the band members and their parents meet to decide if they can go.
Best Chucks Scene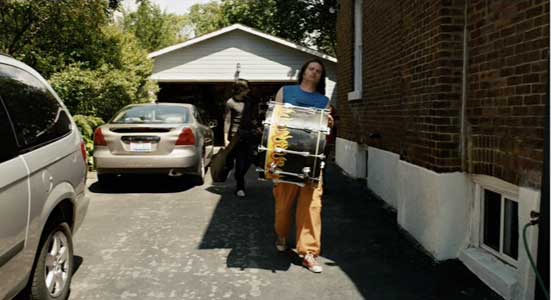 Fish loading his drums for their road trip.
Fish lives the rock star life in his gaudy rocker silks and red high top chucks, like driving a tiny tricycle into a pool. He's acting like an idiot, which is funny because he's like 40-ish.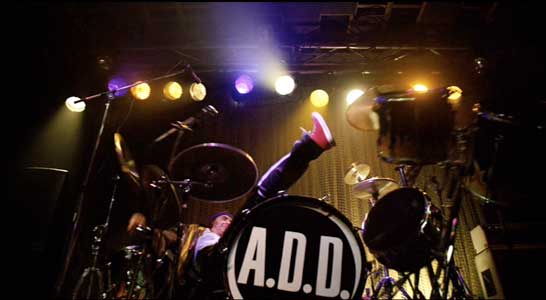 Fish falling off hi drum set during a performance.
Later, outraged by the idea that he open for his hated former band, Fish tries to break a drumstick on his knee, but fails. It's extra funny because he's been kicking his drums and leaping off the stage every chance, so his legs are steadily deteriorating.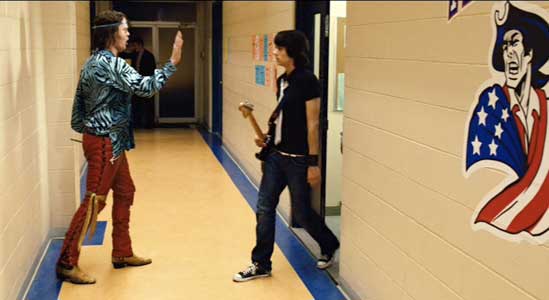 Fish and Curtis after the prom performance.
Also, Curtis wears black chucks throughout the film. They're never displayed in any way, though, that you'd notice.
The Rocker. (2008) Rainn Wilson, Christina Applegate, Teddy Geiger, Josh Gad, Emma Stone, Jeff Garlin, Jane Lynch, Jason Sudeikis, Will Arnett.
Directed by Peter Cattaneo. Categories: Comedy, Musical, Teenagers.
ChucksConnection Rating:

MPAA Rating: PG-13
Support the film industry by purchasing genuine DVD, Blue Ray, or streaming copies of these films. Illegal copies only help profiteers. Make sure your money goes to the producers and artists who actually create these films. Still images from the film are used here as teasers to get you to view an authorized copy. If you have information about a film where a main character wears chucks, contact us at films@chucksconnection.com.