A ChucksConnection Film Review
Juno Temple wears black high top Converse "Chuck Taylor" All Stars in the film.
Evan Peters wears optical white low cut Converse "Chuck Taylor" All Stars in the film.
Safelight
by Jack Hunter
Vickie helps Charles take photos of lighthouses.
It's said that opposites attract, and if you watch enough romantic-drama films, you might come to believe that to be true. Whether it's a cheesy rom-com, serious drama, or any other film centered around romance, the couple at the center of the story usually tend to be pretty different from each other. Take Lost In Translation. Bill Murray is a middle-aged actor shooting a commercial in Tokyo, with a marriage and life seemingly going nowhere. Scarlett Johansson is a young, recent college graduate whose husband is a celebrity photographer. Yet, the two connect and a romance blossoms. With Safelight, director Tony Aloupis takes the romantic drama staple and tries to make it work but ends up with a whole bunch of, basically, nothing.
Charles and his father talking.
Safelight finds Charles (Evan Peters), a young man with a bum foot working at a truck stop. His mom has left and his father is in poor health. He meets Vicki (Juno Temple) a kind-hearted hooker with a vicious pimp named Skid (Kevin Alejandro). Charles feels he is destined for better things, and wants to enter in a photography contest, a dream held by his late brother. Vicki decides to help him out and the two head to California to photograph lighthouses along the coast.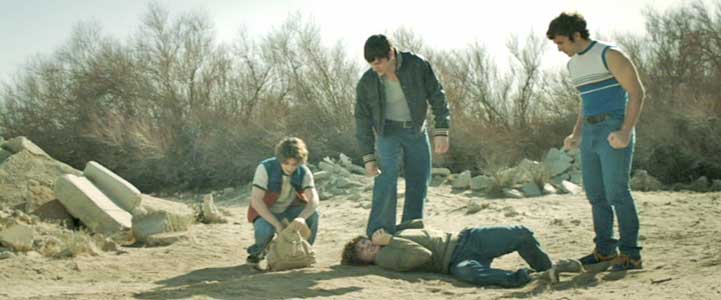 Three bullies from Charles' school continually pick on him.
The film is, frankly, a jumbled mess. It's cheesy, not dramatic, and while billed as a love story, there's not much romance. The couple at the center of the story don't really fall in love as much as just spend time together. Charles is essentially obsessed with his photography, and Vicki doesn't seem to mind. His dying father is, of course, quite sagely and the evil pimp is just plain old evil. The characters here are cut right out of a how-to book on storytelling, with no depth to them at all.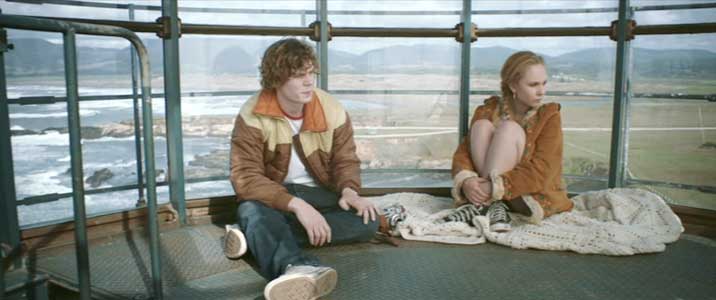 Charles and Vickie in the observation deck of a lighthouse.
Nothing feels that believable in the film either. The dialogue is just stiff. It's romantic/Hallmark card mush that simply does not land. Like stereotypical romantic-dramas, everything happens for a reason in the story. Every plot point ultimately leads to the central couple learning something about each other and themselves, yet none of it feels believable. The film simply feels like something that would belong on TV in a soap opera or on Lifetime.
Peg, Eric, Vickie, and Charles socializing.
Best Chucks Scene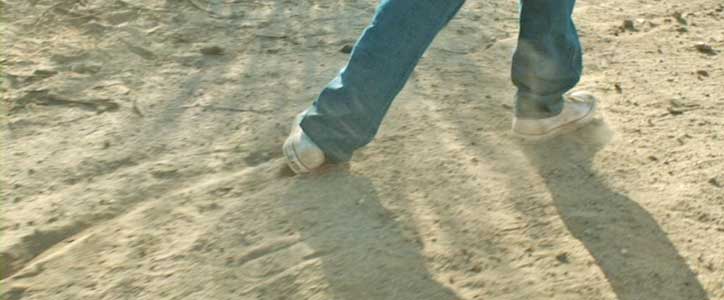 The camera focuses on Charles' low cut chucks as he struggles to walk.
Both main characters in Safelight wear chucks. Charles (Evan Peters) limps along in a pair of white low cuts. You can see his disability as his left left is always at an awkward angle. Vickie (Juno Temple) wears black high top chucks when she is not dressed in her hooker outfit. The best scene with her is when she is with Charles and puts up her foot so he won't take more photographs of her.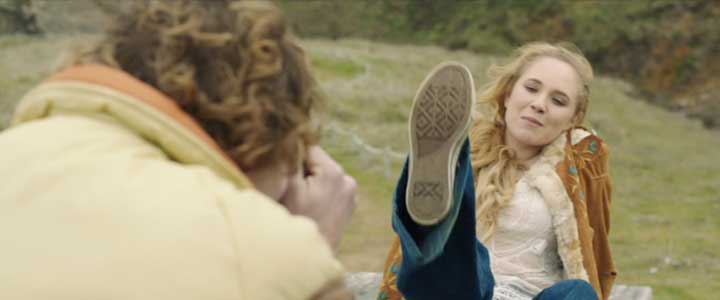 Vickie puts her foot up to prevent Charles from taking her picture.
Safelight. (1998) Evan Peters, Juno Temple, Kevin Alejandro, Meaghan Martin, Christine Lahti, Ariel Winter, Jason Beghe.
Written and directed by Tony Aloupis. Category: Drama.
ChucksConnection Rating:;

MPAA Rating: NR would be R
Support the film industry by purchasing genuine DVD, Blue Ray, or streaming copies of these films. Illegal copies only help profiteers. Make sure your money goes to the producers and artists who actually create these films. Still images from the film are used here as teasers to get you to view an authorized copy. If you have information about a film where a main character wears chucks, contact us at films@chucksconnection.com.