A ChucksConnection Film Review
Tim Allen wears black and red high top Converse "Chuck Taylor" All Stars in the film.
The Santa Clause
by Marcus Angulo
Santa walking in plain sight while wearing red chucks.
Everyone has at one time or another, wondered what it would be like to be Santa Claus. What would it be like to wear the big red suit, drive the sleigh, summon the reindeer, and shake your belly like a bowl full of jelly? In the 1994 film, The Santa Clause, an everyday salesman finds out all that being "The Big Guy" entails. The film stars Tim Allen, Eric Lloyd, Wendy Crewson, Judge Reinhold, and David Krumholtz. Upon its release, it was a massive box office success, grossing $189 million worldwide. Two sequels followed, The Santa Clause 2 (2002) and The Santa Clause 3: The Escape Clause (2006).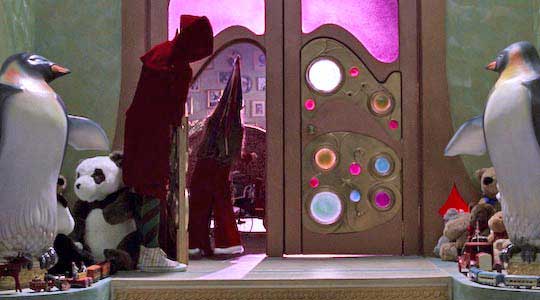 Some of the elves in Santa's workshop wear Christmas chucks.
Scott Calvin (Allen) is a successful, divorced toy salesman who is preparing to spend Christmas Eve with his son Charlie (Lloyd). Scott wants to bond with Charlie, and maintain his belief in Santa Claus. Scott's former wife, Laura (Crewson) and her psychiatrist husband Neil (Reinhold) both stopped believing in Santa at a young age, and are trying to get Charlie to stop believing as well. Scott just wants his son to stay a kid for as long as possible, so he keeps up hope that Santa is in fact real. After Charlie heads to bed, Santa's sleigh lands on their roof and wakes them up. They hear Santa on the roof, and Scott believes it to be a burglar. Scott rushes into the snow, startling Santa, and causing him to lose his balance. Ol' St. Nick comes crashing off the roof, landing on a snowbank in front of Scott. Scott searches Santa for clues to his identity, and finds a card in his pocket that read "If something should happen to me, put on my suit, the Reindeer will know what to do." Santa then vanishes, leaving behind only his suit.
Scott also wears black high top chucks in this film.
Scott and Charlie climb onto the roof via a ladder which has magically appeared, and they find Santa's sleigh and reindeer. They get into the sleigh, which takes off to continue delivering presents. After some cajoling by Charlie, Scott puts on the Santa suit and tries to deliver the presents to the children of the world. The sleigh takes them back to the North Pole, where they are met by Bernard the Head Elf (Krumholtz). He explains to Scott that he has agreed to become Santa due to a legal technicality known as "The Santa Clause". The fine print on the card he read said that by putting on the suit he agreed to accept all of Santa's duties and responsibilities, and he now has eleven months to get his affairs in order before reporting back to the North Pole. This turns Scott's whole world upside down, as he spends the next year changing in ways he never imagined.
The sheer amount of trucks it takes to deliver "The List" leaves Scott speechless.
This film (and its sequels) holds a special place in the hearts of a generation that grew up watching them every Christmas season, as they were shown relentlessly in cable Christmas movie marathons. This film in particular still holds up to this day. The scene where Scott and Charlie enter the North Pole is just as magical now as it was in 1994. The thought put into just how being Santa works is the best part of the movie, as there are plenty of great gags and references throughout the film. Tim Allen is in his Home Improvement prime here, and Eric Lloyd as Charlie pulls off the rare cinematic feat of being an actual cute, believable kid. The Santa Clause remains a perfect family Christmas movie to fire up while sitting by the fire this Holiday season, offering laughs and a bit of magic for everyone.
Scott's belly is ready to be shook like a bowl full of jelly.
Best Chucks Scene
"Nope, I'm definitely not Santa."
The best chucks scene in the film comes after Scott has begun his transformation into Santa. During this portion of the movie, Scott gains weight uncontrollably as the magic begins to turn him into Santa permanently. He trades in his business suit and loafers for a sweat suit and chucks. Scott then heads to the park to watch Charlie's soccer game, looking completely like Santa. A little girl goes up to tell him what she wants for Christmas, and a line soon forms behind her. We see Scott in his black chucks and red sweat suit finally fully embrace being Santa, and this is the turning point of the film. This is where SC stops meaning Scott Calvin and starts meaning Santa Claus.
"OK, you got me. I'm totally Santa."
The Santa Clause. (1994) Tim Allen, Judge Reinhold, Wendy Crewson, Eric Lloyd, David Krumholtz, Larry Brandenburg, Mary Gross, Paige Tamada, Peter Boyle. Directed by John Pasquin
Categories: Comedy, Family.
ChucksConnection Rating:

MPAA Rating: PG
Support the film industry by purchasing genuine DVD, Blue Ray, or streaming copies of these films. Illegal copies only help profiteers. Make sure your money goes to the producers and artists who actually create these films. Still images from the film are used here as teasers to get you to view an authorized copy. If you have information about a film where a main character wears chucks, contact us at films@chucksconnection.com.