A ChucksConnection Film Review
Jimmy, Katie, Daryl, and Orson wear red, black or blue high top Converse "Chuck Taylor" All Stars in the film.
Scary Godmother: Halloween Spooktakular
by Marcus Angulo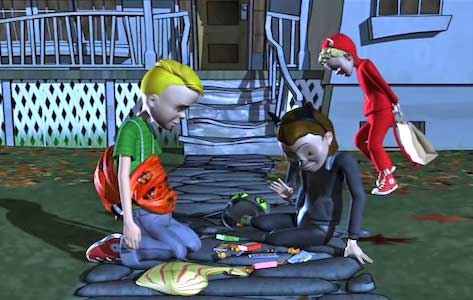 Daryl and Katie divide up their candy spoils.
There are films that every generation associates with holidays. It's The Great Pumpkin Charlie Brown!, Hocus Pocus, The Addams Family and Halloweentown are some that are commonly associated with Halloween, along with every classic horror film. However, there is a cult classic that holds a special place in the hearts of many who grew up watching Cartoon Network in the mid-2000s. Scary Godmother: Halloween Spooktakular is a 2003 Canadian computer-animated Halloween comedy film based on the "Scary Godmother" series of books by Jill Thompson. Premiering first in Canada in 2003, then in the US on Cartoon Network in 2004, the film remains a classic in the eyes of many who grew up while watching it through the cloudy October nights.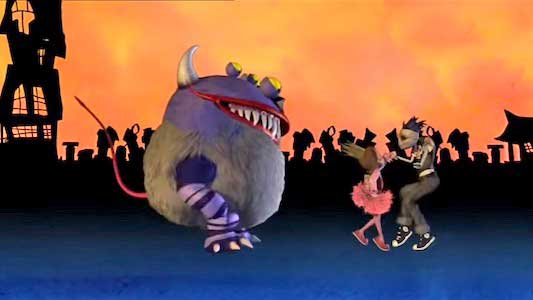 Cut a rug with Bug a Boo!
The film follows the tale of Hannah Marie, a young girl dressed as a fairy princess, on Halloween night. She is about to go trick-or-treating with her spoiled cousin, Jimmy, who is of course dressed as a devil, and his friends Katie, dressed as a black cat, Daryl, in a candy costume, and Bert, pretending to be a baseball player driving inside an SUV that can shoot atomic lasers. Jimmy is annoyed with having to go with Hannah because he believes that she's slow, annoying, and a coward. He decides that if he and his friends can scare her enough to go home, they can then spend the night really trick or treating. While near an abandoned house in a graveyard, Jimmy concocts a myth about residents at the house not feeding candy to monsters and being eaten as a result. He tells her that ever since candy has to be in the basement every year to prevent the monsters from killing other children in the world, and this year it's Hannah's job. This leads to Hannah getting locked in the house, and summoning her Scary Godmother.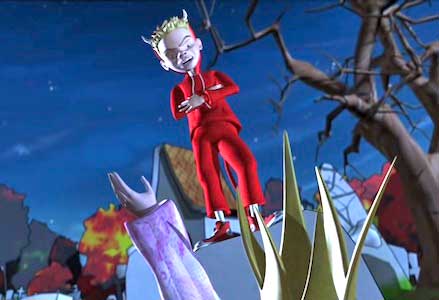 You're the devil in disguise.
Scary Godmother is a friendly and fantastical witch with a pet ghost cat. She takes Hannah on a broomstick ride to the Fright Side, a place where the Godmother's other friends live: Mr. Skully Pettibone the skeleton, Harry the werewolf, a fuzzy monster that works scaring kids named Bug-A-Boo, and a vampire family of parents Count Max and Countess Ruby, and son Orson. They're all at Scary Godmother's for their annual Halloween party, described by Pettibone as the most "spooky phantom fest in the whole realm." Through antics including dancing, playing, and bonding with Orson, Hannah warms up to monsters and realizes there's nothing to be scared of when it comes to their antics. Toward the of the party, Hannah tells everyone about the story Jimmy told her, and they decide to get him and his friends back for being mean to her. The kids are terrified of the monsters as real and bolt out of the house, and before Hannah leaves, Scary Godmother gives her a skeleton key to go back to the Fright Side anytime.
Halloween Havoc is in the mist when Scary Godmother's around!
This is a very simple but very fun film. The pace is very quick as it only has 48-minute runtime, but it does a lot in that 48 minutes. Scary Godmother is the star and most memorable character of the film, as she has a whimsical and effervescence about her that brings the audience in. The special also features little bits that endured it to a lot of children, including the inclusion of mini recipes to make spooky treats for your own Halloween party. The animation doesn't exactly hold up as well, as it suffers from the same issues a lot of computer animation suffered from in the early and mid-2000s, but the animation isn't what you watch this for. You watch this film for Bug a Boo, Skully, Harry, Hannah, and Scary Godmother. And for that, this film is worth a watch this Halloween!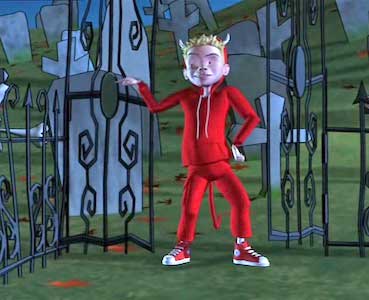 "Ding dong!"
Best Chucks Scene
Three of the kids wear different chucks in this film.
Jimmy, Katie, Daryl, and Orson all wear high top chucks in this film, and what's interesting is that the All Star patch, which is usually obscured or blanked out in animated films, is very present and recognizable. The best chucks scene comes at the beginning of the film when Jimmy and the gang are recounting the scary story to Hannah and are attempting to scare her. Jimmy, Katie, and Daryl are all so animated, reenacting scenes and hopping up and over tombstones that you see their chucks in almost every shot. The chucks on all three really hammer home the DIY nature of all their costumes, which is something everyone who ever dressed up on Halloween knows very well.
Kick those chucks up and tell us a tale, Daryl.
Scary Godmother: Halloween Spooktakular . Voices of Garry Chalk, Noel Callahan, Alex Doduk, Britt Irvin, Britt McKillip, Danny McKinnon, Scott McNeil, Adam Pospisil, and Tabitha St. Germain.
Directed by Ezekiel Norton. Categories: Comedy, Family
ChucksConnection Rating:

MPAA Rating: NR
Support the film industry by purchasing genuine DVD, Blue Ray, or streaming copies of these films. Illegal copies only help profiteers. Make sure your money goes to the producers and artists who actually create these films. Still images from the film are used here as teasers to get you to view an authorized copy. If you have information about a film where a main character wears chucks, contact us at films@chucksconnection.com.