A ChucksConnection Film Review
Christian Goodwin and Ariel Bavly wear black low top Converse "Chuck Taylor" All Stars in the film.
Seduction Theory
by Hal Peterson
The Kid and his family about to bury his sister's dead hamster.
Seduction Theory is a very different coming-of-age story that mixes typical adolescent issues with their interpretation in Freudian theory at its height of acceptance in the 1960s. We are introduced to a 1962 nuclear family, who as characters don't even have names. Rather they are portrayed as a family case study involving a twelve-year-old boy called The Kid (Christian Goodwin), his psychiatrist Father (Michael Cumpsty), Mother (Georgia Lyman), and younger Sister (Lily Gavin). Although the film actually spans over forty years in its timeline, The Kid is always shown on screen as an adolescent boy wearing typical sixties attire of tee shirts, sweatshirts, blue jeans, and black low top chucks. Throughout the film, The Kid acts as a dispassionate narrator (in the voice and body of The Kid, but with the knowledge of his adult self), guiding us through events in his life both realistic or dreamlike in their depiction. As the film opens we see The Kid listening in on several of The Father's clinical sessions being held in his home basement, where he sees patients on the weekends instead of at his office in the city. The Kid is able to listen in by holding a stethoscope up to a boarded wall. As we hear portions of a couple sessions, The Kid explains that in the 1950s and 60s, Freudian theory was considered the gold standard in the world of psychiatry, and psychiatrists like his father were its high priests.
The Kid having a session with his psychiatrist.
Next we see see The Kid with his family. The sister is upset because her pet hamster has died and she doesn't quite understand how she caused it, but she must be there to bury it. The Kid goes on to explain that in their family, they are not only judged by their actions but also their unconscious motivations that include oral, anal, phallic, and genital stages. The Kid has a serious problem of his own, bed wetting, and he is taken to weekly sessions with another psychiatrist to deal with it. This is very difficult for The Kid to talk about, as it would be for any twelve-year-old with that problem. His own parent's latest solution is to buy a new patient couch for The Father's basement sessions, and turn the old one into a bed for The Kid. They also place a heavy plastic tarp under the sheets which causes him embarrassment later. The Father opines that The Kid's bed wetting is passive-agressive behavior, and that it is wrong for The Mother to try to comfort him after an incident happens.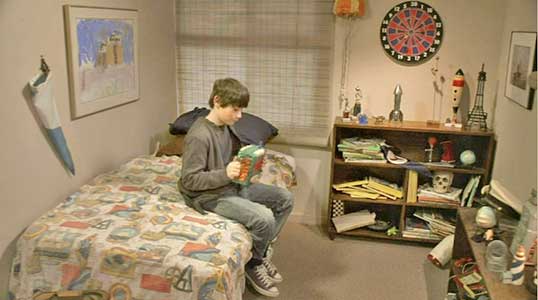 The Kid playing his squeeze box in his room.
A third element of the story involves The Kid's outreach and attempts to build relationships with the opposite sex. He meets up with The Girl (Ariel Bavly) at a local playground and she suggests they go for a walk. She seems like a kindred spirit, no friends, unredeemable behaviors, and nearly identical dress. The Kid replies that whatever is wrong with her he likes. Things seem to be clicking between them until they sit down on the couch bed (which has been traveling around with The Kid indicating that this is a dream sequence), and the plastic sheet underneath. After the plastic makes a notable crunching sound, she quickly leaves. This is followed with a notable scene where The Kid takes us through a description of Freudian theory, including the Seduction Theory, impacts of childhood abuse, and the Oedipus Complex. We find out that his parents divorced, and The Kid was married and divorced in his twenties. He discusses unresolved issues with his father, and a later hook up again with The Girl. An overall message left with us is that in his life love is good, but relationships are short.
The Kid walking with his girlfriend.
Seduction Theory is a partially autobiographical short film written and directed by Steven Ascher and co-produced with Jeanne Jordan. Due to its compact length and complex subject matter, it may take a couple of viewings to absorb all the nuances of the film, which include multiple time settings. But in this film, having a lot of layered nuances makes it quite intriguing to the viewer, and you do want to see it again. That's easy to do because it is only 22 minutes long. Everything is done with the highest quality, perhaps unusual for a short film, but clearly due to its excellent production values and main characters, well played by Christian Goodwin, Michael Cumpsty, and Georgia Lyman. Christian Goodwin does a particularly good job making us see family life in the world of psychiatry through the eyes of an intelligent yet vulnerable twelve-year-old.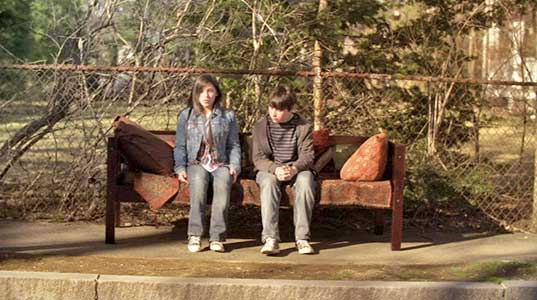 The Kid and his girlfriend seated on his couch/bed outside.
Best Chucks Scene
The Kid acting as a psychiatrist.

Christian Goodwin (The Kid) wears black low top chucks throughout the film, as does The Girl (Ariel Bavly) in her brief scenes. The camera work is particularly chucks-friendly throughout the film, and The Kid is framed in many of the shots wearing them. The best chucks scene is when The Kid acts as a psychiatrist, with his feet up on his desk and a pipe in his hand, explaining Freudian theory.
The Kid finishing his analysis.
Seduction Theory. (2014) Michael Cumpsty, Georgia Lyman, Christian Goodwin, Ariel Bavly, Lily Gavin. Written and directed by Steven Ascher. Categories: Coming of Age, Comedy, Short
ChucksConnection Rating:

MPAA Rating: NR, would be PG-13
Support the film industry by purchasing genuine DVD, Blue Ray, or streaming copies of these films. Illegal copies only help profiteers. Make sure your money goes to the producers and artists who actually create these films. Still images from the film are used here as teasers to get you to view an authorized copy. If you have information about a film where a main character wears chucks, contact us at
films@chucksconnection.com.