A ChucksConnection Film Review
Steve Guttenberg wears black low top Converse "Chuck Taylor" All Stars in the film.
Short Circuit
by Hal Peterson
Newton Crosby discovers that his robot has evolved into a living creature.
Short Circuit is another film about the US government, its employment of artificial intelligence technology for military purposes, and how that impacts those whose created and work with the technology. When something unexpected happens to give the AI device a touch of humanity, it seems that the people in charge always want to destroy it rather than keep it for peaceful applications. And those responsible for making the device must always fight against the military establishment to prevent that from happening. This is a familiar theme of previously made films like D.A.R.Y.L., also reviewed on this site. Made by the producers of War Games, one of the best films made with this premise, Short Circuit is about a line of five prototype robots called S.A.I.N.T. (Strategic Artificially Intelligent Nuclear Transport) meant for use in military operations. The robots were made in the NOVA Laboratory by Newton Crosby (Steve Guttenberg) and Ben Jabituya (Fisher Stevens), two robotic engineers who can also imagine peaceful applications of this technology, but are thwarted by the agenda of NOVA's CEO, Dr. Howard Marner (Austin Pendleton). Howard is not interested in anything other than developing the fighting capabilities of the robots.
Stephanie and Number 5 at her house.
The main storyline gets under way during a live demonstration for military brass at the NOVA site near Astoria, Oregon, where the robots successfully demonstrate their military capabilities. Toward the end of the demonstration, a heavy storm suddenly hits. While most everyone and everything is able to get to shelter safely inside, robot number 5, is struck by lightning. The lightning bolt provides a huge energy burst to the robot, altering its programming and giving it powers of perception and thinking. With this greater intelligence now activated, the robot goes out to explore the world, and ends up in the company of Stephanie Speck (Ally Sheedy), who cares for animals and drives around in a large ice cream truck. Stephanie is convinced that the robot is an alien from outer space. She takes it into her home and in an attempt to communicate gives him all kinds of "input" that Robot Number 5 demands. The robot is able to absorb a complete encyclopedia, insatiably watch television, and learn about the world. One of the best effects of the film is watching #5 speed read through the volumes of printed material in literally seconds. Meanwhile back at the NOVA lab, everyone is desperate to find the missing robot, and they put announcements on the media seeking help from the public at large. Stephanie happens to see one of these announcements and gets on the telephone to tell them that the robot is at her place.

Newton has a discussion with Number 5.
Dr. Marner orders Newton and Ben to go and retrieve Number 5 after they convince him that they are better qualified to do this than NOVA Labs' chief of security, Captain Skroeder (G.W. Bailey), who is chomping at the bit to go after the renegade robot and destroy it. However, Robot Number 5 manages to stay a step or two ahead of the NOVA people, especially after he learns about death when he accidentally runs over a grasshopper. Robot Number 5 is now capable of realizing that if he returns to the lab, he will also die when he is taken apart and rebuilt. Number 5 also has the task of convincing his creators, Newton Crosby and Ben Jabituya, that it now has sentient capabilities and shouldn't be destroyed. Ultimately Robot #5 is successful in doing this, and Newton and Stephanie start to develop feelings for each other. The balance of the film continues as each side escalates their tactics, with Skroeder, the Army, and the other robots brought in to recapture and destroy Robot Number 5, while Number 5, Stephanie, and his creators try to prevent its destruction by outwitting their opponents.
Newton stumbles onto the ground.
One would think that a film made 35 years ago would suffer in comparison to recently made sci-fi films, due to all of the advancements in technology and special effects. But the robots in Short Circuit still hold their own. Credit for this must be given to Syd Mead and Eric Allard, who designed the robots for this film. They make Robot Number 5 believable as a personality that shows growth throughout the film and also had some spot-on mechanical features for the robots like their LED lights for eyes and fighting capabilities. Short Circuit does suffer from some 80s things, like casting Fischer Stevens as an Indian scientist with a bad accent, and making the Ally Sheedy role a little too ditzy. That said, it succeeds as a family film for the younger set, just like its contemporaries D.A.R.Y.L. and E.T., although not at their level of quality.
Newton and Stephanie become romantically involved.
Best Chucks Scene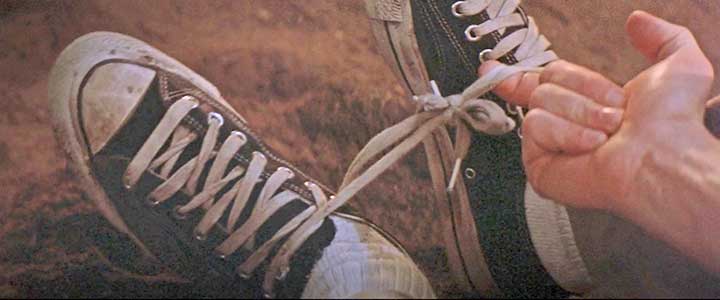 Camera closeup of Newton's shoelaces tied together.

Steve Guttenberg wears black low cut chucks in the second half of the film, when he is more casually dressed than at the NOVA Labs and in pursuit of Robot Number 5. Chucks are a good fit for a creative young scientist willing to go outside the establishment when it is necessary and right. The best scene is when he is camped out with Stephanie and Robot Number 5. He trips and falls down, discovering that the robot had tied the shoelaces of his chucks together, another action of the robot to convince him it had sentient capabilities.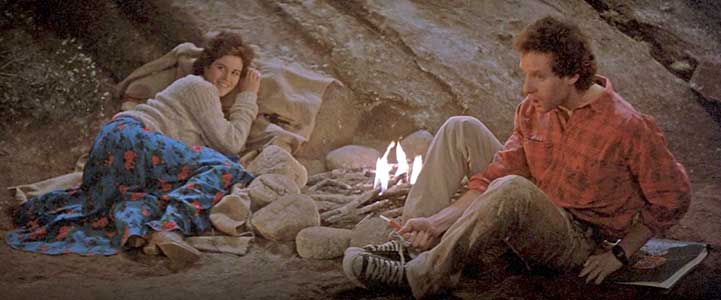 Newton discovers that his shoelaces have been tied together by Number 5.
Short Circuit. (1986) Ally Sheedy, Steve Guttenberg, Fisher Stevens, Austin Pendleton, G.W. Bailey, Brian McNamara, Tim Blaney. Directed by John Badham.
Categories: Comedy, Science Fiction.
ChucksConnection Rating:

MPAA Rating: PG
Support the film industry by purchasing genuine DVD, Blue Ray, or streaming copies of these films. Illegal copies only help profiteers. Make sure your money goes to the producers and artists who actually create these films. Still images from the film are used here as teasers to get you to view an authorized copy. If you have information about a film where a main character wears chucks, contact us at films@chucksconnection.com.