A ChucksConnection Film Review
Clive Owen wears red high top Converse "Chuck Taylor" All Stars in the film.
Elijah Wood wears black high top Converse "Chuck Taylor" All Stars in the film.
Sin City
by Hal Peterson
Dwight and Shellie talk on the ledge of her apartment building, where he is hiding from Jack Rafferty and his men.
Sin City is a stylish adaption for the big screen of the comic book characters of Frank Miller. Basin City is a cross between Gotham and the Blade Runner version of Los Angeles, a dark and brooding environment where low life and violent characters abound. Other than a couple of vignettes about The Man (Josh Harnett) a charming yet lethal hit man, Sin City presents three main story lines with some characters in common. The first story is about Hartigan (Bruce Willis), one of the few honest cops in Sin City, who tries to stop a pedophile (Nick Stahl) from assaulting an eleven-year-old girl he has kidnapped. Unfortunately for Hartigan, the pedophile is the up and coming heir of Sin City's most powerful family, the Roarks, who exact a fierce revenge on Hartigan for exposing and ruining their golden boy's future. The second story is about Marv (Mickey Rourke), an ugly brute of a man, willing to take anyone and anything on when he is framed for the murder of Goldie (Jaime King), a beautiful call girl who befriends him one night. The third story is about Dwight (Clive Owen), a fugitive with a new face lift and a real ladies man, who helps out Shellie (Britanny Murphy) a bar waitress when she is harassed by Jack Rafferty (Benicio Del Toro), a mean-spirited undercover cop.
Dwight and Miho look at Jack Rafferty after she has dispatched him with lethal force.
The stories continue in film noir style, punctuated by the continuous narration of each main character. In order to protect the girl, Hartigan accepts the blame for what happened, and is sentenced to a long term in prison. His only hope comes from the letters he receives from Nancy (Jessica Alba), the girl who he saved. When he is released from prison nine years later, he goes to find Nancy, but doesn't realize at first that he has been followed, and a whole new struggle ensues with Roark Jr., now known as the yellow bastard, a troll-like shell of a man (due to the severe beating he received from Hartigan). The cinemaphotography uses a bright yellow spot color to portray Rourke. Marv's story continues when he wakes up in the morning after the most wonderful night in his life with Goldie, to find that she has been killed in their bed, and he is set up to take the fall. But Marv is a powerful and brutal man himself, and figuring that he has nothing to lose, takes on the cops and the establishment. His only real ally in the search is his parole office Lucille (Carla Guigino). When she disappears, grabbed by the thugs of the Roarks, Marv tracks her down and discovers the real killer, Kevin (Elijah Wood) a silent but deadly murder machine wearing opaque white glasses who likes to dine off of his victims. Kevin is protected by the all-powerful Cardinal Roark (Rutger Hauer) and this leads ultimately to Marv's demise, but not before he creates all kinds of mayhem and exacts his revenge.
Kevin sits quietly reading from his missal, while a struggle goes on outside.
Dwight's story continues when he impulsively decides to pursue Jack and his cronies, and they end up in Old Town, a part of Sin City run by hookers. Rafferty makes threatening advances at one of the hookers, and is soon quickly dispatched by the hookers ninja-like enforcer, the lethal Miho (Devon Aoki). While searching his body, Dwight and his sometime girl friend Gail (Rosario Dawson), the leader of the hookers, discover that Rafferty was an undercover cop, and realize that his killing threatens the uneasy truce existing in Old Town between the police and the hookers. Dwight offers to hide the body in the tar pits before the cops figure out what has happened, but an informer among the hookers rats on them to the mob, who seeing an opportunity to take over Old Town, send in some Irish terrorist mercenaries to take out Dwight. The mob also kidnaps Gail which leads to a showdown between the Dwight, the hookers, and the mob enforcers.
Sin City is the result of the ingenious work and planning of director Robert Rodriguez, although he gives co-credit to comic book writer Frank Miller and Quentin Tarantino. The film is the most successful of any recent film in bringing the look and feel of the action comic book world to the screen by its clever combination of live action, graphics, spot colors, pulp fiction crime stories, and the film noir genre. The look of the film has a certain comic book universality about it, combining contemporary and historical fashion, landscapes, vehicles, and lifestyles. Clive Owen's costume of black trench coat worn with red high top chucks is a perfect example of this style fusion. Another strength of the film is how it remains faithful to the comic book look, as if each scene was taken from an actual comic book panel. There is no compromise in the continual and unrelenting violence, just like a comic book story, as the characters come back again and again for more. "Is that the best you've got?" taunts Marv as he takes blow after blow. The action moves at a fast pace, moving from story to story like you would flip the pages of a comic book. Sin City is extremely well cast, and the actors make these characters come to life in a way seldom seen on the screen. Especially noteworthy are the performances of the three main leads, Mickey Rourke, Bruce Willis, and Clive Owen. Rourke's look alone is striking — featuring facial prosthetics that give him a huge jaw and Neanderthal forehead. Combined with his superman-like strength and brutal moves, Rourke looks like he literally jumped out of a comic book page. Sin City gives you great value for your entertainment dollar, both visually and in its unrelenting action. But this film is not for everyone. If you are offended or squeamish about unrelenting violence, gore, nudity and sexually oriented dialog, Sin City is not for you.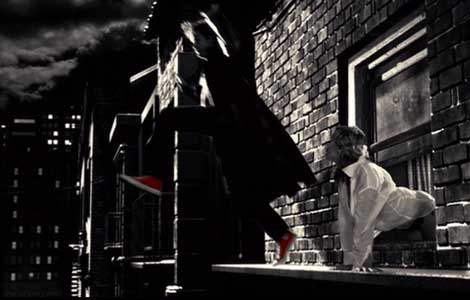 Shelley watches Dwight leap off of the ledge of a building to pursue Jackie and his thugs.
Best Chucks Scene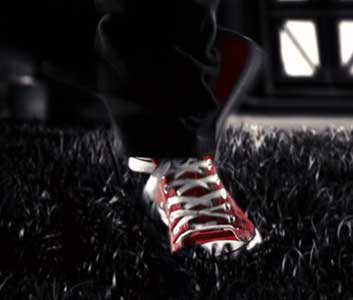 The camera focuses on Dwight's chucks as he floats through the air and lands on the ground.
As a film noir, Sin City is filmed in black and white, but with one modern touch — the use of spot color in various scenes. In the scenes with Clive Owen, who in his role as Dwight wears red high top chucks, the spot color is red. As a result, his chucks are often the only colored object you see in the scenes, which makes for a great effect in the film as they stand out from the black and white scenery. The best scene is when Dwight escapes from a building by jumping off of a ledge, and the camera focuses on him and his red chucks as they float through the air and then land on the ground.
Kevin comes running at Marv as the camera focuses on his black high top chucks.
Elijah Wood also appears in the film wearing black high top chucks in his role as Kevin, the silent and sadistic killer from the Rourke clan. Of course black high top chucks look great in the black and white cinematography of the film noir genre. The best scene featuring them is the fight scene with Marv where you see Kevin attacking him with lightning speed, leaping and kicking to try and gain a quick edge.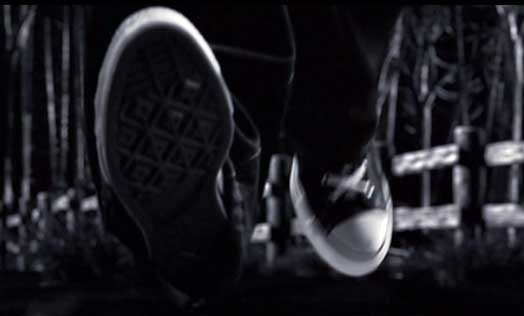 Kevin leaps up to strike at Marv.
Sin City. (2005) Bruce Willis, Mickey Rourke, Jessica Alba, Clive Owen, Nick Stahl, Powers Boothe, Rutger Hauer, Elijah Wood, Rosario Dawson, Benicio Del Toro, Jaime King, Devon Aoki, Brittany Murphy.
Directed by Robert Rodriguez. Categories: Crime and Mystery, Action/Adventure.
ChucksConnection Rating:
MPAA Rating: R
Support the film industry by purchasing genuine DVD, Blue Ray, or streaming copies of these films. Illegal copies only help profiteers. Make sure your money goes to the producers and artists who actually create these films. Still images from the film are used here as teasers to get you to view an authorized copy. If you have information about a film where a main character wears chucks, contact us at films@chucksconnection.com.