A ChucksConnection Film Review
Michael Angarano wears red high top Converse "Chuck Taylor" All Stars in the film.
Dee Jay Daniels wears black and orange high top Converse "Chuck Taylor" All Stars in the film.
Sky High
by Hal Peterson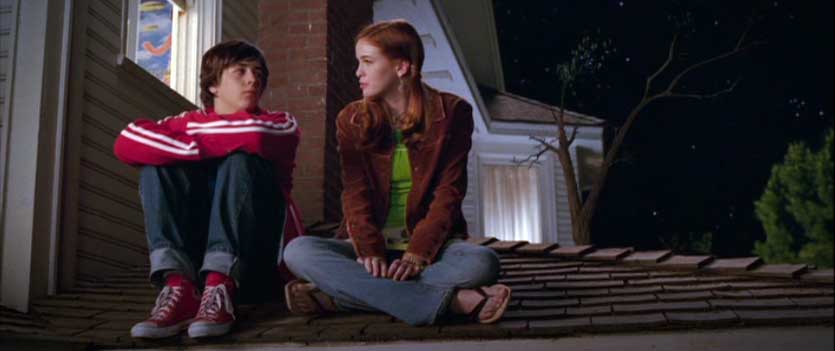 Will and Layla discuss their fears and concerns about high school.
Sky High starts out on the first day of high school for Will Stronghold (Michael Angarano). High school can be traumatic enough for an entering freshman, but this isn't just any high school. Sky High is a special school just for young up and coming super heroes. Located on an island in space, students are taken to Sky High in a school bus that turns into a space shuttle. And Will is the son of the city's most popular and active super heroes, Captain Steve Stronghold (Kurt Russell) and Josie Jetstream (Kelly Preston), the most prominent graduates of Sky High. Everyone has great expectations for Will: his parents expect him to help them save the world some day like they do when they are not acting in their cover as successful real estate agents. The school bus driver Ron Wilson (Kevin Heffernan) gives Will his business card, and tells other students to give him their seats. The other students applaud Will when they find out who he is, and want him to be their leader. Gwen Grayson (Mary Elizabeth Winstead), Sky High's student body president has her eye on Will and wants him to be the freshman representative on the school prom committee. The school bullies Speed (Will Harris) and Lash (Jake Sandvig) want Will to hang with them to help keep the other freshman in line.
Captain Stronghold shows Will around the Stronghold inner sanctum.
There is just one problem. Up to this point, Will has not figured out what his super powers actually are. His father has super strength and his mother Josie has incredible speed flying through the air. But no special powers have developed for Will, and he is a hopelessly normal freshman. When Will and the other freshman arrive at Sky High, the first thing they have to do is demonstrate their super powers for PE Coach Boomer (Bruce Campbell), a loud mouthed martinet who determines whether all incoming students are placed in the fast track "heroes" class or the "hero support" class, where students with lesser or "inferior" powers are sent. When Will is unable to demonstrate any special strength or the ability to fly, he is placed in the hero support track along with students like Zach (Nicholas Braun) who has the ability to light up in the dark, Magenta (Kelly Vix) who can transform into a gerbil, and Layla (Danielle Panabaker), Will's best friend since childhood, who has the ability to control plant life — a skill that should have put her in the hero class — except that she refuses to show her power to Coach Boomer. When the word gets out at school that Will has no super powers, Lash and Speed start hassling him and the other hero support students, and make sure that Will literally bumps into Warren Peace (Steven Strait), the flame throwing son of a villain who Commander Stronghold defeated and sent to prison. The school nurse (Cloris Leachman) tells Will that he may never develop any special powers, a rare phenomenon, but one that occurs occasionally. The worst thing of all is that Will must lie to his parents about his status at the school, fearing his dad's reaction when he finds out that Will is hanging out with the "losers".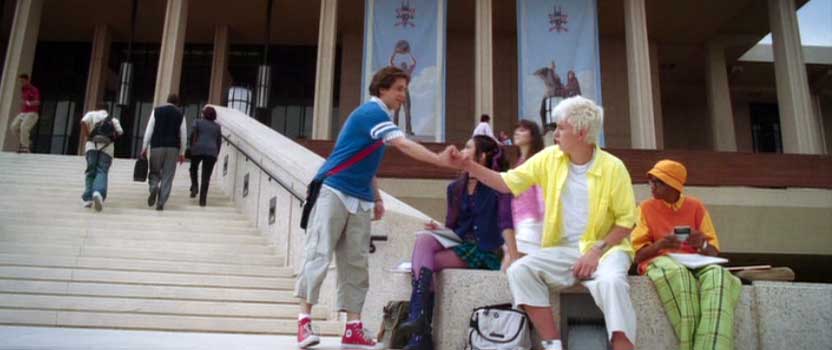 Will tries to stay connected with Zach and his other "hero support" friends.
One day, things dramatically change for Will. In the cafeteria, Lash and Speed provoke a fight between Will and Warren, and Warren goes ballistic, attacking Will with his fireballs. When it looks like Will is going to be wasted by a final fireball, his hero support friends all stand up for him, and this generates a sudden burst of energy in Will. Suddenly, he has the strength of a super hero, as he easily tosses Warren Peace across the cafeteria and into a beam. Will and Warren are put into detention by Principal Powers (Lynda Carter), a room with a special force field where no super powers will work. But the word is out: "Will is a real hero," and quickly his status at school changes. He is now placed in the fast track class, and Gwen has her eye on him, making Will her special project and her new boy friend. Will now gets to sit at the cool table in the cafeteria, and Gwen works diligently to separate Will from his "hero support" friends, especially Layla, who secretly has a crush on Will. Will's parents are thrilled also; although Josie scolds Will for nearly destroying the school cafeteria, they now envision "the three of us fighting crime together, side by side by side". Of course, forces of evil have nefarious plans to get their revenge against the Stronghold family, and it turns out that Will has been set up to implement these plans. Sky High combines together elements of a super hero action film with a high school coming of age story as Will tries to stop the plot of the super villains that he inadvertently helped put in motion, learns who his true friends are, and discovers what is truly important in his life.
Will and Warren Peace are put in detention by Principal Powers after a fight in the school cafeteria.
Sky High has to be one of the best surprises of 2005. While it appears to be another derivative film, borrowing off of other recent super hero action adventure and high school coming of age films, it is well written, cast, and acted, and enjoyable for audiences of all ages. There is even a Mystery Science Theater look to the way the villains are presented that keeps us from taking any of that part of the film too seriously. Much of the credit goes to screenwriters Paul Hernandez, Bob Schooley, and Mark McCorkle, who have cleverly combined these two genres, poked some fun at them, and provided us with interesting characters that even show some character development. Director Mike Mitchell has kept the film fast paced, with a good running time that doesn't try your patience, often the mistake of other films in these genres. Michael Angarano shows that he can handle leading roles, and after viewing this performance plus his brief appearance in The Dust Factory, you want to see him again on screen. His performance is engaging, energetic, and unpretentious, giving us the right blend of normal teenager combined with determined young super hero who is just learning how to handle his newly found powers. Other standouts in the young cast are Nicholas Braun as Zach, the kid who can light up in the dark, and Steven Strait as Warren Peace, Will's fireball throwing rival, whose look and performance is like that of a space age James Dean. The adult cast has standouts as well. Kurt Russell, in his eleventh appearance for Disney, doesn't disappoint as the super hero trying to be a normal dad, but not quite sure how to be one. Lynda Carter looks great and gives a self-deprecating performance as Principal Powers ("Who do you think I am, Wonder Woman?"). Kevin McDonald (Mr. Medulla), Bruce Campbell (Coach Boomer), and Dave Foley (Mr. Boy) are entertaining in their brief appearances as Sky High teachers. Sky High turns out to be great family fare with fun for all generations. It is light hearted but genuine, a fantasy with enough reality for you to buy in, a video comic book you will want to view and enjoy several times.

Senior class president Gwen Grayson has special plans for Will.
Best Chucks Scene
Will is knocked to the ground during a struggle with the bad guys.
Sky High is filled with great chucks footage. Michael Angarano, in his role as Will Stronghold, wears red high top chucks throughout most of the film, except for one sequence where he wears Converse Dr. J blue canvas high tops. Michael Angarano has worn chucks in a number of films and has been seen wearing a variety of chucks outside of the film world. Some of the other students at Sky High are also seen wearing chucks, most notably Ethan (Dee Jay Daniels), the kid who can transform into a puddle, who wears both black and orange high tops. With all of the stunts in the film and the chucks-friendly cinematography by Shelly Johnson, you often see close ups during the struggles between Angarano and his opponents. But the best chucks scene has to be the sequence where he has just received his first kiss from his new girl friend, Gwen. Will, exhilarated by the experience, flies through the air to the streetlight in front of her house, circles around the light, and then lands in the street when the light comes crashing down.
Will lands in the street after flying around a streetlight in front of Gwen's house.
Sky High. (2005) Michael Angarano, Danielle Panabaker, Mary Elizabeth Winstead, Kurt Russell, Kelly Preston, Kevin Heffernan, Dee Jay Daniels, Will Harris, Loren Berman, Nicholas Braun, Dustin Ingram, Stephen Strait, Cloris Leachman.
Directed by Mike Mitchell. Categories: Comedy, Family, Action/Adventure, Science Fiction/Fantasy.
ChucksConnection Rating:
MPAA Rating: PG
Support the film industry by purchasing genuine DVD, Blue Ray, or streaming copies of these films. Illegal copies only help profiteers. Make sure your money goes to the producers and artists who actually create these films. Still images from the film are used here as teasers to get you to view an authorized copy. If you have information about a film where a main character wears chucks, contact us at films@chucksconnection.com.