A ChucksConnection Film Review
Brad Renfro, Joseph Perrino, Jonathan Tucker, and Geoffrey Widgor wear black and optical white high top Converse "Chuck Taylor" All Stars in the film.
Robert de Niro wears black low cut Converse "Chuck Taylor" All Stars in the film.
Sleepers
by Hal Peterson
Shakes, John, Tommy, and Michael play stick ball.
Based on the controversial novel by Lorenzo Carcaterra, Sleepers is the story of four boyhood friends (Shakes, Michael, Tommy, and John, played by Joseph Perrino, Brad Renfro, Geoffrey Wigdor, and Jonathan Tucker) growing up in Manhattan's Hell's Kitchen whose lives were radically changed when a scam that they pulled on a local street vendor resulted in serious injury to an innocent bystander in the summer of 1968. Although the boys were starting to get involved in some of the local syndicate activities, like running errands for King Benny, the local crime boss (well played by Vittorio Gassman) they were still basically good kids, within the streetwise moral structure of the neighborhood, enforced by the neighborhood priest, Father Bobby (Robert DeNiro). However, for their transgression, the boys were sentenced to serve a year in a juvenile facility, the Wilkinson Home for Boys, and so became "sleepers" — youthful offenders who spend time in prison.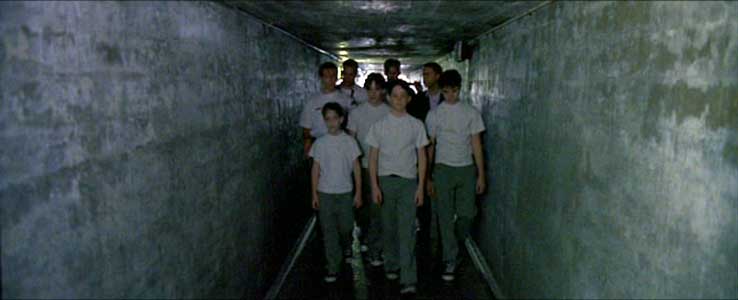 Inmates at the Wilkinson Home for Boys needed to be on guard at all times.
At the facility, the boys were sexually abused and tormented by the four guards, led by Sean Nokes (Kevin Bacon), in charge of their ward. While the boys agreed never to talk about what happened to them at the Home, when as adults Tommy and John (who are now gang members played by Ron Eldard and Billy Crudup) encounter Nokes in a restaurant thirteen years later, they impulsively murder him as payback for their abusive treatment. Michael (Brad Pitt), Shakes (Jason Patric), King Benny and eventually Father Bobby conspire together to free them from the murder charge and at the same time expose and punish the other Wilkinson guards without revealing publicly what their actual connection to them was. The second part of the film deals with the elaborate plot that is concocted to accomplish this. All throughout the film, there is extensive narration by Shakes, who is actually supposed to be Carcaterra, the author of the novel and co-author of the screenplay.
All the inmates at the Wilkinson Home were issued black high tops.
On the surface, Sleepers seems like a film that should have everything going for it. There is a superb cast, an excellent musical score by John Williams, and direction by Barry Levinson who is known for his ability to bring out the best in talented ensembles. Yet the film seems to fall flat and you lose your emotional connection to the four boys when you see them as adults. Jason Patric and Brad Pitt's portrayals of the adult Shakes and Michael don't seem to convey much fire or conviction in their personalities and they tend to walk through their lines like zombies. It's hard to feel any sympathy for Ron Eldard and Billy Crudup as the grown up Tommy and John, because you only really see them when they are being vicious murderers who don't even try to cover up their crime (What trained hit man would take someone out in front of five witnesses?) or sitting in court trying to look innocent. They all seem very different from their young counterparts. There are inconsistencies in the plot line that are not explained (although some are discussed in the original book) but are critical to the story, if the audience is to buy in. For instance, it is never revealed to the audience why after their release from the prison, the boys went in such different directions (Tommy and John became gang members involved in murders and drugs, while Michael became a lawyer in the district attorney's office, and Shakes became a newspaper writer), yet still maintained their tight friendship. Many of the traumatizing events at Wilkinson are only revealed in brief glimpses of flashback, yet the "party" that the guards held for Shakes on his last night (he was released several months before the others), which was critical to understanding the second half of the story in the book, was only alluded to with a single line in the film. You also have to wonder how so much pedophile activity, severe beatings, and other physical abuse could go on for so long without someone on the outside finding out. Even if the prison administration chose to cover it up, the medical staff would have to know, and sooner or later someone would feel obligated to report it. And the courtroom scenes toward the end of the film lacked the suspense you would expect, because both the prosecutor (Pitt) and the defense lawyer (Dustin Hoffman) behave so ineptly as attorneys. Hoffman's character mumbled his lines throughout his cross examinations, and was so ill-prepared he could barely read the questions off his clipboard, yet he manages to punch holes in all the prosecution witnesses and gets one of the guards to confess on the stand.
Shakes contemplates his release from reform school.
Sleepers is set up as a film about revenge, how the "code" of Hell's Kitchen is never to be broken by outsiders, and if it is, retribution is severe. The underground network on the streets was portrayed as all knowing of what was going on, but somehow seemed to miss out that the boys were occasionally ripping off street merchants in scams. Although there are many problems in the community — one of the striking lines in the script was "Spousal abuse was a cottage industry here" — the role of the Catholic Church was important in the lives of these people, with rough justice sometimes meted out by the parish priest, Father Bobby. The church is portrayed as being blind to many of the criminal activities going on the the neighborhood, as long as you attended mass on Sunday. And when Father Bobby is presented with the great moral dilemma of whether to help out the four friends with their plan for revenge, you would like to see at least one brief scene of mental anguish over his decision or perhaps a flashback to his personal experiences with the juvenile justice system, something that DeNiro certainly could have delivered to this movie, and would have made Catholic viewers feel a little better about this story. To no one's surprise, the Catholic Church issued a strong condemnation for the content of this film. This film does make you think about the de-humanizing structure of the juvenile justice system, and the impact it has on inmates. It's too bad that the film doesn't address more of that issue with the adult characters, and how they each dealt with their personal shame, fears, sexuality, and anger over the experiences they endured, rather than just end up becoming another "mob seeks revenge and gets it" type of film. Sleepers is moving at times, and as a viewer, you feel real anger at the cruel treatment that the four boys endured. But as you see this story unfold on film, it just seems such an illogical way to procede, given what people are used to seeing from our justice system these days. Why not just blow the whistle on those guards, stir up public rage, raise a few constitutional issues, and plea bargain out Tommy and John?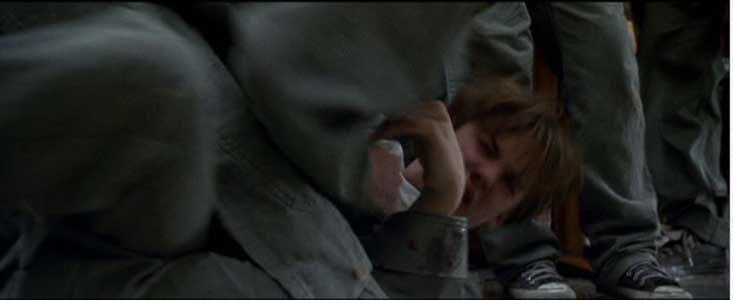 Michael gets a rough welcome to life at the Wilkinson Home for Boys.
Best Chucks Scene


Sleepers is a film first for the Converse All Star, because the black high top was the official prison issue shoe for all of the inmates. This is probably a distinction that the company would not care to have, but it means that all the prison scenes are full of chucks. Unless you really like grim prison scenes, however, the best scenes are at the beginning of the film. In many of these scenes you see Michael and John wearing black high tops as their daily street attire, but probably the coolest scene is the pickup basketball game between the boys and Father Bobby, who sports black low cuts.
Michael watches Father Bobby and the other boys play basketball.
Sleepers. (1997) Robert de Niro, Dustin Hoffman, Jason Patric, Joseph Perrino, Brad Pitt, Brad Renfro, Kevin Bacon, Terry Kinney, Bruno Kirby, Vittorio Gassman, Billy Crudup, Jonathan Tucker, Ron Eldard, Geoffrey Widgor, Minnie Driver.
Directed by Barry Levinson. Categories: Drama, Crime and Mystery.
ChucksConnection Rating:

MPAA Rating: R
Support the film industry by purchasing genuine DVD, Blue Ray, or streaming copies of these films. Illegal copies only help profiteers. Make sure your money goes to the producers and artists who actually create these films. Still images from the film are used here as teasers to get you to view an authorized copy. If you have information about a film where a main character wears chucks, contact us at films@chucksconnection.com.