A ChucksConnection Film Review
Brandon Tyler Russell wears black high top Converse "Chuck Taylor" All Stars in the film.
Smitty
by Jack Hunter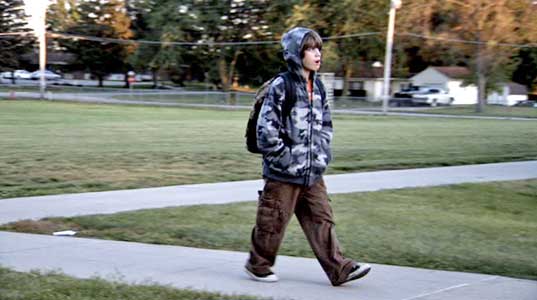 Ben is a young troubled teenager making bad decisions in Smitty.

A lovable dog never fails to land in a movie. A cute, playful, and funny pup will always get laughs, sighs at its cuteness, and even a few tears depending on the outcome (I'm looking at you Marley & Me). Whether it's Homeward Bound, or any of the dozen Air Bud films, dogs are a significant part of kid's cinema. Smitty seeks to add to that genre with the family dog as a mentor/friend of sorts. While being lovable, this pup helps to turn around a troubled youth before it's too late.
Ben's grandfather Jack and rescued dog Smitty work to turn Ben's life around.
Smitty is the story of Ben, a young teen who has no friends and simply can't stay out of trouble. His single mom is struggling to provide for and keep him on the straight and narrow. After getting busted for vandalism, Ben is given the choice of juvenile detention or spending the summer in Iowa on his grandpa's farm. Reluctantly, Ben heads out to the plains for a summer of hard work. His grandpa Jack is a tough, no-bull kind of character and adopts a farm dog to give Ben a friend. Smitty and Ben soon become partners in crime and get into all sorts of shenanigans together. Along the way, Ben learns a few things about family, friendship, and growing up.
Ben makes a deal with Mr. Smith to work for a fine guitar that he really wants.
The film is a straightforward, life-lesson teaching family film. All the stock characters present: the over-worked mom, the bratty kid, the hard-ass elder, and the lovable friend who tags along. Fonda is his usual gruff self as Grandpa Jack, and Louis Gossett Jr. does the friendly neighbor role justice. As a character, Ben is just as annoying and snot-nosed as the story calls for and Smitty is a delightful pup.
Ben is taken aback when he learns that the work he must do is digging out a huge tree stump.
Nothing new is brought to the table in Smitty. Good, all-American, traditional lessons are taught through this film. The message is straight forward and so are the jokes. There's plenty of attempts at comic relief and slapstick humor here, which come off as trying too hard. There are plenty of "oh look, the dog's doing something crazy" jokes here, which make the film great for kids but not so much for adults.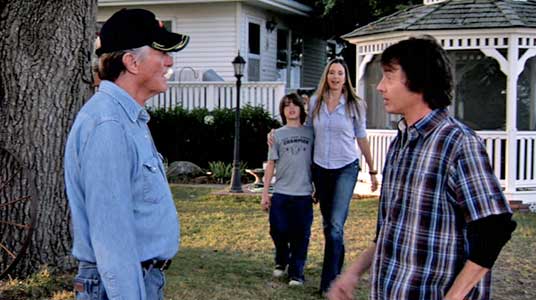 Jack, Ben and his mother, Amanda, and her new boyfriend, Russell.
Best Chucks Scene
A large bag of feed gets the better of Ben.
Brandon Tyler Russell wears black high top chucks throughout the film. This is nothing new for films about boys and their dogs; high top chucks appear in many of these films including Lassie, Benji: Off the Leash, Saving Shiloh, and Miracle Dogs Too, reviewed on this site. And black high top chucks are often the footwear seen for independent minded kids, at risk kids or kids with attitudes issues. The best scene with Brandon's character Ben is the montage at near the beginning when he begins to tackle farm chores like unloading bags of feed or taking care of chickens.
Ben chases after chickens on Jack's farm.
Smitty. (2012) Brandon Tyler Russell, Peter Fonda, Mira Sorvino, Louis Gossett Jr., Jason London, Booboo Stewart.
Directed by David M. Evans. Categories: Drama, Family, Coming of Age.
ChucksConnection Rating:

MPAA Rating: PG
Support the film industry by purchasing genuine DVD, Blue Ray, or streaming copies of these films. Illegal copies only help profiteers. Make sure your money goes to the producers and artists who actually create these films. Still images from the film are used here as teasers to get you to view an authorized copy. If you have information about a film where a main character wears chucks, contact us at films@chucksconnection.com.