A ChucksConnection Film Review
Jason Patric wears black low cut Converse "Chuck Taylor" All Stars in the film.
Speed 2: Cruise Control
by Hal Peterson
Annie and Alex take a Caribbean cruise to get away from their frantic lifestyles.
Speed 2: Cruise Control is the unlikely sequel to the original Speed which was about a bus wired to explode unless the driver maintained a certain speed. The only similarity to this film is the presence of Sandra Bullock, reprising her role as Annie, but in very different circumstances. We are told that she has split up with the Keanu Reeves character from the earlier film and is now dating Alex (Jason Patric), who she thinks works as a beach patrol officer, but in reality is a member of the Los Angeles Police Department SWAT team. As the film opens, Annie and Alex meet in unlikely circumstances — he is chasing computer thieves on his motorcycle during a SWAT team mission, while she is in her Jeep with her analyst (Tim Conway in a cameo), complaining about all of her problems as she drives around in an equally crazy manner.
Alex leaps down onto a malfunctioning lifeboat to help the passengers escape.
Annie is very upset to find out that Alex is working in a high risk occupation, and with their relationship on the line, Alex proposes that they go on a Caribbean cruise to relax, get to know each other better, and work out their relationship. Unfortunately, they have picked the cruise ship targeted for revenge by a villain named Geiger (Willem Dafoe). Geiger is a computer programmer who designed all of the computerized navigation systems for the ship, but was ignominiously fired by the shipping company when he became ill with copper poisoning due to all of his exposure to computer components. Geiger has carefully plotted the complete takeover of the ship, due to his knowledge of the computer systems, and quickly succeeds in disabling the entire ship with his laptop computers which take over the ship's systems and control them.
Alex helps Drew escape from the flooded compartments of the lower ship.
Besides Alex, Annie, and Geiger, other passengers on the ship include a group of diamond dealers who provide a great financial incentive for Geiger's takeover, an overweight persons' therapy group, and Drew, a young deaf girl who hits it off with Alex because he knows sign language. Soon the pleasures of the cruise turn into a dire situation, as the engines are stopped, all navigation systems disabled, and the passengers are forced to evacuate the ship in life boats. However, one of the life boats malfunctions as it is being lowered, and Alex quickly gets involved in helping save the passengers on the life boat, then taking on Geiger. Another complication is that Drew is missing from the evacuation, because she became trapped in an elevator when Geiger switched over the electrical power to his control, and can't hear the abandon-ship alarm. Alex's desire to help save her gives him added incentive to fight back, and his SWAT team training is brought into play as he enters into a war of wits with Geiger.
Alex races to the dock to get a boat and rescue Annie.
Speed 2 soon turns into a "single motivated guy fighting against incredible odds" type of film, very much like the typical Bruce Willis or Mel Gibson adventure. The focus shifts toward Alex as he battles Geiger, who has programmed the ship to self-destruct by crashing into first a Caribbean island, and then an anchored oil tanker. Eventually, Geiger is successful in taking Annie as a hostage, with Alex in hot pursuit. The balance of the film deals with this conflict of wills as Alex's heroics attempt to countermand Geiger's meticulous planning.
Alex swims under water in pursuit of a sinking Annie.
Director Jan De Bont has put together a fast paced action adventure, with some great special effects, and action sequences — exactly what you expect from this type of Hollywood film. Although there are the typical plot flaws of this kind of film, some unintentionally humorous moments, and really no resemblance to the original Speed, the film is ultimately satisfying because it doesn't try to do too much while delivering the kind of non-stop action and suspense you want to see.
Best Chucks Scene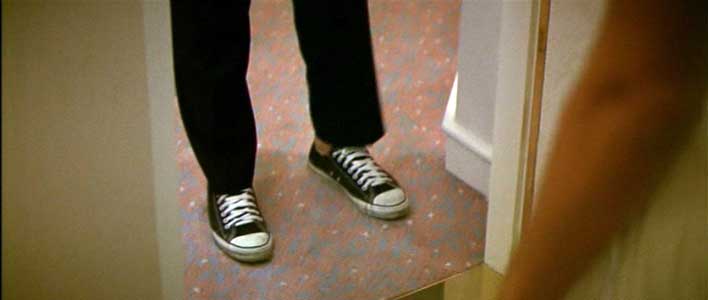 Alex appears in a tux and chucks.
Alex wears black low cut chucks on the cruise ship, and you see them in nearly all of the action scenes involving the ship. It's nice to see a action hero wearing chucks, and he wears them both in and out of the water. Despite all of the action sequences, the best chucks scene occurs early in the film when Alex and Annie decide that they were not dressed up enough for dinner the first night. Alex goes to the men's store on the ship, and returns wearing a tuxedo and his chucks. Apparently they had his suit size, but not his shoe size. And let's face it, wouldn't you rather wear your chucks when you have to put on a tux?
Alex helps pull passengers off of the disabled life boat.
Speed 2. (1997) Sandra Bullock, Jason Patric, Willem Dafoe.
Directed by Jan DeBont. Categories: Drama, Action/Adventure.
ChucksConnection Rating:

MPAA Rating: PG-13
Support the film industry by purchasing genuine DVD, Blue Ray, or streaming copies of these films. Illegal copies only help profiteers. Make sure your money goes to the producers and artists who actually create these films. Still images from the film are used here as teasers to get you to view an authorized copy. If you have information about a film where a main character wears chucks, contact us at films@chucksconnection.com.