A ChucksConnection TV Series Feature
Ross Harris, Grant Heslov, and Dean Cameron wear black high top Converse "Chuck Taylor" All Stars in the series.
Under One Roof (Spencer)
Spencer lives with his grandparents, Ben and Millie Sprague, his mom, Doris, and older sister Andrea.
Spencer (Ross Harris) was about a teenager coping with the problems of adolescence, especially dealing with the opposite sex in this short-lived series. Ross Harris took over the role of Spencer in 1985, after the orginal actor, Chad Lowe, quit over a salary dispute. The series was renamed Under One Roof at that time. In the new series, Spencer lives with his mom, older sister, and grandparents after his dad ran away with a 23-year-old girl.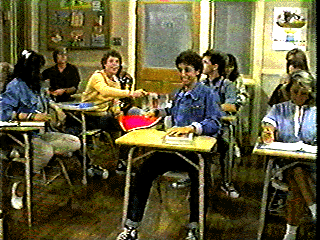 Spencer, Wayne, and Herbie laugh it up in science class.
Spencer and his friends Wayne (Grant Heslov) and Herbie (Dean Cameron) are seen wearing black high top chucks throughout the shows. Spencer hangs with his buddies at times, and at other times deals with girl problems and family problems centering around his mom coping with his dad leaving the family for a younger woman.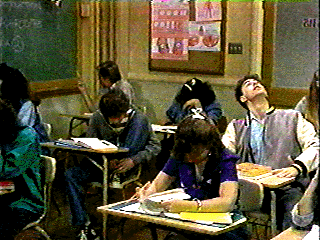 When asked a difficult question, Spencer suddenly needs to tie his shoe.
In one episode, Spencer plots to set up his mom with one of his teachers by pretending that he doesn't understand history, and asks if the teacher will tutor him at home. When the two actually hit it off, Spencer then acts like an overprotective father, and shoes his teacher out of the house.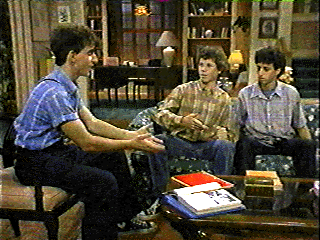 Spencer and his buddies talk about a voice that he keeps hearing say, "Spencer, I love you."
In another episode, Spencer keeps hearing a mysterious voice saying "Spencer, I love you." Frustrated because he can't figure out who is doing this, he first figures that someone is trying to pull a prank on him, and suspects his buddies.
Do you know of other television shows or series where a main character wears Converse All Star Chuck Taylors? Can you describe a favorite episode or two from the series, or do you have additional information about the shows described here already? Do you have videotapes, DVDs or shot captures of episodes from any of the series that haven't been given an in depth article on this site? If you do, email us at chucksphotos@chucksconnection.com and we will add the information to the television pages.