A ChucksConnection Film Review
Peter B. Parker wears grey low top Converse "Chuck Taylor" All Stars in the film.
Spider-Man: Into the Spider-Verse
by Marcus Angulo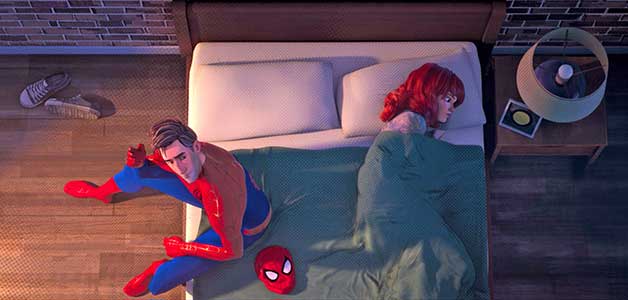 Peter B. owns a pair of grey chucks in his own universe.
What does it mean to be Spider-Man? There's the obvious super factors to consider: Spider-sense, web swinging, sticking to walls, and super strength. There's also the physical characteristics most associated with the character: a scrawny white, teenager from Queens with brown hair. However, the defining aspect of Spider-Man is the principle by which he lives his life by, the famous words penned by Stan Lee in the last panel of Amazing Fantasy #15: "With great power, there must also come great responsibility. If you put your responsibility to others above all else, you can wear the mask." Spider-Man: Into the Spider-Verse is a 2018 computer animated movie that explores the story of Spider-Man like never before, and aims to show that anyone can wear the mask. The film stars an ensemble cast of Shameik Moore, Jake Johnson, Hailee Steinfeld, Mahershala Ali, Brian Tyree Henry, John Mulaney, Kimiko Glenn, Nicolas Cage, Kathryn Hahn, and Liev Schreiber who voice the animated characters.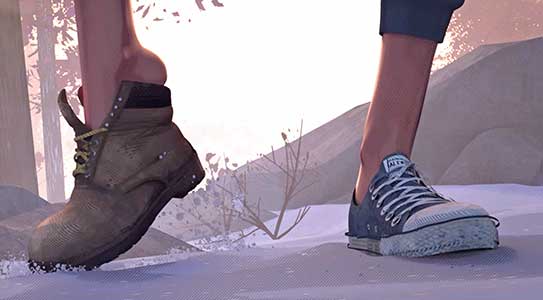 The details on these animated chucks are perfect!
The film follows Miles Morales (Moore), a Brooklyn teenager struggling to live up to the expectations of his father, police officer Jefferson Davis (Henry), who sees Spider-Man as a public menace. Recently transferring to a preppy boarding school, Miles also has a hard time fitting in with his surroundings. The only place he really feels like himself is with his Uncle Aaron (Ali) when they go to an abandoned subway station to paint graffiti. It's here that Miles is bitten by a radioactive spider that gives him similar abilities to Spider-Man. The next day at school, Miles finds out about his powers and freaks out, eventually leaving school to go back to the station to search for the spider and discovers a particle accelerator called "The Super-Collider" built by Kingpin (Schreiber). He's almost crushed by a battle between Spider-Man and the Green Goblin. Spider-Man saves him, and quickly realizes he has powers. He says once this is over he'll train Miles, but he is unfortunately killed in the battle.
Miles discovers Peter B. in all his "glory".
Miles tries to carry on the legacy of Peter Parker by donning a store bought Spider-Man costume, but he quickly falls on his face. While visiting Spider-Man's grave, Miles meets Peter B. Parker (Johnson), an older, depressed, and worn-down version of Spider-Man from another dimension. They decide to work together to stop Kingpin and get Peter B. home. They soon find out Peter B. wasn't the only Spider-person from another dimension brought to Miles' Earth. There's Gwen Stacy aka Spider-Woman (Steinfeld), Peni Parker aka SP//dr (Glenn), Spider-Ham (Mulaney), and Spider-Man Noir (Cage). They all bring something unique and new to the Spider mythos, and together they'll show Miles how he too can be a part of this incredible story.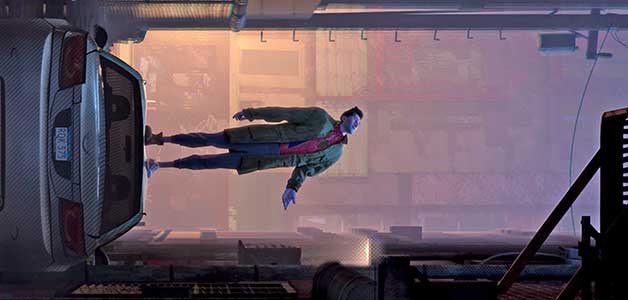 Shots like these are incredibly creative and make this film feel different from anything else you've seen before.
Sometimes a film can be all style with little substance behind it, and sometimes a film can have all the heft in the world but no visual flare. This film is all style and all substance at the same time, bringing the two critical aspects of filmmaking together. The animation is absolutely incredible and breathtaking, utilizing a ground baking style that Sony Animation developed specifically to make this film feel like it came straight from the pages of a comic book. However, what really makes this movie stand out is how it treats the character of Spider-Man. The film makers understand what fundamentally is needed to be the wall crawler, and what Spider-Man should represent to everyone. The heart displayed by every Spider-person in this film will make any longtime fan proud. This is the best Spider-Man movie ever made, transcending the genre of animation and surpassing the great work done in live action. It highlights voices that have yet to be heard, and shows everyone everywhere that if you have the heart and courage, you too can wear the mask.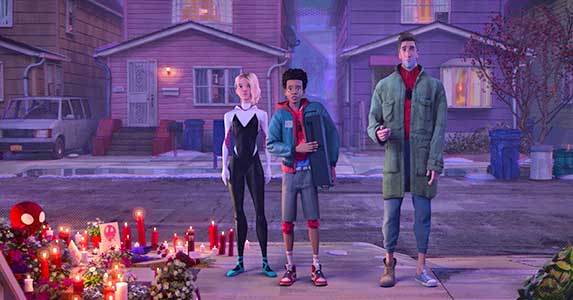 Anyone can wear the mask.
Best Chucks Scene
Peter, Gwen, and Miles find out they aren't the only Spider-people here.
This movie pays incredible attention to detail in all facets of its production. There are hundreds of references, Easter eggs, jokes, and small details that you'll catch on multiple views. One detail that highlights this intense care is the outfit Peter B. Parker wears once he arrives in Miles' universe. He loses part of his suit and cobbles together an outfit that shows how much more careless he has become in his old age. He's wearing a green jacket to cover up his stomach, dirty sweat pants, and a single grey Chuck Taylor. It's seen briefly in a flashback that Peter B. has a similar pair back in his world, so it makes sense that he would return to something safe for him considering the mental state he's in. This leads to the best chucks scene in the movie, which is where Peter, Gwen, and Miles meet the other Spider people. It's here that all their unique styles and designs are put in perfect contrast with one another. Peter's outfit shows his despair and that he's in a low point, returning to what is familiar to him as he tries to come to terms with his perceived failures. These details coupled with Johnson's performance make this one of the more emotional and true-to-character Spider-Men we've ever seen.
Peter's outfit shows what a mess he is right now, while also showing how he clings to what is familiar.
Spider-Man: Into the Spider-Verse. (2018) Peter B. Parker, voiced by Jake Johnson. Other voices: Shameik Moore, Hailee Steinfeld, Mahershala Ali, Brian Tyree Henry, Lily Tomlin , Luna Lauren Velez , Zoë Kravitz, John Mulaney. Directed by Bob Persichetti and Peter Ramsey.
Categories: Family, Science Fiction, Action/Adventure.
ChucksConnection Rating:
MPAA Rating: PG
Support the film industry by purchasing genuine DVD, Blue Ray, or streaming copies of these films. Illegal copies only help profiteers. Make sure your money goes to the producers and artists who actually create these films. Still images from the film are used here as teasers to get you to view an authorized copy. If you have information about a film where a main character wears chucks, contact us at films@chucksconnection.com.