A ChucksConnection Film Review
Lou Diamond Phillips wears black low cut Converse "Chuck Taylor" All Stars in the film.
Stand and Deliver
by Hal Peterson
Jaime Escalante doesn't spend a lot of time with his son, because he is so busy teaching math.
Edward James Olmos gives one of the best performances of his career as Jaime Escalante, a math teacher at Garfield High School in East Los Angeles. As the film begins, Escalante has left his job working for a computer company, so that he can return to teaching. He was hired to teach computers, but on his first day, he is informed that the computers have not arrived and so he will have to teach mathematics instead. When he goes to his classroom, he must confront many of the problems that beset inner city schools: gang members and "wannabes" who wander around campus and are disruptive influences, poor facilities and lack of materials, students with little or no training and widely divergent abilities. The first step is to retake control of the classroom, and he does this through a combination of persistence, humor, and direct confrontation of anyone who challenges his leadership as a teacher. As he gets to know the students, he discovers that many of them have the ability to learn higher levels of math, but have never been challenged to do so, or required to put in the necessary extra study and class time to learn trigonometry and calculus. Once he gains their trust, and convinces them that preparing to take and pass the Advanced Placement examination in Calculus is their ticket out of the "barrio", the film focuses on their struggles to complete this lofty goal. On the way, Escalante and the students must deal with the indifference of their families and friends, the general feeling that these kids are losers and can't succeed in higher level studies, and the suspicions of officials of the Educational Testing Service, who administer the AP exams.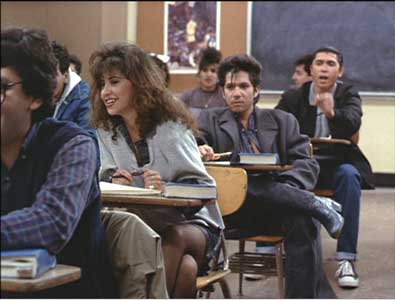 Students at Garfield High become All Star mathematics scholars.
Stand and Deliver is a great film about education in America, because it punctures a few myths about what can be accomplished in the public schools. Students at Garfield High have many problems, but under the guidance of a committed teacher who acts as their surrogate father, they are able to master one of the most difficult subjects through hard work, long hours of study, and perseverance against those who don't believe they can succeed. Throughout the film, you see how these problems exist, but are conquered because the students are convinced to believe in themselves, constantly pressured to stick to their commitment to the class, and in the long run complete the necessary work and study to prepare for the AP Calculus Examination. Based on a true story, the film rings true because ultimately the characters are believable and you realize that these students could exist almost anywhere.
Best Chucks Scene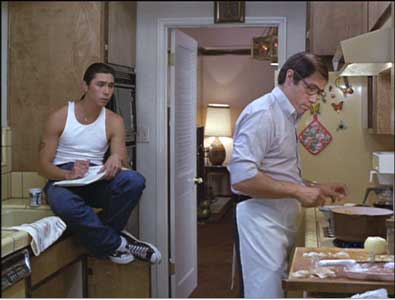 Angel in Jaime's kitchen.
Lou Diamond Phillips plays a gang member, Angel Guzman, who turns out to be very gifted in mathematics and likes to wear black low cuts which he keeps in pristine condition. There are not a lot of great chucks shots, but you do see Angel wearing them a lot in classroom activities, and Escalante's son also wears light blue chucks high tops. The best scene is probably the above shot, where Angel, the other students, and Escalante are preparing for the AP test. Angel, propped up on the counter of Escalante's kitchen, asks what he is making, and Escalante says, "I'm making brains and this food lasts for 24 hours."
Stand and Deliver. (1988) Edward James Olmos, Lou Diamond Phillips, Rosana de Soto, Andy Garcia.
Directed by Ramon Menendez. Categories: Drama, Teenagers.
ChucksConnection Rating:
MPAA Rating: PG
Support the film industry by purchasing genuine DVD, Blue Ray, or streaming copies of these films. Illegal copies only help profiteers. Make sure your money goes to the producers and artists who actually create these films. Still images from the film are used here as teasers to get you to view an authorized copy. If you have information about a film where a main character wears chucks, contact us at films@chucksconnection.com.