A ChucksConnection Film Review
Sean Astin wears black high top Converse "Chuck Taylor" All Stars in the film.
Dermot Delroney wears optical white high top Converse "Chuck Taylor" All Stars in the film.
Staying Together
by Hal Peterson
The McDermott boys talk over things with their mother, Eileen.
Staying Together is a coming of age movie about Duncan (Sean Astin), Kit (Dermot Mulroney), and Brian McDermott (Tim Quill), three brothers just reaching adulthood who live in the small town of Ridgeway, South Carolina. Alternating between comedy and drama, the film explores the McDermott boys' relationships with their parents and with various women who come into their lives, in the context of small town life. As the story begins, we see the three brothers living rather indolent and self-indulgent life styles. When they are not helping their father run the family fast food chicken restaurant, they are out drinking, smoking dope, or chasing after women. Yet they maintain a strong family loyalty, live at home, and look out for each other.
Duncan and Kit get ready to batch it when their parents leave for a trip to Yosemite.
The plot follows two basic story lines. The first revolves around the brothers' strained relationships with their parents when their father (Jim Haynie) suddenly announces that he has sold the chicken restaurant, changing the boys comfortable lives forever, as they must now find new jobs/careers and no longer are able to work together. The eldest brother, Brian, is especially angered by this turn of events, since none of the boys were even consulted in the decision, and he had already started to take ownership in running the restaurant. Brian leaves home in a furious rage, refusing to speak to his father again, or live in the family home anymore. He starts working in construction, and his brother Kit gets a job in a local drug store. The second part of the plot line revolves around the boys generally unsuccessful relationships with women in the town, because none of their lovers take them seriously. Brian has an affair going on with Nancy Trainer (Stockard Channing), an older woman and perennial candidate for mayor of the town. Although Brian wants to be serious about it, when Nancy is actually elected, she quickly breaks up their relationship. Kit, who is interested in marathon running, has been training with Beverly (Daphne Zuniga) who is engaged to be married to Brian's construction boss. Although their relationship also becomes serious, Beverly tells Kit that she can't stay with him, because it is important for her to marry someone who can provide her with stable support which Kit has yet to achieve. Seventeen year old Duncan is interested in any woman who will give him the time of day, but has yet to develop a successful relationship with anybody. One of the bittersweet scenes for Duncan occurs at the beginning of the movie, when we see him hitting on the waitress at the chicken restaurant. The boys struggles to adapt to the new circumstances forced upon them, gain a better understanding of women, and reconcile with their parents comprises the balance of the story.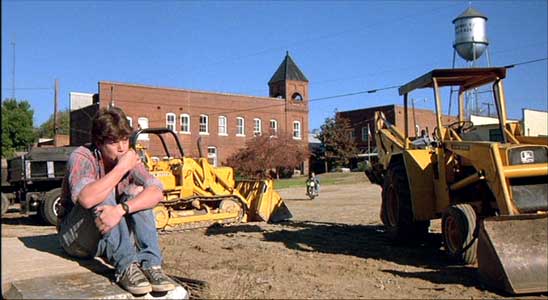 Duncan ponders the changes in his life as bulldozers tear down the family restaurant.
Staying Together works much better as a comedy than a drama. The script is predictable when it goes dramatic, and really the most entertaining moments are when the film doesn't take itself seriously. The best performance of the film is provided by Sean Astin as the wisecracking Duncan. At first it seems that Duncan isn't anything more than an out of control teenager with a substance abuse problem, but his sense of humor and charismatic personality soon become the highlight of the film, as his witticisms and unpredictable behavior enliven all of his scenes. Tim Quill and Dermot Mulroney stand around and try to remind us of Tom Cruise or James Dean during most of the film, but other than the scenes where they lash out at their parents or break up with girl friends, we don't get much of a sense of what they are about. Melinda Dillon gives a good performance as Eileen McDermott, the patient housewife and mother, who keeps the men folk on track. It takes a couple of viewings for the dramatic elements of film to make sense, because the timing of some of its events seems off, and there is little suspenseful buildup in the unfolding of the plot. For a story set in the south, there are no southern accents or regional allusions that you might expect. This film could be set in southern California just as well as South Carolina. Perhaps it's an appropriate metaphor to describe Staying Together (the story of a family who owned a fast food chicken restaurant), as cinematic fast food that delivers some quick entertainment satisfying for the moment, but not the most memorable film experience you could have.
Duncan hits his dad up for some money.
Best Chucks Scene


Duncan ends up crashed out on a park bench after a night of partying.
Duncan McDermott basically lives in his black high top chucks, and so you see them throughout the film in all of the scenes where he appears. Duncan's older brother Kit wears white chucks some of the time as casual wear. The best scenes are when you see the two brothers lounging around in their chucks, and one scene where their parents are leaving on a trip to Yosemite and you see Duncan and Kit saying goodbye wearing shorts and chucks without socks.
After a day's work at the family restaurant, Sean and his brothers get ready to go out and party.
Staying Together. (1989) Sean Astin, Stockard Channing, Dermot Mulroney, Tim Quill, Melinda Dillon, Jim Haynie, Levon Helm.
Directed by Lee Grant. Categories: Drama, Coming of Age, Sexually Explicit.
ChucksConnection Rating:

MPAA Rating: R
Support the film industry by purchasing genuine DVD, Blue Ray, or streaming copies of these films. Illegal copies only help profiteers. Make sure your money goes to the producers and artists who actually create these films. Still images from the film are used here as teasers to get you to view an authorized copy. If you have information about a film where a main character wears chucks, contact us at films@chucksconnection.com.