A ChucksConnection TV Series Feature
Maya Hawke wears red low top Converse "Chuck Taylor" All Stars in the series.
Sadie Sink wears orange high top Converse "Chuck Taylor" All Stars in the series.
Stranger Things, Season 3
Max wears bright orange high top chucks while helping Elle put together pieces of this mystery.
Three years ago, Netflix released a certified phenomenon in their original series Stranger Things. The combination of great acting, a sci-fi mystery, and 80's nostalgia made the show the talk of everyone who binged it. Season 2 then premiered a year later, and was able to accomplish the impossible feat of following up the first season in a satisfying way. This brings us to the premiere of the third season, which dropped on July 4th, 2019. The stellar cast returns and also adds a few new members. Season 3 stars Winona Ryder, David Harbour, Finn Wolfhard, Millie Bobby Brown, Gaten Matarazzo, Caleb McLaughlin, Natalia Dyer, Charlie Heaton, Noah Schnapp, Sadie Sink, Joe Keery, Dacre Montgomery, Maya Hawke, Brett Gelman, and Cary Elwes.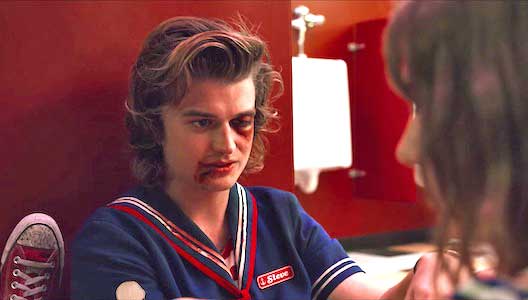 Here you can see how Robin has personalized her red chucks.
In the summer of 1985 in Hawkins, eight months after the events of Season 2, the newly opened Starcourt Mall has become the talk of the town. This has put many of the small mom and pop shops in town out of business. Mike and Elle have been dating since the end of last season, and Hopper is very conflicted over it. He's had a budding relationship of his own with Joyce, who is having thoughts of leaving Hawkins with Will and Johnathan. However, this being Hawkins, things don't stay normal for long. Strange power fluctuations trigger Will's Upside Down sense, and Elle and Max sense that there is something off with some of the residents of the town. Dustin returns from summer camp, and captures weird messages on his souped up radio. He enlists the help of the internet's favorite adoptive mom, Steve Harrington, who's been working at the ice cream shop in the Starcourt Mall with newcomer Robin. A new mystery begins to brew in Hawkins, and Max's brother Billy is at the center of all of it. This will bring all this group of friends and family back together again, to battle the monsters and evil from the Upside Down one more time.
The highlight of the season is definitely the heart to heart between Robin and Steve in the bathroom.
This season features two of the main characters wearing chucks throughout the majority of the season. We first see Max wearing bright orange chucks hanging out with Elle in Episode 3, as they attempt to find out what's really going on in Hawkins. We also see Robin wearing red chucks with her Scoops Ahoy! Uniform. These aren't just any chucks either, as we see that Robin has doodled and scribbled all over them. This adds a subtle bit of character backstory as we can tell that these chucks mean a lot to her, and that's why she wears them to work everyday. Robin's chucks are best viewed and appreciated in her bathroom scene with Steve in the season finale, which is easily the best moment of the season. Both these characters wearing chucks plays perfectly into the summer and neon vibe the show has going for it this season. The bright colors of both Max and Robin's chucks fits so well with the bright colors of mid Eighties fashion and the neon lights of the Starcourt Mall. The show has also been shot with a very color saturated palette this season, which helps the bright colored chucks pop even more.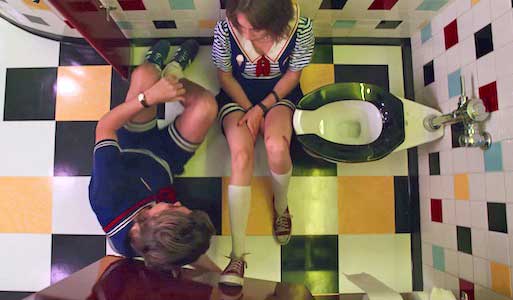 The best place to let it all out is definitely the Starcourt Mall bathroom.

Season 3 of Stranger Things brings the bingeable fan favorite back after a year and a half wait, and offers up a compelling, nostalgia filled mystery that'll keep viewers on the edge of their seat. The highlight of this season is newcomer Robin and the performance by Maya Hawke. Hawke brings Robin to life, and her back and forth banter with Steve is already iconic in the eyes of fans of the show. The season finale ends in thrilling fashion and has left fans already anticipating for the next season to drop. Here's hoping the wait isn't nearly as long, and that the Upside Down isn't done with Hawkins, Indiana just yet.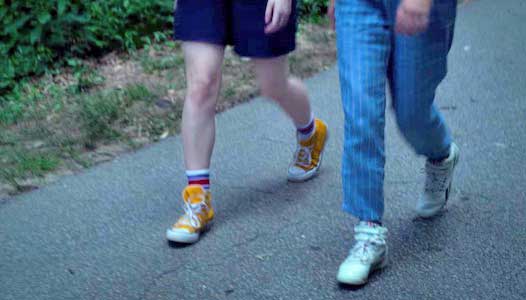 Max's orange chucks really stand out in the rainy and terrifying Episode 3.
Do you know of other television shows or series where a main character wears Converse All Star Chuck Taylors? Can you describe a favorite episode or two from the series, or do you have additional information about the shows described here already? Do you have videotapes, DVDs or shot captures of episodes from any of the series that haven't been given an in depth article on this site? If you do, email us at chucksphotos@chucksconnection.com and we will add the information to the television pages.