A ChucksConnection Film Review
Klaus Maria Brandauer and Adrian Pasdar wears black high top Converse "Chuck Taylor" All Stars in the film.
Streets of Gold
by Hal Peterson
Alek Neuman on the beach.
Streets of Gold is about a former Soviet Union boxing champion Alek Neuman (Klaus Maria Brandauer), who was denied the chance to represent his country in international competition because he was a Jew. Bitter and frustrated because of this, he emigrates to the United States, where he drifts around, working as a dishwasher and spending his money on drinking. Nevertheless, he still has the heart and instincts of a fighter, and when he encounters two promising young rival boxers, Timmy Boyle (Adrian Pasnar) and Roland Jenkins (Wesley Snipes) dueling it out at a local club, he decides to get back into the boxing game, this time as a coach and teacher.He challenges Roland to try and hit him, and when Roland can't, offers to coach them. The young boxers don't like each other, and Alek uses their jealousy and hatred as motivating forces initially in their training. Eventually they come to like and respect each other, learn to respond to Alek's training methods, and are able to qualify for the American boxing team that will face the Russian boxing team in an upcoming meet. At last, Alek has a chance for revenge against the Russians who denied him his chance at international fame.
Alek in a bar.
Although Streets of Gold is predictable in many ways, because in the last thirty minutes it abandons its focus on character development for a typical "Rocky" ending, the acting and built-up interest in the main characters keeps you involved. It's neat to see how Alek changes from a bum to a real coach through his new involvement with boxing. He is happy again and changes so much for the better that one day his romantic interest Elena (Angela Molina), the landlady at the boarding house where Alek lives, who had been rejecting his advances is waiting for him in his room. The two young boxers, Timmy and Roland, gradually learn that there is more to life than just the ability to deliver a punch: friendship, loyalty, and the ability to get along with people from other races and backgrounds are important things to have also. If the film had continued along this vein, it would have turned into a great film, but someone in Hollywood must have said, "Enough already of characters. We need a 'Rocky' type fight to end this film." Bet you can predict how the three rounds of the fight go.
Best Chucks Scene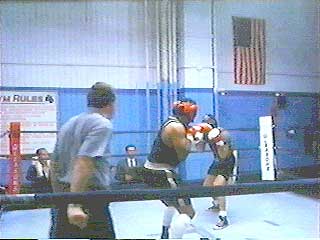 Adrian takes on a US team champion boxer in his chucks.
Both Alek and Timmy wear black high tops, with Alek wearing them when training and bumming around, and Timmy wearing his all of the time. The best chucks scene in this film has to be when Alek's young protégés take on the best US team boxers to qualify for the meet with Russia. Timmy wears his chucks in the ring, and although he struggles at first, eventually he overpowers his opponent and qualifies for the team.
Streets of Gold. (1986) Klaus Maria Brandauer, Adrian Pasdar, Wesley Snipes.
Directed by Joe Roth. Categories: Drama, Sports.
ChucksConnection Rating:

MPAA Rating: R
Support the film industry by purchasing genuine DVD, Blue Ray, or streaming copies of these films. Illegal copies only help profiteers. Make sure your money goes to the producers and artists who actually create these films. Still images from the film are used here as teasers to get you to view an authorized copy. If you have information about a film where a main character wears chucks, contact us at films@chucksconnection.com.