A ChucksConnection Film Review
Amanda Bynes wears low cut navy blue Converse "Chuck Taylor" All Stars in the film.
Sydney White
By Brandon L. Summers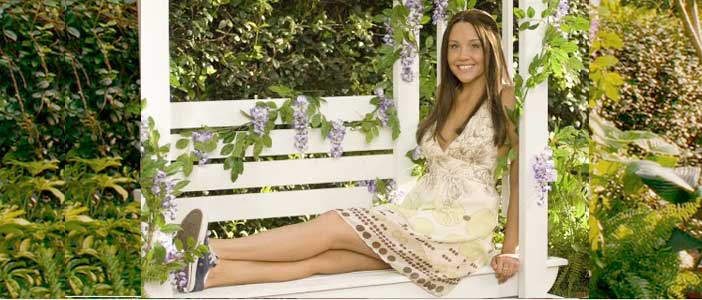 Amanda Bynes plays Sydney White in this modern day remake of Snow White and the Seven Dwarfs.
Sydney White is a college-set version of Disney's Snow White and the Seven Dwarfs (as opposed to the Grimm's fairy tale), intended to be Warner Brother's follow-up to the successful A Cinderella Story (2004). The simplistic pitch is that instead of seven dwarves, average girl Sydney is allied with seven dorks. But because "dork" is apparently not politically correct, the DVD case simple refers to them as "socially challenged." The film probably made back its $16 million budget, but lightning didn't strike twice for the studio.
Tyler is intrigued by Sydney as soon as he see her arrive on campus for her freshman year.
Syndey (Amanda Bynes) arrives at college ready to pledge into her deceased mother's sorority, Kappa Phi Nu, as a legacy. An inordinate amount of time is spent establishing a backstory explaining that Sydney was raised by a plumber, works on construction sites alongside her dad, and is not a posh blonde debutante witch. The subtly named queen of the campus, Rachel Witchburn (Sara Paxton) immediately doesn't like Sydney because she isn't wearing Prada, isn't icy, isn't blonde, and is wearing chucks (as opposed to expensive heels). While Sydney bravely goes through the PG-rated hazing (getting squirting with water guns while doing jumping jacks, cleaning the men's latrine), she garners the affections of Rachel's ex-boyfriend Tyler Prince (Matt Long) and befriends the misfits of The Vortex, a dilapidated shack on Greek Row that figures into a demolition subplot that is never realized. When Sydney passes the initiation but is denied entry into the sorority for petty reasons, humiliated in front of everyone at the ball, she takes refuge with the dorks of The Vortex. There are seven, and each one equates to a character in the classic 1937 Disney film. Lenny (Jack Carpenter) has allergies, so he's "sneezy", Gurkin (Danny Strong) writes an angry blog, so he's "grumpy", Terrance (Jeremy Howard) does science and math experiments, so he's "doc", and so on up to seven. Sydney organizes the dorks into a political party to challenge Rachel as campus president, forming the Freedom to the 7th Power party with Doc as their lead candidate. This falls apart, and at some point Sydney becomes the speaker for the group, even after she inadvertently gets the dorks evicted from their home. It leads up to a ending where she pulls an all-nighter getting a paper done, which is anti-climatic, and gives a big speech in front of the student body, all of whom proclaim "I am a dork!"
Disgraced and humiliated, a dejected Sydney leaves the Kappa Phi Nu sorority house after being blackballed by Rachel Witchburn.
The film was going for a message that everyone is cool and has something "dorky" about them, but after an hour and a half making walking punchlines of the awkward dorks in contrast to the pretty Greeks, it's a tad incredulous. As a vehicle for Bynes it fails because it gives her nothing to work with. She's less a sincere teen sweetheart than someone who mugs and delivers jokes with sassy loudness. Also, the material isn't sharp enough to make any point about any real issues. There aren't enough gags to be amusing. There are too few references to the source for it to be an appealing novelty. Sydney White is probably cute and syrupy enough for undemanding audiences who pass a film with one good laughs, and there are a good three laughs in the film, I'd say. The dorks march past Witchburn single file, each one saying, "Hi, ho." Cheap, but funny. There are far better films of a similar nature (She's All That), though, and anyone who has seen those will be unimpressed by this one.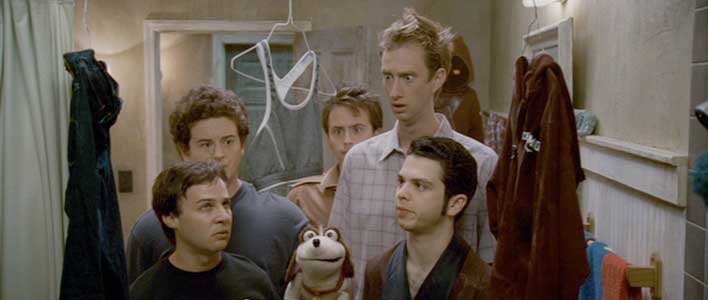 The lives of the misfits living in The Vortex house are radically changed after Sydney moves in.
Best Chucks Scene
The camera focuses on Sydney's navy blue low cut chucks.
On her way to the sorority for the first time, she meets Tyler and they instantly hit it off (He's impressed by her moxie). She explains where she's headed and he's says, "You're not going to fit in." She responds, "Is it because of my shoes?" And there's a point blank shot of her blue low-cut chucks. Chucks symbolize that she's average, independent, hip and spirited, as opposed to designer heels which symbolize wealth and class superiority. It's lazy. The screenplay can't say it clearly enough, so the director let the shoes do all the talking.
This shot shows the difference between free spirt Sydney and the uptight sorority sisters of Phi Kappa Nu.
Sydney White. (2007) Amanda Bynes, Sara Paxton, Matt Long, Jack Carpenter, Jeremy Howard, Crystal Hunt, Adam Hendershott , Danny Strong, Samm Levine, Libby Mintz, John Schneider, Arnie Pantoja, Donté Bonner, Brian Patrick Clarke.
Directed by Joe Nussbaum. Categories: Comedy, Drama.
ChucksConnection Rating:

MPAA Rating: PG-13
Support the film industry by purchasing genuine DVD, Blue Ray, or streaming copies of these films. Illegal copies only help profiteers. Make sure your money goes to the producers and artists who actually create these films. Still images from the film are used here as teasers to get you to view an authorized copy. If you have information about a film where a main character wears chucks, contact us at films@chucksconnection.com.