A ChucksConnection Film Review
Esther Jane Pope wears black high top top Converse "Chuck Taylor" All Stars in the film.
Asher Trosdal wears red high top top Converse "Chuck Taylor" All Stars in the film.
There's Something In The Lake
by Hal Peterson
Sam oftens visits her mother's gravesite.
Things seem idyllic in the small Tennessee town where Sam, Evan, and Link live but there are some strange things happening to them. As the film opens Evan (Asher Trosdal) is walking with Heather (Annabelle Gaut) in a local park. Then Heather runs off telling Evan to follow her to the shores of a lake. Strangely at the side of the lake is a chair sitting in the water. Heather tells Evan that he must go sit in it and he will get a surprise. Evan takes off his red high top chucks and socks and wades in. Unfortunately for Evan, the surprise turns out to be a lake monster who lunges at him. This and other strange events happen to thirteen-year-old soccer player Sam, her friend Link (Ty Trosdal) and his younger brother Evan in There's Something In The Lake. Sam's recent life has had other setbacks, most notably the death of her mother (Heather Joel). Sam greatly misses her, and often visits her grave site. This has changed her relationship with her father (Shane Helm), who has compensated by being much more controlling of her life, wanting her to concentrate on her schoolwork rather than spending time with her friends.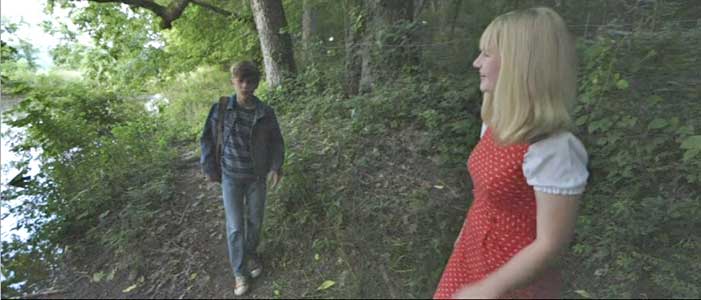 Heather leads Evan to the lake shore.
Sam's latest unlucky events occurred after Sam and three of her friends had to sneak into Sam's family room to watch a particularly scary late night monster movie with the same name as this film. Two of them had to leave, but Link stayed to finish watching the movie with Sam. They both ended up falling asleep while the movie was still playing and were "literally sucked into its world." The next morning Sam finds herself in a surreal world where all normal people with the exception of her friends Link and Evan are missing. When Sam goes to her soccer game, no one is at the soccer field. She does run into Link who is practicing pitching with a baseball coach, something equally strange because he just recently had a season-ending injury to his pitching arm. Meanwhile Evan finds himself pursued again by Heather, and comes running into Sam's house to hide. Evan immediately begins rifling through her cupboard looking for food, but most of the boxes are now completely empty.
Heather tells Evan to sit in the chair at the edge of the lake.
Other strange happenings continue to show Sam and Evan that they are trapped in the monster movie. For example, all of her school books no longer have any pictures or printed text inside them. Later Link joins up with them and they begin to sort out the dilemma that they are in. Gradually they discover things that will help them out. One of the most important is looking through Link's camera. Anyone who is a ghoul or monster shows their true face when viewed through the sighting lens of the camera. But time is running out as now the ghouls and monsters are actively pursuing them. The three must now put up a good fight with the hope that they will hear the ending music that tells them they are out of the monster movie and their lives are back to normal.
Sam hides from Coach in the cemetery.
There's Something In The Lake is the work of independent filmmaker Greg Pope. It is interesting to see projects like this get produced, with the advances in modern video technology assisting in making films like this possible. As usual there are a few families that work together to create the film, handling the production elements, special effects, acting, filming, and post production work all on a very minuscule budget. With the proliferation of distribution outlets and streaming services now available, any production company with a credible and well made product can get distribution; in the case of this film, it can be seen on Amazon Prime. So kudos to writer/director/composer/producer Greg Pope for this effort nicely shot in the Franklin, Tennessee area, and for the work of the lead actors Esther Jane Pope, Asher Trosdal, and Ty Trosdal.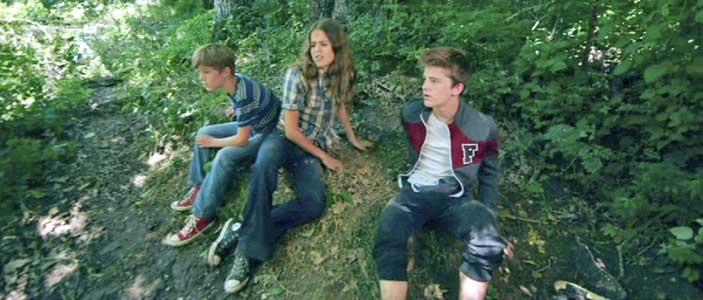 Evan, Sam, and Link seated on the lake shore.
Best Chucks Scene


Evan is looking for some real food.
Both Esther Jane Pope (Sam) and Asher Trosdal (Evan) wear high top chucks throughout the film. There is a brief closeup of Sam's black high tops when she is hurrying through the woods but stops dead in her tracks when she spots a deal animal. There is a close up of Evan's red high tops during a dream sequence where he comes into Sam's house looking for real food and is tossing away empty boxes of snacks.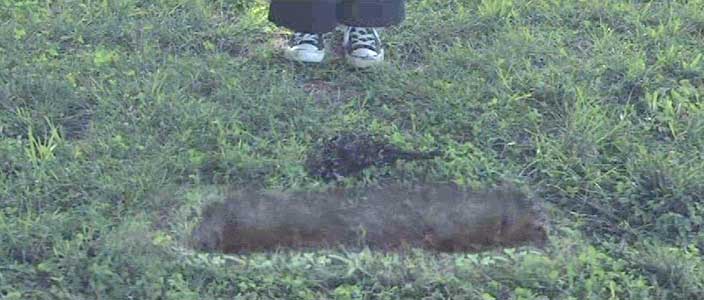 Sam stops in her tracks when she spots a deal animal.
There's Something In The Lake. (2021) Esther Jane Pope, Asher Trosdal, Ty Trosdal, Annabelle Gaut, Micah Pope, Tom Smith, Riley Costello. Written and directed by Greg Pope.
Categories: Science Fiction/Fantasy, Family Grade Horror.
ChucksConnection Rating:

MPAA Rating: NR, would be PG
Support the film industry by purchasing genuine DVD, Blue Ray, or streaming copies of these films. Illegal copies only help profiteers. Make sure your money goes to the producers and artists who actually create these films. Still images from the film are used here as teasers to get you to view an authorized copy. If you have information about a film where a main character wears chucks, contact us at films@chucksconnection.com.