A ChucksConnection Film Review
Troye Sivan wears optical white high top Converse "Chuck Taylor" All Stars in the film.
Brianne Tju wears black and optical white high top high Converse "Chuck Taylor" All Stars in the film.
Three Months
by Hal Peterson
Caleb pondering things seated under a pier at the beach.
Three Months is a film about members of the south Florida LGBTQ community that focuses around recently graduated high school seniors Caleb Kott (Troye Sivan), his best friend Dara (Brianne Tju), and Estha (Viveik Kalra), an Indian-American boy Caleb meets at a support group. We meet Caleb first, as he cycles around town on a tandem bicycle. Lately Caleb, who is openly gay, has a lot on his mind after a moment of carelessness during a sexual encounter just before his high school graduation results in his exposure to HIV. In one sense Caleb is lucky that he was immediately told about the exposure, so he was able to get good medical treatment from Dr. Diaz (Javier Muñoz), who is gay himself, and runs an HIV support group at his clinic. Now Caleb must anxiously wait for three months to go by, before he can be sure of whether he is totally free from AIDS. Caleb's Jewish family life is somewhat of a mess also, even though he hides what has happened from them. His father was killed in an automobile accident a while back and he is estranged from his mother, who has moved in with an Orthodox rabbi and is unaccepting of who Caleb is. Caleb now lives with his grandmother Valerie (Ellen Burstyn), who has an inter-racial marriage with Benny (Louis Gossett, Jr.) and is supportive of her grandson. At the same time she would like to move out of the family house into a more senior-oriented location, but is concerned about how that would affect Caleb, especially if he doesn't go off to college.
Caleb drawing on the toe cap of his right chuck.
Caleb and Dara work at a convenience store near the beach run by Suzanne (Judy Greer). They have a close knit relationship even though it is not romantic in nature. They are both gay and outsiders to the world at large, but together they have a lot of fun with impromptu parties at the store after closing time. Neither is connected to their high school class, and in an early scene chose to watch their high school graduation ceremony from afar at their own private party, bringing food and drink to a high up location near campus while they watch through binoculars. Later Caleb is shocked to find out that Dara is having sexual encounters with Suzanne, when he accidentally stumbles in on the two of them in the break room of the store. Meanwhile Caleb begins attending Dr. Diaz' support sessions for men who live with HIV, where he meets Estha. The two hit it off and begin to have a summer fling even though their cultural backgrounds are very different. Unlike Caleb, Estha has hidden his homosexuality from his very conservative parents, and his constant worry is that somehow they will find out about his exposure to HIV and disown him. Caleb's new relationship with Estha and the revelation of Dara's affair with Suzanne causes tension in their relationship. Dara needs Caleb's support now more than ever, but the entry of Estha in to Caleb's life changes his dynamic with Dara and the amount of time they spend together.
As Caleb meets with Estha, the camera pans up from their footwear.
With all of these plot element swirling around, the script has built up quite a soap opera dynamic. What will the final test results be for Caleb and for Estha? Will they end up contracting AIDS or will their lives be spared? How will the results affect their attraction to each other? Will they continue to develop more intimacy or will it just end up being a summer fling? What about Caleb and Dara's friendship? Will it continue to deteriorate or will it return to its normal dynamic? What about Dara and Suzanne? Can their affair be a good thing for Dara, or Suzanne for that matter? What will happen as more people find out about it? For those and other answers you will have to watch the film!
Caleb and Dara at the convenience store where they work.
Three Months is the work of Jared Frieder, who wrote, directed, and produced the film. The film is also the first major starring role for YouTube phenom Troye Sivan, who in addition to his acting work wrote a couple songs for the production. There is a certain prickly side to his character Caleb that is well portrayed, yet at the same time you feel let down that you don't get know the entire persona of Caleb. For example, it is casually mentioned that he is planning to attend the prestigious Parsons School of Design, in Greenwich Village, New York, but we never get any insight as to what his artistic interests are other than he often brings along a camera to shoot casual photos and likes to draw on his Converse sneakers (see below). To be accepted to a school like Parsons would require some demonstrable academic success which is why Caleb's ambivalence about his high school work doesn't ring true. High school graduation is a big deal even if you totally struggled the whole time, and it is a statement to your family and community that you have made your first major step toward success in life. The fact that Caleb recently lost his father was another element that was thrown at the viewer as an aside, but its impact on Caleb should have been explained to help the viewer understand Caleb's development and behavior toward his remaining family. We learn even less about Dara's family life or that of Estha. Both Brianne Tju and Viveik Kalra put what they could into their roles, but their characters could have been fleshed out more. It's ironic that this film was completed just before the recent series of attacks on LGBTQ rights was made by the Florida governor and legislature. The film seems to stress that Caleb. Dara, and others were living in a somewhat accepting environment. Perhaps that is the message of the film, but does it ring true in today's world? Two and 1/2 chucks rating for the film plus an additional 1/2 chuck for the extensive chucks-friendly cinematography by Chananun Chotrungroj.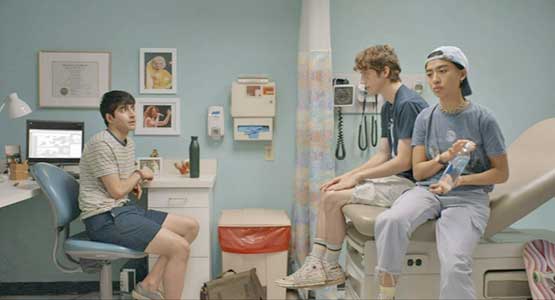 Estha, Caleb, and Dara waiting for Caleb's test results.
Best Chucks Scene
Full close up of one of Caleb's illustrated high tops.
Drawing on their chucks has been a long time tradition for teens who wear them, and that is something very noticeable in Three Months. Troye Sivan, who plays Caleb, lives in his optical white high top chucks, and he draws or writes all over their canvas uppers, rubber toe caps, and outer foxing. The cinematographer placed great emphasis on pointing this out throughout the film, with constant shots of Caleb's chucks, so much so that we decided to make a photo gallery of them; you can see the gallery by clicking here. We see Caleb actually drawing on his chucks in one scene at the doctor's office, and later one good extreme closeup that allows us to see some of the artwork. Brianne Tju who plays Dara also wears black or optical white high tops in a couple of scenes. The best scene has to be toward the end of the film, where we get a glimpse inside Caleb's closet, which contains multiple pairs of illustrated high top chucks, most likely a chronicle of his high school life. They certainly would be an indication of his artistic thoughts that would be interesting to examine! In the closet there is one brand new optical white pair that he grabs and puts on in a follow up scene, signaling the start of a new facet to his life as we see Caleb and Dara both wearing brand new plain optical white high tops while bicycling down the street on his two-seater.
Caleb's closet reveals multiple pairs of illustrated high top chucks, and one brand new pair.
Three Months. (2022) Troye Sivan, Viveik Kalra, Brianne Tju, Ellen Burstyn, Louis Gossett Jr., Judy Greer, Amy Landecker, Javier Muñoz, Steven Sean Garland, Scott Daniel Johnson. Written and directed by Jared Frieder.
Categories: Drama, Coming of Age, Sexually Explicit.
ChucksConnection Rating:

MPAA Rating: NR, would be R
Support the film industry by purchasing genuine DVD, Blue Ray, or streaming copies of these films. Illegal copies only help profiteers. Make sure your money goes to the producers and artists who actually create these films. Still images from the film are used here as teasers to get you to view an authorized copy. If you have information about a film where a main character wears chucks, contact us at films@chucksconnection.com.