A ChucksConnection Film Review
Josh Charles wears black and optical white high top Converse "Chuck Taylor" All Stars in the film.
Stephen Baldwin wears black high top Converse "Chuck Taylor" All Stars in the film.
Threesome
by Hal Peterson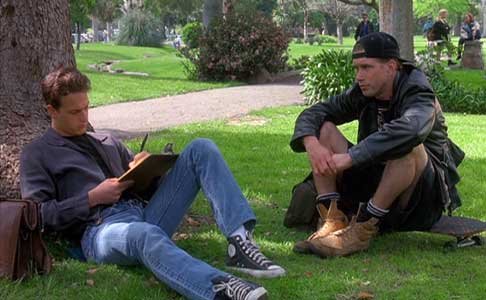 Eddy and Stuart are college roommates in Threesome.
Threesome is the story of three college freshmen who end up in a very strange relationship. Eddy (Josh Charles) and Stuart (Stephen Baldwin) are two mismatched guys who are placed together in the same dorm suite. They each have an affinity to different facets of campus life — Stuart is expert at partying and shows Eddy how drink and pick up girls, while the cerebral and introspective Eddy does their homework and keeps the room clean. Things get complicated, however, when a beautiful girl named Alex (Lara Flynn Boyle) is mistaken for a male by the college housing board and assigned to Eddy's and Stuart's room. Of course a bureaucratic snafu prevents a simple resolution to the situation, and Alex has no choice but to stay. A strange triangle soon develops. Alex becomes infatuated with Eddy, Stuart develops a crush Alex, and Eddy begins to recognize that he is gay or at least bi-sexual, as he is not attracted to Alex as much as he is to Stuart. Once this premise is established, the remainder of the story is about how they try to sort out their individual sexual desires and feelings, as partners and as a threesome.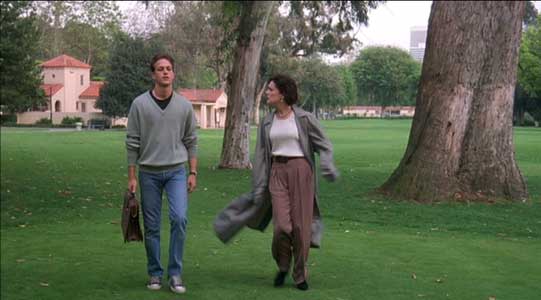 Alex pursues Eddy on campus to find out why he isn't attracted to her.
The movie is narrated by Eddy, who describes the experiences of the film as a "... story of a time in our lives where we traveled the less traveled path and, for a brief while, became deviants." Although the description may put you off at first, the story unfolds in such a way that most of the progressions and developments of the plot seem logical. Along the way there are some interesting scenes and encounters between the three characters that draw you in. You see them having fun and friendly interaction, like when Alex and Eddy see Stuart sitting on the front steps of the dorm and drop water balloons on him, or when they go on a picnic in a rented convertible, decide to swim in the nude in a stream, and are discovered by a scout troupe on a hike. The initial scenes with Alex and Eddy when she literally throws herself at him in a restaurant after a theater performance and in the library are hilarious, as are Stuart's advice sessions to Eddy when he hears about what happened. There is another great scene when Stuart and Eddy are sunning on the rooftop of the dorm talking about sex with a woman, and Stuart compares sex to pizza.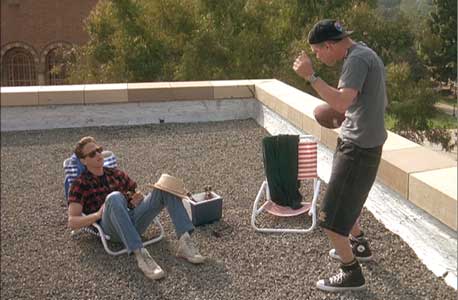 Stuart tries to explain the importance of having relations with women to Eddy.
As Alex, Stuart, and Eddy become more familiar with each other, and as their relationships begin to include sexual encounters, the audience has to look away every now and then to see how far down the "deviant road" they have traveled because the progression is made to seem so normal in the film. This is accomplished by occasionally bringing in other partners or through quick cutaways to other residents of the dorm, who act as a sort of Greek chorus, commenting on their ever growing intimacy, as the threesome becomes a hot topic of gossip. Sometimes the threesome deliberately seems to encourage this through their public actions, but most of the time they seem oblivious to everyone else around them. Their relationship grows to a point where they are really only happy together. But ultimately the threesome has to resolve what their true feelings and goals are as individuals.
Alex and Eddy drop water balloons on Stuart in one of the films lighter moments.
Writer/Director Andrew Fleming has put together a thought provoking film that deals very frankly and honestly with many of the sexual issues of the day. Because the story revolves around young people just beginning to mature and understand their own natures, it presents the material in a non-judgmental way, that let's you focus on the character development and interaction of Alex, Eddy, and Stuart. While some viewers will be offended by the nature of the story line and how it progresses, others will find it to be a very different kind of romantic film. This film does earn its R rating due to its sexually explicit material and language. The film delivers a message to the audience at the end, but you will have to judge for yourself what its significance or validity actually is.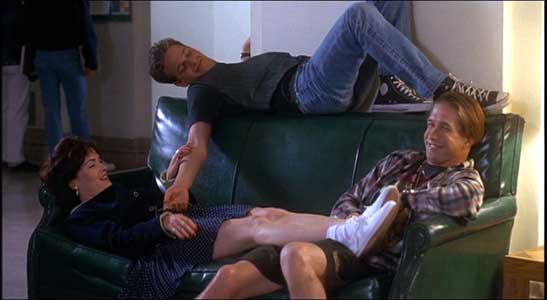 The threesome hang out on a couch in the lounge of their dorm.
Best Chucks Scene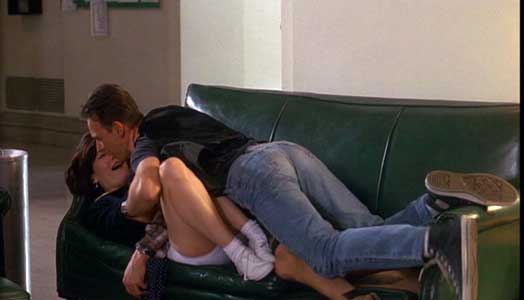 Eddy falls off of the top of the couch onto Alex and Stuart.
Both Eddy and Stuart are seen wearing chucks a lot in this film. Veteran chucks wearer Josh Charles (see also Don't Tell Mom the Babysitter's Missing and Pie in the Sky) wears either black or optical white high tops throughout the entire film. Around the middle of the film, you begin to see Stuart also wearing black high top chucks a lot, so they get a lot of play in the scenes of the film. There are some good close ups in various scenes, but the best scene is a sequence of shots in the dorm lounge, where you see Eddy perched on top of the couch, while Stuart and Alex lounge on the cushions. Eddy then turns over and tussles with them, while a couple of the other dorm residents gossip about the three roommates.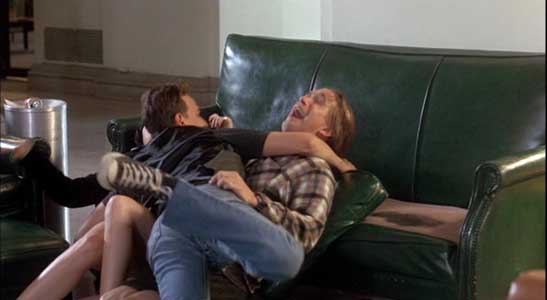 The threesome continue to fool around on the couch.
Threesome. (1994) Josh Charles, Lara Flynn Boyle, and Stephen Baldwin. Directed by Andrew Fleming.
Categories: Drama, Sexually Explicit.
ChucksConnection Rating:

MPAA Rating: R
Support the film industry by purchasing genuine DVD, Blue Ray, or streaming copies of these films. Illegal copies only help profiteers. Make sure your money goes to the producers and artists who actually create these films. Still images from the film are used here as teasers to get you to view an authorized copy. If you have information about a film where a main character wears chucks, contact us at films@chucksconnection.com.