A ChucksConnection Film Review
Andrew Garfield wears black high top Converse "Chuck Taylor" All Stars in the film.
Tick Tick BOOM!
by Marcus Angulo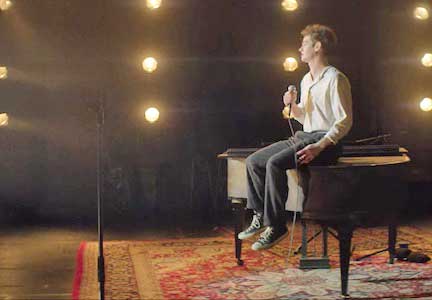 Andrew Garfield plays Jonathan Larson in this musical biopic.
Do you ever feel like you're on the clock? Like you can feel the eternal time ticking away? Do you hear a faint "tick" sound in your quietest moments? We all know our time on this Earth is finite, but for some, that thought is ever present. For some, a countdown is occurring that you can't stop. For some, a boom is just on the other side of the next "tick". Jonathan Larson heard that ticking and was worried about what his legacy would be as a creative musician. Little did he know he'd be regarded as one of the greatest musical geniuses of his age. The Netflix film tick tick...BOOM! tells Larson's story in his own words and music. Based on the musical monologue he wrote of the same name, the film stars Andrew Garfield as Larson, and features Robin de Jesús, Alexandra Shipp, Joshua Henry, with Judith Light, and Vanessa Hudgens. The film was released on November, 19th 2021, and has already garnered Oscar buzz for Garfield's performance.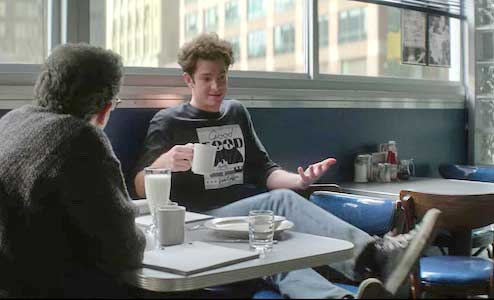 Jonathan goes over his musical in the famous Moondance Diner.
In 1992, Jonathan Larson is performing his rock monologue "Tick, Tick... Boom!" in front of an audience at New York Theatre Workshop, accompanied by his friends Roger and Karessa Johnson. He describes this incessant ticking noise he hears in his head, and begins telling the story of the week leading up to his 30th birthday. Back in 1990, all Jonathan wants is to be a successful musical theater composer, and stage his show "Superbia" on Broadway. He's working a day job at the Moondance Diner in SoHo while preparing for the workshop for "Superbia", the musical he's been working on for eight years. His friend Michael has recently given up on the creative dream and turned to a career in advertising, and his girlfriend Susan is a former dancer turned teacher who is thinking of leaving New York. All this with his impending workshop leaves Jonathan feeling trapped and strung out on a wire.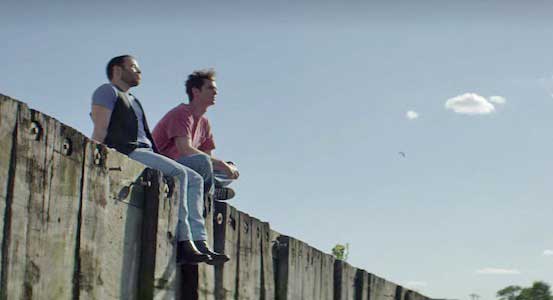 Jonathan and Michael dream away.
We see Jonathan is also struggling with writing the final song for the show, a second act number that Stephen Sondheim himself said was needed for the show to work. John quits his job at the Moondance in order to pursue his dream full time, and devotes all his energy to finishing this song. This leads to even more turmoil as the date of the workshop gets closer and closer. The clock is ticking away not only on the end of his time to finish, but the end of his twenties. What has he really accomplished in these golden years? What does he have to show for all his dreams? Why is he still doing this and can he keep trying? Jonathan has all these questions and so many more, but instead of answers all he hears is "tick...tick...tick".
Susan and Jonathan dance away during simpler times.
The film goes back and forth between the week in 1990 and the 1992 performance, and does a great job of distinguishing between the two. The music is also incorporated extremely well, with some songs being a part of the 1992 stage performance and some dialectically occurring in the story. Andrew Garfield is why this film works, and his performance is Oscar worthy. He has so much heart and energy, and he plays Jonathan with a reverential love that truly showcases who the late musician was. Lin-Manuel Miranda is a first time director for this film, and you can immediately tell how much Larson and his work meant to him. He has some truly glorious and interesting sequences, but never gets in the way of Garfield's performance. This film is an easy recommendation so please give it a watch if you can. And if you're a creative out there asking yourself why you're doing this, just keep going. We need you to keep going.
Jonathan tells Karessa that her song will be finished any day now.
Best Chucks Scene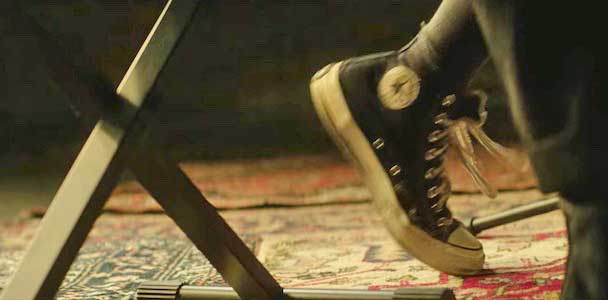 "30/90" features several close ups of Jonathan killing it on piano.

The best chucks scene could be any scene in the film, as Andrew Garfield's Jonathan wears a pair of black high top chucks throughout the entirety of the picture. However, the best scene may be the first in the film, which is the performing sequence of the song "30/90". The song is about Jonathan's upcoming and impending 30th birthday, and features him on the piano wearing his white shirt, jeans, and black chucks. The sequence offers several close ups of Jonathan's hands and feet as he gives the performance his absolute all. This is probably the most energetic and upbeat song in the show, and very much a crowd favorite that Andrew Garfield absolutely nails.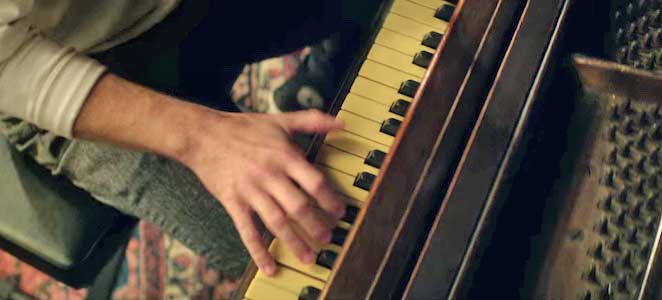 This song is the whole mission statement for the show, highlighting where Jonathan's head is at during the film.
Tick Tick BOOM! (2021) Andrew Garfield, Alexandra Shipp, Robin de Jesus, Vanessa Hudgens, Joshua Henry, Jonathan Marc Sherman, Michaela Jaé (MJ) Rodriguez, Ben Ross, Judith Light, Bradley Whitford. Directed by Lin-Manuel Miranda.
Categories: Drama, Musical.
ChucksConnection Rating:
MPAA Rating: PG-13
Support the film industry by purchasing genuine DVD, Blue Ray, or streaming copies of these films. Illegal copies only help profiteers. Make sure your money goes to the producers and artists who actually create these films. Still images from the film are used here as teasers to get you to view an authorized copy. If you have information about a film where a main character wears chucks, contact us at
films@chucksconnection.com.