A ChucksConnection Film Review
Noah Centineo wears black low top Converse "Chuck Taylor" All Stars in the film.
To All the Boys: P.S. I Still Love You
by Marcus Angulo
Laura Jean and Peter Kavinsky are back and as adorable as ever.
Young love is surprisingly complicated. One would think that first time love would be a constant state of bliss and puppy dog eyes, and to many teens getting in their first relationship, that's exactly what they expect. That's certainly what Laura Jean Covey expects in To All The Boys I Loved: P.S. I Still Love You, the sequel to Netflix's breakout 2018 hit To All The Boys I Loved Before. Based on the book series by Jenny Han, P.S. I Still Love You sees the return of the beloved cast of the first movie, and stars Lana Condor, Noah Centineo, Jordan Fisher, Janel Parrish, Anna Cathcart, Trezzo Mahoro, Emilija Baranac, Ross Butler, John Corbett, and Holland Taylor.
The Internet's collective crush is back wearing black low top chucks.
After the end of the first film, Lara Jean (Condor) and Peter (Centineo) are now a couple, and we see them go on their first date. They go to a nice restaurant and then LJ surprises Peter with a night in the park where they light lanterns and promise to never break each other's hearts. Everything seems like a fairy tale, until Lara Jean gets a letter from John Ambrose McClaren (Fisher), one of her previous crushes, in reply to the letter that she wrote to him in sixth grade that her sister sent in the last film. She thinks about responding to him, but puts it off for later. She then tells Peter about it, and while he doesn't seem thrilled that she's thinking of talking to an old crush, he lets Covey know he trusts her. This seems like it should be the end of it, but after volunteering at the local old folks home, LJ finds out that John Ambrose is also a volunteer there which leads to some casual flirting. Back at school, she realizes that being the girlfriend of the most popular guy in school has its downsides, perfectly displayed when Peter gets a locker full of Valentine's from all the girls in school on Valentine's Day. This, combined with Peter still hanging out with his ex-girlfriend Gen (Baranac), makes LJ feel very insecure about their relationship. This leads to her growing closer to John Ambrose while they volunteer together, and makes her question if she chose the right boy after all.
LJ learns that being the girlfriend to the most popular guy in school can have its issues.
This sequel contains a lot of the same great elements from the first film. This includes the performances by Condor and Centineo, and their chemistry. Condor as Laura Jean continues to bring a warmth and an innocence that lets us overlook some of the reactions she has in this film. Centineo still has his irresistible charm and charisma, which has led to some pointing out that those traits kind of mask the fact that Peter may be a bit superficial. Broadway standout Jordan Fisher is a great addition to the cast, and brings a quiet confidence and charm to John Ambrose.
Will old relationships put an end to Peter and LJ's romance before it has a chance.
This film does suffer from two issues though, with the first being that it just doesn't have that same spark the first one does. The story in this film doesn't quite feel necessary, and it may have been better for the love story between LJ and Peter to end with the closing of the first film. The other issue this film suffers from is that your enjoyment of it will most likely be tied to who you want Laura Jean to end up with. This all but guarantees that one group of fans will not be happy with the ending of the film, which may explain why this film has received mixed reactions online. Overall though, this film is a fun and easy watch, and offers a fun return to the characters we came to love in the first film. With a third film in production, here's hoping we get a satisfying close to Laura Jean's story.
Peter Kavinsky wears black chucks the every time he's on screen.
Best Chucks Scene
LJ prepares to send out her dream lantern with Peter by her side.
Peter Kavinsky is not a complicated boy. He likes field hockey, hanging out with friends, Laura Jean Covey, and Chuck Taylors. The latter of which is evident by the fact that he has worn two pairs of shoes across the two films, both of which have been Chuck Taylors. This film sees him wearing low top black chucks throughout the film, with the best chucks scene coming at the very beginning of the movie. While on their first date together as an official couple, Peter is wearing his chucks with a classy casual outfit. He and LJ eventually end up sending a dream lantern into the sky while sitting beneath the stars. They promise not to break each other's hearts, and it's this promise that leads to the overall theme and conflict of the film: the fear of heartbreak. This fear consumes LJ and this promise is alluded to by both her and Peter at multiple points in the film. This moment is their last true moment of bliss in the film, and Peter being himself while wearing his signature chucks is a key part of that.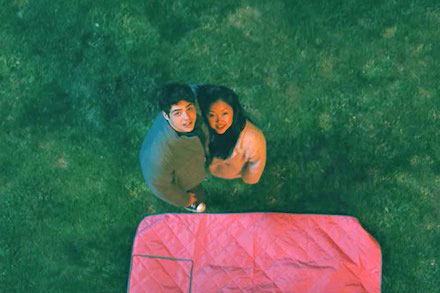 If only love was always this blissful.
To All The Boys I Loved: P.S. I Still Love You. (2020) Lana Condor, Noah Centineo, Jordan Fisher, Anna Cathcart, Ross Butler, Janel Parrish. Directed by Michael Fimognari.
Categories: Romance, Drama.
ChucksConnection Rating:

MPAA Rating: TV-14
Support the film industry by purchasing genuine DVD, Blue Ray, or streaming copies of these films. Illegal copies only help profiteers. Make sure your money goes to the producers and artists who actually create these films. Still images from the film are used here as teasers to get you to view an authorized copy. If you have information about a film where a main character wears chucks, contact us at films@chucksconnection.com.