A ChucksConnection Film Review
Victoria Scherer wears maroon high top Converse "Chuck Taylor" All Stars in the film.
The Treasure of the White Falcons
by Hal Peterson
Jan, Stevie, and Basti take off on their trip to find the cave of the White Falcons.
It is 1981 and summer in the Heroldsbach region of Bavaria. Eleven-year-old Jan (David Bode) and his best friends Stevie (Tamino-Turgay zum Felde) and Basti (Kevin Köppe) have only a few more weeks together before Jan and his parents move away from the small village where they now live to the city of Düsseldorf. Jan wants to make a statement with his friends before he leaves. At first he is focused on exploring Kattlervilla, an abandoned and boarded up house in the old part of the village. So far no one has yet been able to get inside, including the Altortle, a rival group of kids who live in the old village and consider the Kattlervilla part of their territory. Led by the tomboy Marie (Victoria Scherer), they are intent on preventing any other kids from getting into the Kattlervilla, and fight with Jan, Basti and Stevie when they see them in the old village. But Jan and Basti are a lot cleverer than the Altortle kids. Jan figures out how to break in, and while exploring in the attic of the villa discover a treasure map from the White Falcons, a gang of kids from the previous decade. The White Falcons were legendary in the village for pranks that they pulled, but also because their leader, Peter Laux, mysteriously disappeared and was never heard from again. Now Jan and his two friends focus on finding the location of that treasure, but first must decode the treasure map.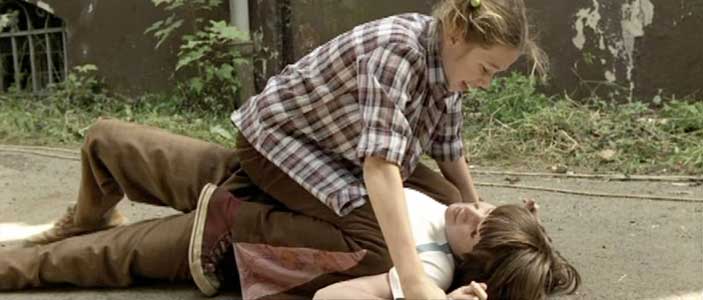 Marie is able to get the best of Jan in a fight.
Jan's research eventually leads him to the house where Peter's mother Ursula (Cornelia Schmaus) lives alone, and still is in mourning for her son. When Jan asks her about Peter, Ursula is at first angry and upset, slapping him and telling him to go away. But then she quickly reconsiders and asks Jan inside when he explains that he and his friends have found Peter's treasure map. This is the first new information about Peter in ten years, and the fact someone new is interested in her son gives her some hope of finding out what happened to him. They have a conversation where she gives him more background about the White Falcons and her son Peter. Now the three friends are totally motivated to find the treasure cave, planning to go on a weekend where their parents have plans and think that the boys are staying at each other's houses. Eagerly they take off, but weren't careful planning for necessities like food. Another problem was that Basti has diabetes, and must take insulin on a regular basis. To make things worse, the three are spotted on their way out of the village by Marie and a couple of the Altortle gang members, who follow them to find out what they are up to.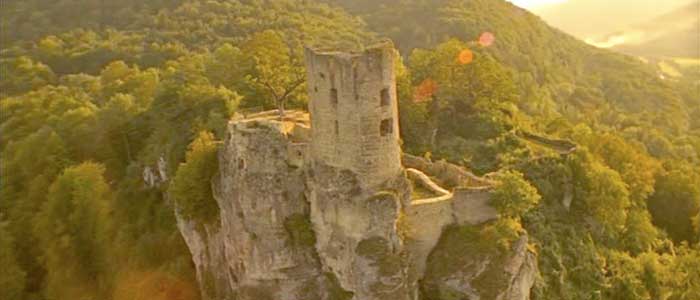 The deserted castle that overlooks the cave entrance.
Along the way, the boys have several adventures, a run-in with a shop keeper, an escape across a river when they are chased by Marie, trying to fish in a lake without fishing poles by using electricity, and eventually a run in with Marie and the Altortle boys who catch up to Jan and the others when they spot the smoke from their campground. A sweet moment happens when Basti, who has been captured by the Altortles during their attack, needs his insulin pack and realizes that it was left by the lake where they were fishing. Without a dose within a few hour, he will go into serious shock. An immediate truce is called and Jan and Marie take off together to find it, leading to more adventures on the way as they take a short cut through an abandoned military base fenced in with barbed wire that still has live ordinance inside. Eventually they are successful in finding the insulin pack and reviving Basti. The two groups separate again, but Jan, Batsi and Stevie discover that their treasure map has been stolen by Marie. Having come this far, Jan will not give up and they head to the castle to find and explore the treasure cave. How all this works out makes up the balance of the film.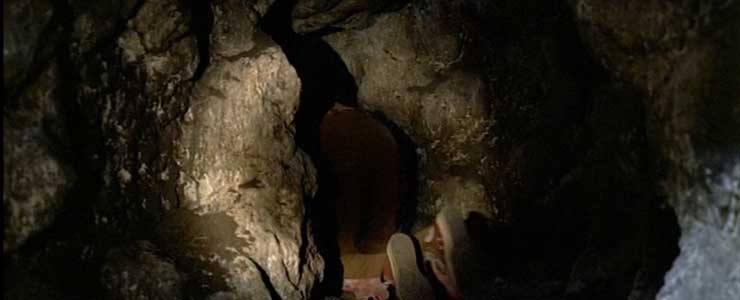 Marie forges ahead into the cave entrance.
In many ways The Treasure of the White Falcons is a German language version of the classic coming of age film Stand By Me, complete with a flashback narrator telling the story thirty years later. It also has similarities in its ending to another kids' adventure film Journey to Spirit Island, also reviewed on this website. Despite its similarities to previous films, The Treasure of the White Falcons delivers positive messages about friendship, accepting responsibility for your actions, respect for human life, having the courage to help others even when they are your rivals, honesty, and learning to stand up for yourself. There are some good tween moments too, like experiencing a first kiss and learning to face up to your fears. The film works due to the strong performances of its lead characters played by David Bode and Victoria Scherer. Beautifully shot cinematography and good focus by writer/director Christian Zübert make for an enjoyable experience. In German with English subtitles.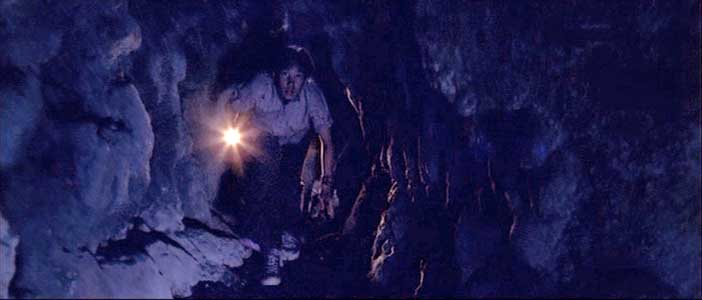 Marie and Jan are exploring the cave.
Best Chucks Scene
Jan peers down to confirm that Marie has stepped on a hand grenade.

Victoria Scherer (Marie) wears maroon high top chucks throughout the film. Unisex chucks are a good fit for her, practical and lightweight for all of her adventures. The best scene with them is when Marie and Jan are cutting through the restricted military base and she accidentally steps on a hand grenade. Luckily Jan sees what she did and is able to help her, first by spotting the grenade, then holding down her foot, and finally kicking it away. It seemed to be a dud, until suddenly a few seconds later, a large explosion is heard. This definitely leads to some bonding between the two of them.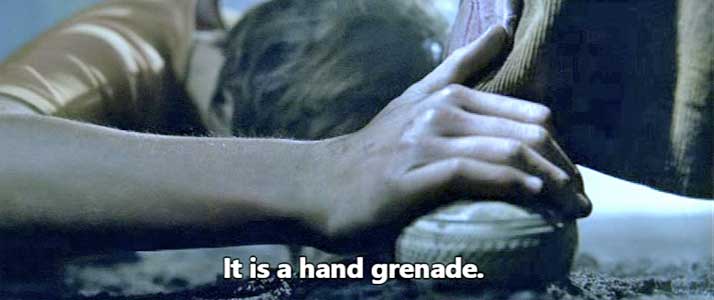 Jan holds down the top of Marie's high top to prevent her foot from slipping off the grenade.
The Treasure of the White Falcons, aka Der Schatz der weißen Falken. (2005) David Bode, Kevin Köppe, Tamino-Turgay, Victoria Scherer, Jannis Niewöhner, Christian Wimmer, Cornelia Schmaus. Written and directed by Christian Zübert. Categories: Action/Adventure, Family.
ChucksConnection Rating:

MPAA Rating: NR, would be PG
Support the film industry by purchasing genuine DVD, Blue Ray, or streaming copies of these films. Illegal copies only help profiteers. Make sure your money goes to the producers and artists who actually create these films. Still images from the film are used here as teasers to get you to view an authorized copy. If you have information about a film where a main character wears chucks, contact us at
films@chucksconnection.com.