A ChucksConnection Film Review
Jon Heder wears black high top Converse "Chuck Taylor" All Stars in the film.
Tremors: Shrieker Island
by Hal Peterson


Jimmy seeks out Burt Gummer on a beach in New Guinea.
Tremors: Shrieker Island is the seventh and presumably last film in this series about huge subterranean worms called Graboids, who attack and kill anything that gets in their way, including humans. For worms, they are especially intelligent, and in this film, which borrows heavily from the Jurassic World story, they have been genetically modified to be even more intelligent and terrifying than before. The film is set on two tropical islands in the Pacific Ocean, now owned by Bill (Richard Brake), who not only owns the islands but also Avex Bio, the company that modified the Graboid's DNA. Bill's first love is big game hunting, and one of the islands, Dark Island, is kept private for the purpose of hunting expeditions for high rollers from Silicon Valley and other wealthy enclaves who want an extra special thrill. The other island houses the Avex Bio Preservation Center, a research site which has more noble purposes. There we meet director Jasmine "Jas" Welker (Caroline Langrishe) and her second in command Jimmy (Jon Heder). Jas and Jimmy become concerned about Dark Island when their equipment picks up a series of unexplained seismic tremors from there, and they go to investigate with another staff member Ishimon (Manop Vanasinsathapron). Their concerns are confirmed when they discover a dead Graboid on the island. Worse yet, the Graboid has given birth to three Shriekers, smaller sized Graboids that are fast and can move above ground. Jas, Jimmy, and Ishiman quickly flee the area but the Shriekers are able to kill Ishimon, when he hesitates to see what they are.
Burt, Jimmy and Jasmine confront Bill about the Graboid hunt.
When they arrive back at the research facility, Jas tells Jimmy to find Burt Gummer (Michael Gross), the one person she knows who is capable of dealing with Graboids. Survivalist and the one constant character in all the films, Burt is living in isolation, away from any government influences and content to be done with fighting against Graboid. When Jimmy finds Burt, he must deal with things like booby traps and Burt's reluctance to leave his life of simple paradise in New Guinea. But Jimmy is eventually able to convince Burt to help him, and they head on back to the research facility. There Burt makes a transformation from island native into Graboid fighter, complete with his Cubs baseball cap, sunglasses, and hilarious stockpile of B-movie cliché lines. (This is the main reason this film is called a comedy not a horror movie.) Meanwhile, Jas has gone to meet with Bill to try and persuade him to cancel the hunt. But Bill is not to be deterred and has cut off outside communications. Later Bill is confronted by Burt who warns Bill that the Graboids are much more dangerous than he realizes. Bill and his party find this out the hard way when they discover that the Shriekers can make ear deafening screams that will allow them to pick off the hunting party one by one.
Burt and Jimmy getting ready to go to Shrieker Island.
Burt starts to gather up weapons for defense, but discovers that there are no firearms there, only a storage bunker remaining from World War II 75 years ago, containing machetes, unstable dynamite, and two flamethrowers. Despite that, Burt, Jimmy, and some of the other researchers go back to Dark Island to help kill the Shriekers. They save the remaining hunters by killing the shriekers and one of the Graboids. But when they return to the Research Facility, they discover that one of the Grabiods has followed them back under the ocean. Again they realize that the predatory worms are much more intelligent and deadly than they thought. Despite all that has happened to the hunting party, Bill refuses to end the hunt and turn on the communications system when Burt asks him to. Instead he shoots Burt and the Research Staff with tranquilizer darts and locks them all in the bunker tied with zip ties. The plot now becomes quite MacGyver-like, as the Jimmy remembers that the laces on Burt's boot were replaced with 550 Paracord, which is capable of sawing through plastic. One of Bill's sidekicks, Anna (Cassie Clare), realizes that his continuation of the hunt is insane. She quits and goes to the Research Center just in time to let Burt and the others out of the bunker. Just then one of the remaining Graboids tunnels into the bunker, but Jimmy and the others are able to kill it with some of the dynamite. Now the film is heading to it big climax between the Queen Graboid and Burt. But first Burt and Jimmy go back to Dark Island to kill the remaining Shriekers using their World War II equipment, while the others prepare a trap for the queen at an inactive volcano called Devil's Punchbowl.
Searching for the shriekers.
Since reviewing the first Tremors film, there have been many casting changes and redesigns of the Graboids. But Burt Gummer has managed to survive all of the changes and comes back one final time to lead the charge against his hated enemy, the Graboids. It's a preposterous task to fulfill, but Burt has just the right amount of craziness and stored knowledge of the Graboids to continue to be their nemesis. You have to take your hat off to Michael Gross to be able to pull this character off through seven films. Jon Heder provides just the right amount of lightheartedness and bravado in his role as Jimmy, which helps keep the film from becoming too dark. Richard Brake also gives a good performance in the film as the leader of the hunting party who goes out of his way to make the hunt extra dangerous and scary. This film rigidly follows the Hollywood code of people who mess with nature always get their comeuppances in the end, so you know in advance what will happen to his character, Avec Bio CEO Bill. Clare Clare and Jackie Cruz don't have a lot of screen time, but are effective in their roles as archery whiz Anna, and lab assistant tomboy Freddie. The special effects are generally very good. Writer/director Don Michael Paul keeps the pace moving. If you purchase the DVD or BlueRay there are several good bonus features: The Monsters of Tremors, Tremors Top 30 Moments, and The Legends of Burt Gummer. A must see for Tremors series fans, especially during the final credits where there is a montage of scenes from the previous films.
Burt, Jimmy and the Preservation Center figure out a way to stop the attacking Graboids.
Best Chucks Scene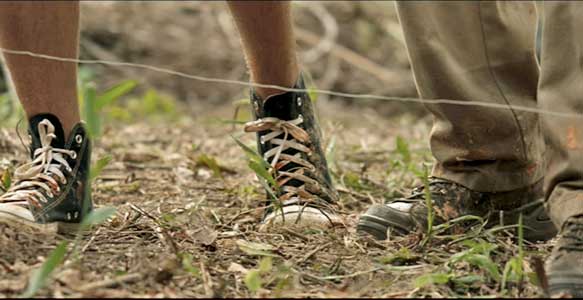 Jimmy warns Burt about a trip wire..

This film is filled with great chucks cinematography throughout, and earned an extra 1/2 chuck for that in its rating. This includes multiple closeup shots, some of which you see here. Jon Heder in his role as Jimmy sports black high tops chucks during the entire film. They are easy to spot in his preferred dress of a tee shirt, open Hawaiian shirt, and cargo shorts to go with his chucks which he wears without socks. As we have seen in other films, chucks are a lightweight and practical footwear choice for wearing on a tropical island and a cool choice for the hip assistant director of the Research Center. The best scene is at the beginning of the film when Jimmy is searching for Burt on the beach. Unknowingly he steps into a booby trap that encircles his right foot and slings him up onto a tall coconut tree. (Click on the icons to see the complete pictures. Use your back button to return here for the next picture.) Another member of the Preservation Center staff wears black low top chucks, but she is uncredited in the cast list.
Walking on the beach. The rope encircles Jimmy's foot.
Jimmy is turned upside down and lifted up the tree.
Tremors: Shrieker Island. (2020) Michael Gross, Jon Heder, Richard Brake, Caroline Langrishe, Jackie Cruz, Cassie Clare, Sahajak Boonthanakit, Matthew Douglas. Written and directed by Don Michael Paul.
Categories: Comedy, Action/Adventure, Science Fiction/Fantasy.
ChucksConnection Rating:
MPAA Rating: PG-13
Support the film industry by purchasing genuine DVD, Blue Ray, or streaming copies of these films. Illegal copies only help profiteers. Make sure your money goes to the producers and artists who actually create these films. Still images from the film are used here as teasers to get you to view an authorized copy. If you have information about a film where a main character wears chucks, contact us at
films@chucksconnection.com.