A ChucksConnection Film Review
Tristan Göbel wears blue high top Converse "Chuck Taylor" All Stars in the film.
Tschick
(Goodbye Berlin)
by Hal Peterson
Maik, Isa, and Tschick looking out at the view at a public park.
Tschick starts out at the scene of a horrific road accident. We don't understand why this has happened, but quickly we are introduced to Maik Klingenberg (Tristan Göbel), a fourteen-year-old high school student living in Berlin and very frustrated with his life. Although he lives in a nice home in a suburban development, all progress on building additional homes there has been stopped due to environmental issues. His father (Uwe Bohm), the real estate developer, has brought them to this place but no one is happy. His mother (Anja Schneider) is an alcoholic and her condition, plus his father's wandering eye for his young assistant Mona (Xenia Assenza) results in a frustrating home life for Maik (pronounced "Mike"). He isn't very popular at school with his teachers or other students. He has a crush on Tatjana (Aniya Wendel), the most popular girl in his class, but she barely acknowledges that he exists. Her birthday party at the end of the school year is a big time social event every year, but Maik is one of the few people to not be invited. Going to the party was something that Maik fantasized about, and even spent a lot of time at home making a drawing of Tatjana to give as a gift. Another person not invited is a new student from Russia, Andrej Tschichatschow (Anand Batbileg), or Tschick for short who is seated by Maik in their classroom. Tschick is big for his age, has a strange haircut, and very little in the way of clothing or possessions, but takes no guff from anyone. Tschick makes a statement to his classmates by staring down an older student who calls him a name, and getting him to back down with three short words. Nobody in the class likes Tschick but he doesn't care.
Tschick and Maik driving in the country.
The main story begins after school is out. Maik suddenly finds himself alone, as his mother has checked into Beauty School, her way of describing treatment for her alcoholism, while his father is going off with Mona for a two week "business trip". Maik fantasizes shooting the two as they leave, but his father at least gave him 200 Euros to live on. This is also the day of Tatjana's party. Suddenly Tschick shows up, and even though Maik has tried to avoid him, the two end up hanging out and playing video games. Tschick has a SUV he has stolen and suggests that they go and crash Tatjana's party after he sees the drawing Maik made of her. Maik is initially opposed to this idea and doesn't want to make a scene, but Tschick is totally fearless and the two barge into the party, Maik presents the drawing, and then the two walk out. Tschick does a series of wheelies in front of the party to make a final statement and they drive off while the party-goers look on in surprise. When they arrive back at Maik's home, he asks Tschick if they will meet again tomorrow. One thing leads to another, and the two impulsively decide to go on a road trip, supposedly to the part of Germany where Tschick is from. Now for the first time in his life, Maik is embarking on a real, spur-of-the-moment adventure.
Maik must sleep alone in the woods when he and Tschick are separated.
Their road trip begins on the Autobahn, but Tschick is not an experienced driver and too young to have a driver's license. When another driver threatens to call the police, their trip is soon diverted to side roads. A lot of the comedy part of the film occurs here, as they bring along cans of food but no can opener, and a frozen pizza with no way to cook it. They run into different groups of campers, religious commune members, and for a time are joined by a young drifter, Isa (Mercedes Muller), who helps them siphon diesel fuel and tells them she is on the way back to Prague. They have run-ins with the police, which causes them to be separated for a while, and with an angry farmer after making crop circles in his fields. The two boys handle everything in their naïve, hang loose way, which adds to the charm of the film. But all good things must come to an end, and a road rage incident with a crazy pig farmer brings their journey to a screeching halt. The balance of the film is about how all of the fallout from their trip is resolved and how the way that things turn out affect Maik's life.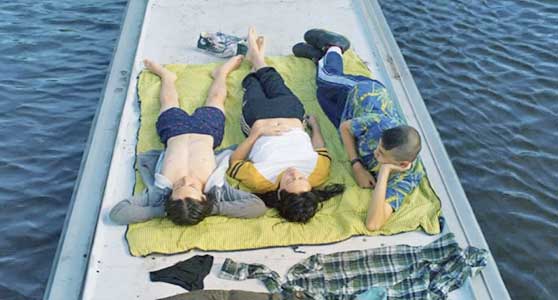 Maik, Isa, and Tschick are drying out on the pier.
Reading the descriptions of this film by its makers and reviewers in Germany brings out the real dichotomy of what is considered family material in Europe as opposed to America. Given the content of the film, along with the language, and behavior of the lead characters,Tschick would likely receive a PG-13 rating in America with parents strongly cautioned about certain elements of the story line and because the possibility of a sexual encounter between Maik and Isa doesn't happen. Whereas in Europe, the story line is seen as something that the whole family would want to watch and not be upset or offended by its content. While the film cannot be faulted for portraying teenagers in the way that they actually are, a film like Tschick would never be considered a family film by the American rating system and cultural restrictions of the American "family" genre which has a tough time dealing with realistic adolescent characters. There are elements of the film that are better understood by Europeans, just as a European audience wouldn't necessarily understand American cultural references from a road film in the United States. Probably this is why Tschick or Goodbye Berlin, as it is being marketed in English speaking countries, is only available in a region 2 DVD with English subtitles. That said, this film is definitely worth a look for the audience that likes teenaged coming of age stories or even just road trip comedies. Writer/director Fatih Akin has made an interesting screen adaptation of the novel by Wolfgang Herrndorf that keeps you intrigued throughout. Actor Tristan Göbel does a fine job carrying the film, not an easy task when you are cast as a loser kid who sees his own life as boring and meaningless. If you do have a chance to view this film, see it; it is definitely worth a look.
Maik bicycles his drunken mother home.
Best Chucks Scene
Maik slams on the brakes to try and avoid crashing into the crazy pig farmer's truck.
Tristan Göbel, who plays Maik, wears bright blue high top chucks throughout the film. His color choice makes him stand out a little in the crowd. The cinematography is somewhat chucks-friendly, and the bright blue color makes them stick out in many of the scenes. The best close ups occur during the scene where Maik has to drive the car and must continually slam on the brakes due to the erratic driving of a hog farmer. His chucks are covered with mud in these shots, because just before that scene, Maik and Tschick had to get into muddy waters to repair a ramshackle wooden bridge that they were trying to cross. The very opening scene is also darkly lit as it shows Maik picking up Tschick's cigarette butt off the ground so the police won't find it.
Maik picks up Tschick's unlit cigarette at the crash site.
Tschick. (2016) Tristan Göbel, Anand Batbileg, Mercedes Muller, Aniya Wendel, Anja Schneider, Uwe Bohm. Directed by Fatih Akin.
Categories: Comedy, Drama, Coming of Age
ChucksConnection Rating:

MPAA Rating: NR, would be PG-13
Support the film industry by purchasing genuine DVD, Blue Ray, or streaming copies of these films. Illegal copies only help profiteers. Make sure your money goes to the producers and artists who actually create these films. Still images from the film are used here as teasers to get you to view an authorized copy. If you have information about a film where a main character wears chucks, contact us at films@chucksconnection.com.