A ChucksConnection Film Review
Andrew Garfield wears black high top Converse "Chuck Taylor" All Stars in the film.
Under the Silver Lake
by Hal Peterson
Sam seated on his apartment balcony checking out his neighbors.
Under the Silver Lake takes us to Los Angeles and the world of Sam (Andrew Garfield), a young man headed into his thirties, but still with the mind set of a teenager in many ways. Sam's interests include popular culture, especially anything having a relationship to conspiracy theories or hidden messages. He lives in a spacious apartment filled with all kinds of media and collectibles, but we soon learn he is facing hard times. Sam doesn't have a job, and doesn't show any interest in looking for one. He is within days of being evicted, way behind in his other bills, but this doesn't seem to phase him in the slightest. When his mother calls, he tells her everything is fine even though it clearly isn't. His lazy, casual lifestyle includes flings with a promiscuous neighbor (Laura-Leigh) who brings him food for sex, and the main plot line has to do with a new neighbor, Sarah, (Riley Keogh) whom he spots sunbathing from his balcony deck overlooking the swimming pool. Sam is fascinated with Sarah and they end up meeting and have a casual fling in her apartment. When her roommate comes home, Sarah tells Sam to come back the next day, but when he does, he is quite surprised to find out that she and her roommate have moved out, and the apartment is completely cleared out of all furniture and belongings, save one cardboard box that has her picture and some memorabilia inside. While Sam is in the empty apartment, her roommate returns for the one last box. Sam decides to follow her, to see if she will lead him to Sarah.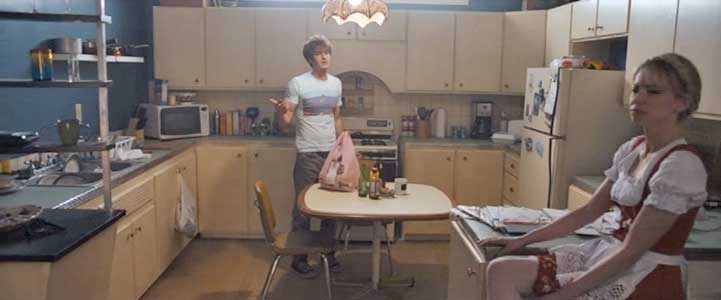 Sam's neighbor Mae comes over for food and frolicking.
It seems that the plot has the setup for a modern day film noir. To add to the mystery, Sam has found a pamphlet in a local bookstore titled Under the Silver Lake which describes real events in the neighborhood, and useful things to know, that seem to have pertinence to Sam's search for Sarah. Sam begins following Sarah's roommate and other individuals. During his search he ends up at a number of parties, concerts, and even historical monuments, and meets with some conspiracy theorists who give him additional clues to follow up. There are shocking developments. It is reported on the news that local billionaire Jefferson Sevence was killed in a car crash along with three women, one of whom appears to be Sarah. Yet to Sam that explanation doesn't ring true. Later Comic Fan (Patrick Fischler) the conspiracy theorist and author of Under the Silver Lake, who provided Sam with some important leads contained on a cereal box, is found dead. Comic Fan's death is called a suicide, but Sam is able to find his security tapes that confirm he was murdered. Later in the film Sam himself is in grave danger when he meets characters like the Songwriter who tells him that all of his songs and most of popular culture is filled with hidden messages, and the Homeless King, a man who knows what is happening underground throughout Los Angeles. When Sam shares what he has learned so far with Sevence's daughter Millicent (Callie Hernandez), she gives him a bracelet with mysterious symbols on it that she believes is connected to her father. Then she becomes another victim, shot dead in a pose that looks like the cover of a classic issue of Playboy Magazine that is Sam's favorite.
Sam becomes fascinated with his new neighbor Sarah.
Eventually Sam does solve the mystery of what really happened to Sarah, in a suitably convoluted way, combining the bracelet symbols with a prize in the cereal box, and The Legend of Zelda map featured in the first issue of Nintendo Power magazine. You can view the film to find out the ending. Suffice it to say that the story continues in this somewhat surreal fashion.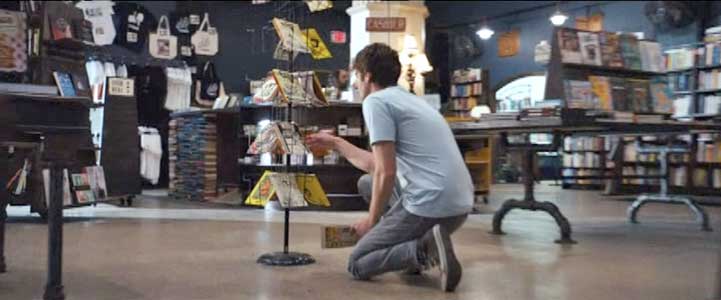 Sam finds a pamphlet at the bookstore called Under the Silver Lake.
Under the Silver Lake is a puzzle in itself. It is full of mysterious clues that reference pop culture and classic films, things that some viewers will enjoy. The film is the total effort of David Robert Mitchell, who wrote, directed and produced it. There is an orchestral score worthy of any film noir along with popular songs by Disasterpeace, and well done cinemaphotography by Mike Gioulakis. Andrew Garfield is well cast in the lead role of Sam. Mr. Mitchell put all of these impressive things together, but somehow the overall impact leaves one feeling empty. You really didn't get to know what makes Sam tick, why he is so oblivious to his own personal situation, and why given the crises in his life he would rather devote all of his time in the pursuit of someone he only met once. But maybe that is the point of the film. Perhaps Sam is just another comic book character and living in reality is the last thing he would want to do.
Comic Man gives Sam a cereal box with a key map inside.
Best Chucks Scene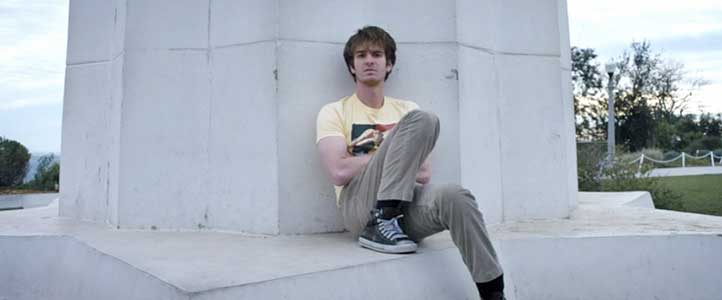 Sam seated at the foot of the science statues, shot 1.
Andrew Garfield in his role as Sam, wears well broken in black high top chucks throughout the film. They are a good fit for his character, an affable but aimless young man kicking back in the Los Angeles scene wearing his chucks with tee shirts and jeans everyday and everywhere. The cinematography is chucks-friendly and we see them in most of his scenes. Probably the best close up shots are when Sam is chasing after the latest clues at a college campus, and taking a rest at a quartet of famous scientist statues.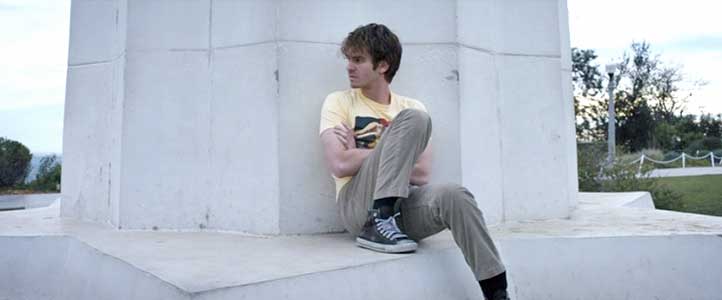 Sam seated at the foot of the science statues, shot 2.
Under the Silver Lake. (2018) Andrew Garfield, Riley Keough, Topher Grace, Laura-Leigh, Zosia Mamet, Jimmi Simpson, Patrick Fischler. Written and directed by David Robert Mitchell.
Categories: Crime and Mystery, Sexually Explicit.
ChucksConnection Rating:

MPAA Rating: R
Support the film industry by purchasing genuine DVD, Blue Ray, or streaming copies of these films. Illegal copies only help profiteers. Make sure your money goes to the producers and artists who actually create these films. Still images from the film are used here as teasers to get you to view an authorized copy. If you have information about a film where a main character wears chucks, contact us at films@chucksconnection.com.