A ChucksConnection Film Review
Angelo Mutti Spinetta wears brown high top Converse "Chuck Taylor" All Stars in the film.
Angela Torres wears black high top Converse "Chuck Taylor" All Stars in the film.
Un Viaje a la Luna
(A Trip to the Moon)
by Hal Peterson
Tomás spends a lot of time in the abandoned swimming pool.
Un Viaje a la Luna is a film about fourteen-year-old Tomás (Angelo Mutti Spinetta), an Argentine boy living in Buenos Aires who is just entering adolescence. He lives with his well-to-do family in a large flat and seemingly has a good life but we soon discover he has a lot of pressures on him. Tomás is bright but indifferent about his classes at school. His mother Susi (Leticia Brédice) is concerned that he won't pass his examinations — having to make up classes in the summer will mess up their family vacation plans. She finds that Tomás is a convenient scapegoat to blame the family problems on, and forces him to visit a psychiatrist and take the anti-psychotic drugs he prescribes. His older sister Juliana (Micaela Amaro) likes to torment him with her newly found sexuality by humping her boyfriend right in their flat and mocking his lack of a girlfriend. His father Anibal (Germán Palacios) is gone much of the time; his absence and lack of interest in his children contributes to the dysfunction of their family. Tomás does have one friend on the outside, Checho (Luca Tedesco), who he hangs out with at an abandoned swimming pool or other places that they bike to. But shy Tomás is most happy when he is alone in his room indulging his passion for astronomy. He often spends his evenings stargazing and watching the moon. His fascination extends to all facets of lunar exploration and travel.

Tomás meeting with Iris when she comes over to his flat to check him out.
Things begin to pick up with Tomás when one night while gazing through his telescope, he sees a red laser dot pointing at him. When he adjusts his telescope lens to its source, a window of an apartment across the way, he spots Iris (Angela Torres) a teenaged girl who is a few years older. She spots him back and intrigued, begins to check out who that boy is looking at her through his telescope. It turns out that they attend the same school. Tomás becomes infatuated with Iris, envisioning her face in the moon, and imagining them spending time together. But his love isn't returned, because Iris has a boyfriend (Federico Venzi) who warns Tomás off and throws his glasses to the ground, cracking one of the lenses when when they meet alone. With his love not returned, Tomás becomes obsessed with the idea of going on a trip to the moon to escape his problems on earth. He begins planning his trip in detail, and begins purchasing all kinds of equipment to convert his room into a space ship. There are a couple of funny scenes where Tomás is riding his bicycle through the city loaded up with stacks of equipment to build his space capsule or stacks of egg cartons to soundproof his room from the "noise" of the space ship. His psychiatrist (Luis Machín) considers this new idea a nightmare, and accordingly increases Tomás' dosage of drugs. Instead of listening to Tomás and working to discover what is causing his delusional behavior, the psychiatrist believes that it can be effectively suppressed with drugs. But Tomás stops taking any drugs, hiding them in a plastic breath mints box after his mother gives them to him.
Checho stares at Tomás' bike loaded down with equipment for his space capsule.
The film works into its next phase as his plans become more serious. Tomás still sees Iris from time to time, meeting her at a discotheque, and she visits his room several times, seeing his telescope and spending time with him playing her guitar. She continues to be part of his fantasy world as he sees her face in the moon and imagines himself dancing with her at the discotheque. His older sister Juliana and her boyfriend make fun of him, even tearing up his plans to build a space capsule, but he yells back at them and tapes the pieces together. One morning his mother after finding the taped up plans, calls Anibal and Juliana to go with her to Tomás' room, knocking on his locked door to discover what he is up to — and in the next moment the three of them, Tomás, and his younger brother Coco (Tiziano Duarte) are dressed in space suits inside the space capsule of Tomás' fantasy world. Although some of them wish to escape, they are locked in and the space ship takes off. Forced to all be together, they must now work as a team. Along the way, a number of family issues come up and are addressed, including a traumatic incident from when Tomás was a small boy, all part of the fantasy that Tomás continues to slip in and out of. During the space flight, Iris (from the outside world) comes looking for Tomás also, and ends up part of the fantasy when the space capsule lands on the moon. During his walk on the moon, Tomás finds her brooch on the ground and then follows her sneaker footprints to find her. At last they have a relationship as they kiss and hold hands. By reaching the moon, Tomás has finally gotten Iris to return his love. This part of the film is quite interesting and enigmatic as it revolves between three realities: inside the high tech space capsule as Tomás imagines it, inside his room as he has made it up with the egg cartoons and plastic sheeting, and the actual outside world where Iris and the psychiatrist exist.
Tomás spots a trail of Chuck Taylor footprints on the surface of the moon.
Writer/director Joaquín Cambre has chosen the style of an art film to present the often-told story of a loner teenager coming of age in a new way. He takes a chance with the fantastical and sci fi twists in the second part of the film that can be confusing at first, but the metaphors and symbolism he presents make sense upon additional viewings. The onset of adolescence is always difficult for teenaged boys, especially when they are outsiders and not aggressive in their behavior. Angelo Mutti Spinetta gives a nuanced performance in the lead role of Tomás: sometimes paralyzed in the presence of others — especially alpha males, sometimes intellectual and capable of interesting conversation, yet at other times forward and demanding as his family discovers in the space capsule scenes. Angela Torres is also effective as Iris, the fun-loving girl with too much eye-liner that men long to be with, and someone normally out of reach for a boy like Tomás. Yet at the same time she develops an interest in him that ends up having a very positive effect on his life. Un Viaje a la Luna is an interesting look at the world of a teenager in Buenos Aires and in general as it explores various realities of modern life, imagination, and romantic emotions.
Tomás and Iris sitting together on the moon.
Best Chucks Scene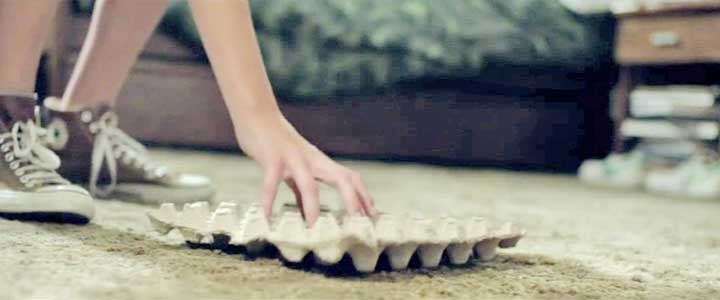 Tomás goes to pick up an egg carton that has fallen on the floor.
Angelo Mutti Spinetta in his role as Tomás wears brown high top chucks along with tee shirts and shorts, typical wear for teenagers in today's Argentina. And the brown color highlights his independence, a popular sneaker but a little different from the more common black, white, red, and blue pairs. We also see Angela Torres who plays Iris wearing back high top chucks in the trip to the moon sequence where Tomás tracks her distinctive Chuck Taylor footprints. There are not a lot of close up shots but Tomás' chucks stand out in the panoramic scenes at the abandoned swimming pool and while he is riding his bicycle through the streets of Buenos Aires. The best close up shots are in Tomás' room while picking up one of the egg cartons he uses for soundproofing his space capsule and reading magazines while seated on the floor.
Tomás seated on the floor looking at books and magazines.
Un Viaje a la Luna. (2017) Angelo Mutti Spinetta, Leticia Brédice, Germán Palacios, Angela Torres, Luca Tedesco, Luis Machín. Written and directed by Joaquín Cambre.
Categories: Drama, Romance, Science Fiction.
ChucksConnection Rating:

MPAA Rating: NR
Support the film industry by purchasing genuine DVD, Blue Ray, or streaming copies of these films. Illegal copies only help profiteers. Make sure your money goes to the producers and artists who actually create these films. Still images from the film are used here as teasers to get you to view an authorized copy. If you have information about a film where a main character wears chucks, contact us at films@chucksconnection.com.