A ChucksConnection Film Review
Kristo Ferkic wears navy blue high and low top Converse "Chuck Taylor" All Stars in the film.
Victor and the Secret of the Crocodile Mansion
(Das Haus der Krokodile)
by Hal Peterson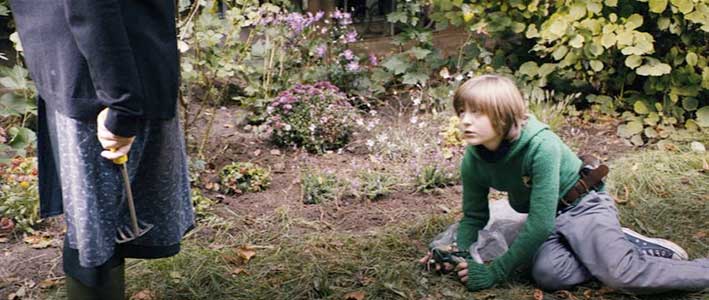 Victor searches for Cecelia's secret in spite of the opposition of his sisters and Mrs. Debisch.
Eleven-year-old Victor Laroche (Kristo Ferkic) is going through a difficult transition in his life. His family, which also includes older sisters Cora (Joanna Ferkic) and Louise (Vijessna Ferkic) is in the process of moving into the upper story apartment of his great uncle Gustav (Dieter Schaad), who at age ninety is unable to live there any more and must spend his final days in a retirement home. The apartment is part of a huge mansion in a suburban German location, full of mementos of the past: stuffed crocodiles and other animals, archeological finds, old furniture and walls of photographs. As the film opens, Victor is seemingly at odds with everyone. His parents are anxious to clear out all of Uncle Gustav's belongings, and remodel the place while Victor is fascinated with his uncle's things. Cora and Louise consider Victor to be a loser because he spends time in a cardboard playhouse and is not interested in playing outside with other boys in the neighborhood. But instead of taking care of their move-in transition, Mr. and Mrs. Laroche are off to a conference, leaving their three children alone in the mansion. Quickly Cora and Louise run off to see their friends, leaving Victor by himself, and he takes full advantage of the opportunity to explore the mansion. Victor runs into some other residents, Frau Debisch (Gudrun Ritter) who was Gustav's long time housekeeper, her no account son Friedrich (Christoph Maria Herbst), and another suspicious neighbor, Herr Strichninsky (Waldemar Kobus) who all seemingly disapprove of him being there.
Victor encourages the Debisches to help him search through the apartment.
The action begins as Victor is alone in the apartment looking through things and fantasizing that he is an adventurer like his uncle was. But suddenly a masked intruder appears in the doorway. Panicked, Victor runs hurriedly back into his room, toppling a large cabinet in the process. When Mrs. Debisch and Friedrich come to investigate the noise, they tell Victor that seeing the intruder must have been his imagination since the doors and windows were locked. After they leave, Victor discovers another room full of his uncle's things that was supposedly locked and is now open. Inside he finds the diary of Cecilia Larouche, a cousin who died from an accident in the mansion forty years ago when she was eleven. Later he tells his sisters about what happened, and they even contact the local authorities, who are just as disbelieving of Victor as the Debisches were.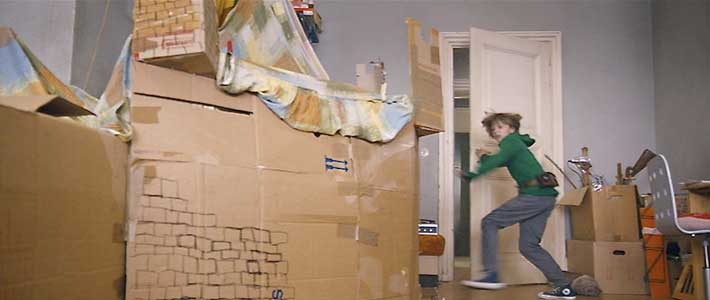 Victor runs from a masked intruder.
Victor becomes obsessed with his cousin after he reads through her diary which is filled with all kinds of drawings and notes. Later he discovers an old film of Cecilia that reveals more about her. Cecilia was fond of puzzles and hiding things. The diary provided clues to these mysteries. He learns of her past life and how she died by falling from the top of the huge spiral staircase in the mansion. There is even a brief dream sequence (very much ala Hitchcock) where he sees her in the mansion. He discovers that there are many locked up passageways in the mansion and he undertakes the task of exploring them. He finds crocodile clues in subbasements and attic hideaways. Mrs. Debisch is very much against these explorations but Victor is determined to discover what Cecelia was trying to say in her diary. Two days later, at his Uncle Gustav's birthday party, he learns more when he shows Cecilia's diary to Gustav and then to one of his uncle's old friends, Herr Opitz (Uwe Friedrichsen), who explains after having a few drinks where a lot of his uncle's possesions and fortune came from. Gradually things start to come into focus for Victor, and the remainder of the film is about how he finally figures out what the real mysteries of Crocodile Mansion are.
Cecelia's book of drawings is central to solving the mystery.
Victor and the Secret of the Crocodile Mansion is a German family film that was also released in a completely dubbed English language version. The three children in the film, Victor, Cora, and Louise are apparently brothers and sisters in real life as well as on screen, all possessing the surname Ferkic. The youngest, Kristo, is impressive in his lead role, and is capable of carrying the film which he mostly does, surrounded by typical character actors who do a credible job. The storyline is impressive for a family film because it doesn't talk down to its audience, and even adults will not be able to figure out all of the nuances of the plot until the end, always the object of a good mystery. The direction and camera work is impressive in this film, especially in the scenes where Victor goes exploring in the mansion. Young viewers, especially boys, will find this film to be an enjoyable detective story.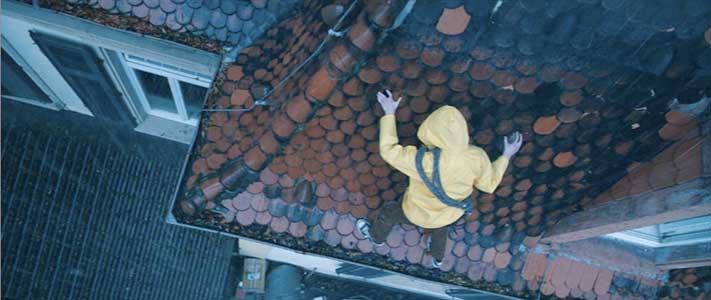 Victor is climbing on the roof in the middle of a rain storm.
Best Chucks Scene
Victor comes to a vertical shaft for the mansion's dumb-waiter.
The camera work in this film is particularly chucks-friendly, so some extra stills are included here. Kristo Ferkic in his role of Victor wears navy blue high tops in the first half of the film, then during the second half of the film switches to a new set of clothing that includes a pair of blue low cut CTAS Cons after coming out of a ventilation shaft covered with dust and dirt. The reason he must change is due to a birthday party for his great uncle, where he must dress up in a more formal outfit. The best chucks scenes in the film are when Victor is exploring or crawling his way through shafts and other hidden passages in the old mansion. There is also another good scene toward the end of the film where Victor must climb onto the very steep and treacherous tile roof of the mansion during a rainstorm.
To continue, Victor must find a way to get down the shaft.
Victor grabs onto a rope to lower himself down.
Camera view from below as Victor climbs down the shaft.
Victor works his way through a narrow ventilation shaft.
Side view of Victor's progress.
Victor and the Secret of the Crocodile Mansion. (2012) Kristo Ferkic, Joanna Ferkic, Vijessna Ferkic, Christoph Maria Herbst, Gudrun Ritter, Waldemar Kobus, Elena Oechsner. Directed by Cyrill Boss and Philipp Stennert.
Categories: Adventure, Family, Crime and Mystery.
ChucksConnection Rating:

MPAA Rating: PG
Support the film industry by purchasing genuine DVD, Blue Ray, or streaming copies of these films. Illegal copies only help profiteers. Make sure your money goes to the producers and artists who actually create these films. Still images from the film are used here as teasers to get you to view an authorized copy. If you have information about a film where a main character wears chucks, contact us at films@chucksconnection.com.