"Norf Norf" by Vince Staples
Vince Staples is a young, up and coming rapper from Long Beach, California. At only 23 years old, he's made quite an impact in the rap genre. Staples gained notoriety from his appearances on albums by Odd Future members and his collaborative mixtape, Stolen Youth, with Mac Miller. He released his debut EP Hell Can Wait, which included the singles "Hands Up" and "Blue Suede", in October, 2014. His debut album, Summertime '06, was released in June 2015, to widespread critical acclaim, and later that year, he was chosen for XXL's Freshman Class. The song "Norf Norf" is the third single from Summertime '06, which was released on June 22nd, 2016.
Vince wears a pair of Chuck Taylors.
The song is about Vince's pride for his hometown of Long Beach, specifically the North, or "Norf", side. Vince is a rapper through and through who focuses on his vocals. The beat is purposefully minimalist and airy so that we clearly hear what he has to say. In an age where rappers are constantly mumbling incoherently and relying on a hype beat, it's refreshing to hear Vince rely on his pure rap abilities.
Vince is led into a jail cell.
The music video is shot in a hauntingly beautiful black and white, which really adds weight to the images on screen. Vince has said that the concept of the video was based off of the Andy Griffith Show. He says that he was specifically mimicking the emotion-vs-content contrast in that it's a "light-hearted show about people being inside of a jail". Speaking to Tyler the Creator, he says, "It's such a beautiful place and it's such an angry atmosphere. We're in the best place possible—we're at the end of the fucking Earth where everyone wants to be—and we have the wrong outlook on life. I just wanted to show that clash." The dynamic is played really well in the video, and you see how well the concept applies well to Vince's life in Long Beach as much as it did to Andy Griffith. In the video, Vince wears a pair of black chuck 70s that we get a very good look of as he is led into his cell.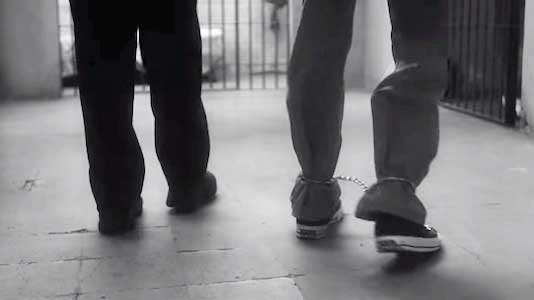 The black and white aesthetic really adds to the imagery of the video.
| | |
| --- | --- |
| | If you have information about specific videos where chucks make an appearance, please contact us at mail@chucksconnection.com. |
Get a new pair of chucks to rap in by clicking on the links below.