"Congratulations" by Sleeping with Sirens
Heavy music is an acquired taste, especially when screaming style vocals are thrown in. But if you're looking to try listening to something new, Sleeping with Sirens is a good place to start. While there are plenty of raspy screams in their songs, they still have some more "mainstream" sounding tunes that are sure to please. "Congratulations", featuring Memphis May Fire's front man, Matty Mullins, is no exception. It's a very "in your face" song, with intense chords pulsing in the background paired with the singers' egotistical sounding duet. However, the entire meaning of the song changes when accompanied by its video.
 The band walks down the street wearing oversized heads and chucks.
It features the entire band, along with guest singer, Mullins, donning large paper maché versions of their own heads. As the video goes on, the viewer quickly understands the oversized masks as they watch the caricaturized version of the band harass the actual members who are dressed as average people such as fans, a hobo, and even an old woman. But while there are a wide variety of costumes in this video, the majority of the band members wear chucks.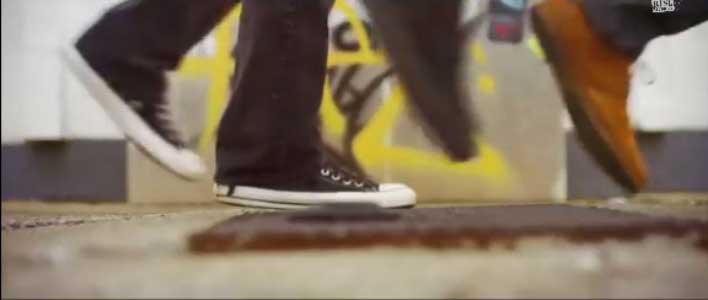 A close up of singer Matty Mullins' chucks.
It's a clever way of making fun of themselves and doing damage control for the stories that have been circulating about the band being rude to fellow musicians and even fans—rumors that most artists face at least once in their career. But whether you're for the claims, against the claims, or unfamiliar with this genre of music, one thing is for sure: this is definitely a video to watch.
The "fake" band taunting singer Kellin Quinn.
| | |
| --- | --- |
| | If you have information about specific videos where chucks make an appearance, please contact us at mail@chucksconnection.com. |
Buy some pairs of chucks for your band and video.