"Kiss Kiss" by Chris Brown
At one time in the 2000's, Chris Brown was pegged to be the next King of Pop. His amazing dance moves combined with his soaring vocals were destined to rule pop music for decades to come. However, issues in his personal life derailed what was once a promising career. Through his many comebacks, his best music came from those days where he was still just a boy from Tampa. The song "Kiss Kiss" was released worldwide for Brown's second studio album, Exclusive (2007), as the album's second single on September 10, 2007. A certifiable classic for a generation that grew up on Breezy's original sound, the song is accompanied by a fitting music video for both the artist and the times.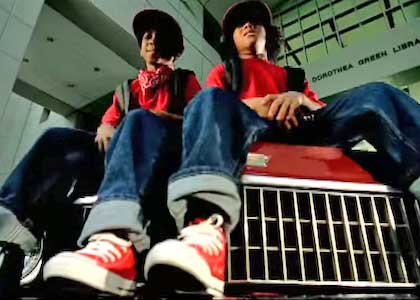 These kid dancers are wearing red chucks in the video.
The song is an upbeat call and response track that incorporates elements of hip-hop, R&B, pop, and dance music. The lyrics are mainly about getting a woman's attention, and what Brown is willing to do for it. The song features guest vocals T-Pain, who also made the beat. This was at a time where T-Pain was at his peak in terms of putting out hits, so getting him on a record was guaranteed to turn out a banger. This is a song that everyone knows, and it's easy to see why. It's danceable, the hook is easy to sing along to, and Brown's vocals soar over the funky beat.
Most of the student body also wears chucks, including Chris' love interest.
The music video takes place at a college, specifically Florida International University in Miami. The video opens with T-Pain welcoming us to Nappy Boy Radio, the college's radio station. He then throws to the song, and we're introduced to Chris Brown's two characters: a nerd version of himself and a jock. They're both trying to get the attention of a pretty girl at school, who wears pink chucks in the video. Jock Chris Brown is constantly picking on his nerdy self whenever they're around the girl, thinking it will impress her. There are multiple scenes where Jock Brown bullies Nerd Brown, all while Nerd Brown attempts to win the girl's heart with kindness. This ends up working, as at the end of the video the girl comes up to the two Chrises, passes the Jock and kisses the Nerd. This video is packed full of people wearing chucks, including Chris Brown's backup dancers, and most of the student body. There are also a couple of fun cameos in the video from Rihanna and K. Michelle. It's a fun video that features a lot of cool choreography from Brown, and it shows how big he could have been had he not made so many horrible choices.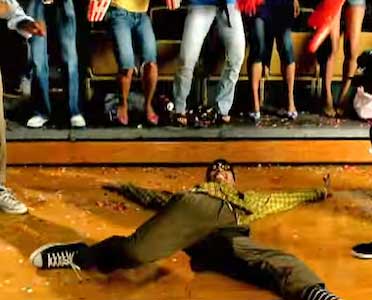 Ta-da!
| | |
| --- | --- |
| | If you have information about specific videos where chucks make an appearance, please contact us at mail@chucksconnection.com. |
Get yourself a new pair of chucks to romance in by clicking on the links below.