"P.I.M.P." by 50 Cent and Snoop Dogg
50 Cent was the ruler of the early 2000's rap scene. His major label debut album Get Rich or Die Tryin' was produced by Eminem and Dr. Dre, and sold nearly one million copies in its first week. It spawned four Billboard Hot 100 singles including #1 hits "In Da Club" and "21 Questions". The album's third single, "P.I.M.P", peaked at #3 on the Billboard Hot 100, and was an international hit as well. The song features a guest verse from Snoop Dogg, and production from D12's Mr. Porter.
Snoop Dogg is the originator of the "pimp" style in rap.
The song's beat is based around the use of steel-drums that really make the track stand out from what other artists were doing at the time, and everything else that 50 has ever done. The track is most definitely a rap song, but through its use of steel drums and smooth vocals, it blends together rap with other genres like reggae and R&B. Lyrically, the song covers 50 Cent's supposed involvement in the 'pimp' lifestyle, and the trials and tribulations of that life. To cover this subject, 50 enlists the help of Snoop Dogg, which is perfect based on the image that Snoop has cultivated over his 20 year career. If ever anyone was ever meant to be on this song, it is Snoop. Both men have impeccable flow, and 50's crooning vocals on the hook are pretty good for a rapper that was known for his mumble rap style.
Snoop shows off his Steeler pride.
The music video follows 50 Cent as he attempts to get into the P.I.M.P. Legion of Doom. This pimped out L.O.D. is led by Snoop Dogg because who else could possibly be its leader. The problem is that 50 doesn't have a Cadillac and/or a perm (the classic traits of a pimp), so they don't see a reason to let him join their cabal. 50 Cent ends up winning them over by showing off his Magic Stick cane (which would later go on to be the title of a different 50 Cent song). Snoop is dressed like a stereotypical pimp throughout most of the video, but changes into Pittsburgh Steelers gear midway through. This outfit includes a pair of black and yellow chucks. It's your typical rap video from the early 2000's, as it showcases wealth, women, and cars through the veil of the pimp lifestyle. However, both the video and song have become staples of a time when 50 Cent was king, and being king meant being a pimp.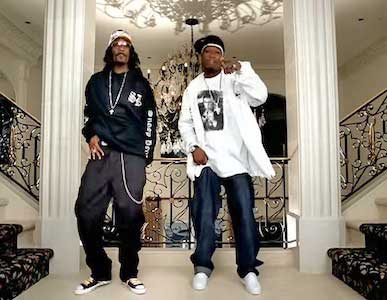 Snoop rocks black and yellow chucks in the video.
| | |
| --- | --- |
| | If you have information about specific videos where chucks make an appearance, please contact us at mail@chucksconnection.com. |
Get a new pair of chucks to pimp up by clicking on the links below.