4
"Let's Ride" by The Game
The Game is one of the most popular and well respected rappers to come from the West Coast since the turn of the century. The song "Let's Ride" is the second single off his second studio album, Doctor's Advocate. The song was created as a tribute to legendary West Coast Rap pioneer Dr. Dre, and is meant to give off that classic Dr. Dre-G Funk vibe.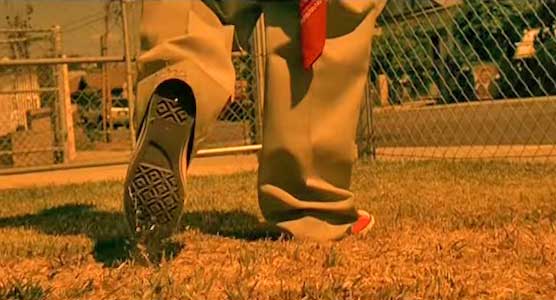 The Game wears red chucks in "Let's Ride".
As previously mentioned, the track is an ode to Dr. Dre, and that means that Game constantly name drops the legendary producer. This gets to be a bit annoying as the song goes on, and it really dampens The Game's flow and content. The song contains heavy influences in both name and sound from Dre's 1993 hit "Let Me Ride", and even though Dre isn't a producer on this track, the beat is very reminiscent of his early work. However, it doesn't feel like that style meshes well with Game's style. The Game spends too much time on this record name dropping Aftermath artists, and crooning the hook like label mate 50 Cent for the record to ever really come together. In total, the song just doesn't stack up to other songs in Game's catalog. He had done much better up to this point, and would go on to do much better after this so "Let's Ride" stands out as a bad anomaly in an otherwise stellar career.
Game greets his crew as he arrives at the party.
The music video takes the viewer through a day in the life of The Game. We travel with him as he drives around Compton in his red, '64 Impala in a pair of red chucks, and we see how revered he is in his neighborhood. He eventually ends up at a backyard barbeque where performs the song amongst some girls and grub. These shots of The Game in Compton are intercut with shots of him on a on a soundstage in a black hoodie rapping the song. The video is a pretty generic West Coast rap style video, and is very reminiscent of other classic videos of the genre like Ice Cube's "It Was A Good Day", and Snoop Dogg's "Gin & Juice". Between the song and the video, this was not The Game's best outing, which just proves how hard it can be to always put out great content as an artist.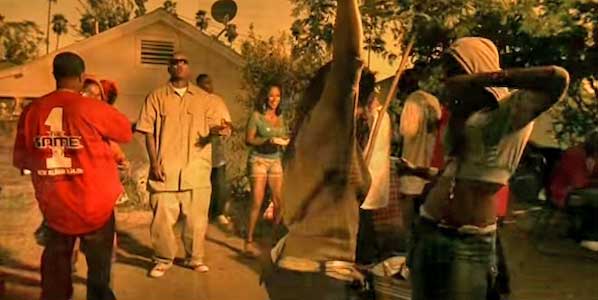 Rocking out at the backyard barbeque.
| | |
| --- | --- |
| | If you have information about specific videos where chucks make an appearance, please contact us at mail@chucksconnection.com. |
Click on the links below to get a new pair of chucks for your life.