If you're feeling daring and looking for a little thrill, then head right to YouTube and look up "Bon Voyage" by Workout. The minute you click play you, my friend, will be sent on a wild (forgive the pun) roller coaster of emotions. The actual song itself is very laid back and definitely something you can tap your toe to, but the video is extremely powerful.
  Carrying the casket down the street while wearing chucks.
We've all lost someone, sadly, and "Bon Voyage" gives a perfect visual of how we all wish death was, but actually is. It opens up in a funeral parlor as Workout is surrounding a coffin that contains one of their members lying motionless. Then, they proceed to close the casket and carry it out to the cemetery…but instead of stopping, they keep going. Soon they've walked past busy streets, through neighborhoods, and in alleys, all while tirelessly carrying the coffin. They finally end up at a peacefully looking beach where they set the coffin down and open it to reveal that the dead man—who happens to be their singer—has come back to life. But just as they pick up their instruments to finish playing the song, it ends and switches to the silent image of Workout pushing their still-deceased front man out to sea.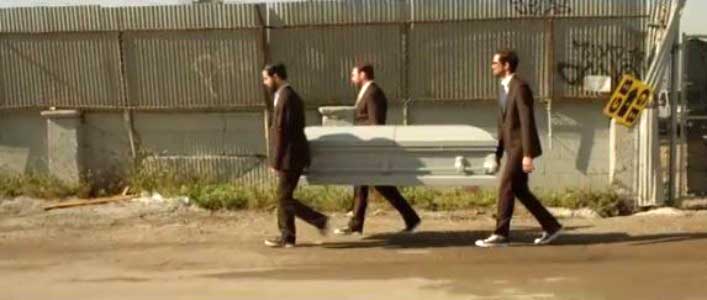 The band in their chucks.
It's really quite a heart-wrenching moment to see that the singer wasn't alive after all, and it's especially emotional to watch his casket floating off into the water. However, on the bright side, this video is the product of the "Converse Rubber Tracks" program (see Chuck Talk "Converse Rubber Tracks for more), in which Converse helped this no name band to record both a song and a fantastic video. So while you watch "Bon Voyage" (keep a box of tissues close), be sure to keep an eye out for their chucks and how proudly they wear them.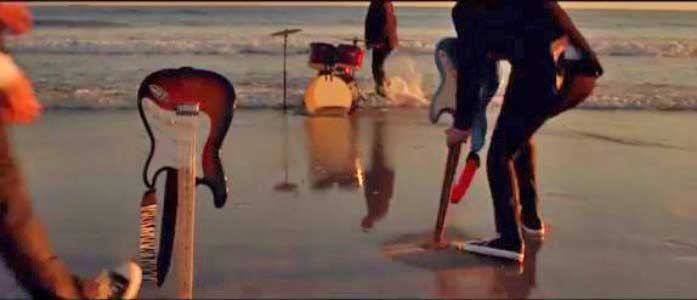 Grabbing their instruments after they've arrived at the beach.
| | |
| --- | --- |
| | If you have information about specific videos where chucks make an appearance, please contact us at mail@chucksconnection.com. |
Buy some pairs of chucks for your band and video.